"Good gets better. Love gets bigger. Keep it simple, love everyone." – Leonard Knight. September 2011
Salvation Mountain is a colorful art installation covering much of a small hill north of Calipatria, California, near Slab City and just several miles from the Salton Sea. It is made from adobe, straw, and thousands of gallons of paint. It was created by Leonard Knight to convey the message "God Is Love." Another of Leonard's expressions "Keep It Simple" refers back to his message of universal love. Knight refused substantial donations of money and labor from supporters who wished to modify his message of universal love to favor or disfavor particular groups. (text from Wikipedia)
More information on Salvation Mountain:
Salvation Mountain's Official Website
Salvation Mountain: one man's momument to God's love.
Salvation Mountain – A Visit with Leonard Knight
Interview with Leonard Knight
Salvation Mountain scene from Into the Wild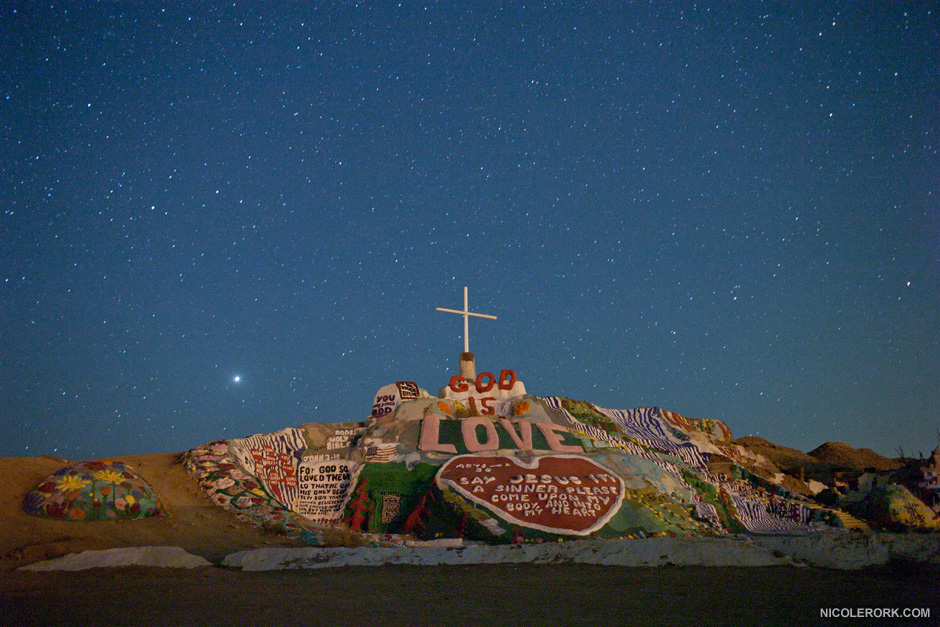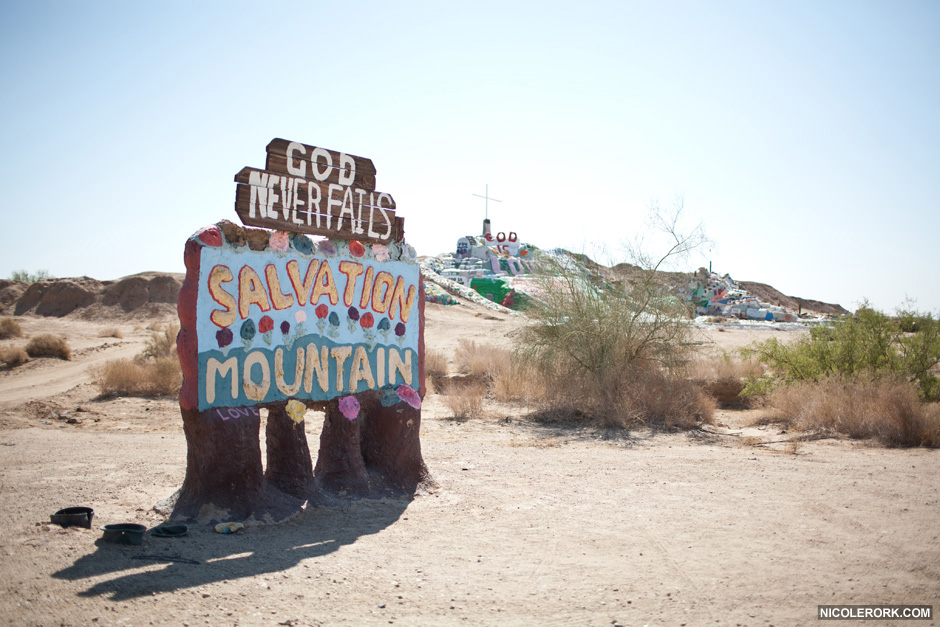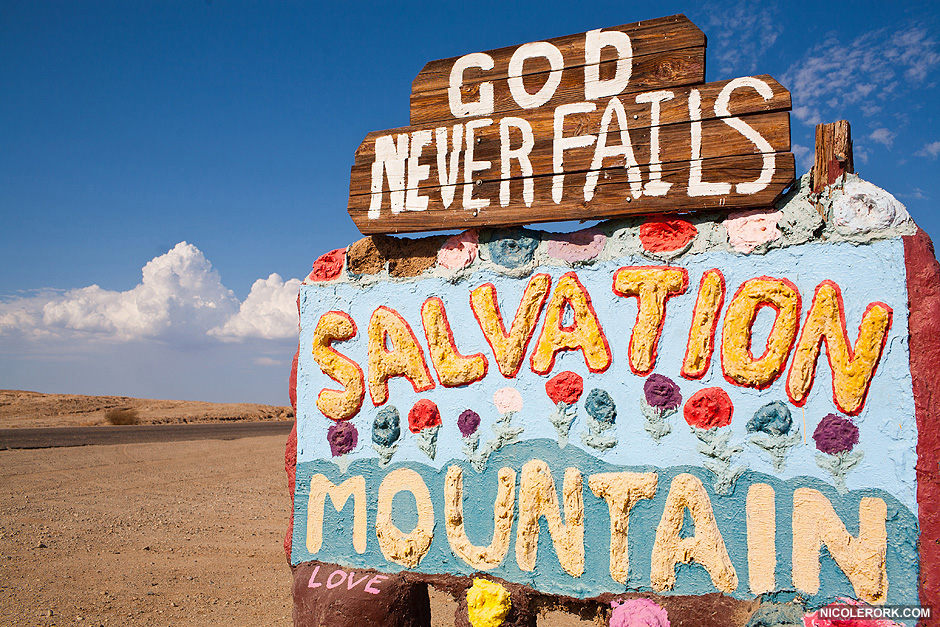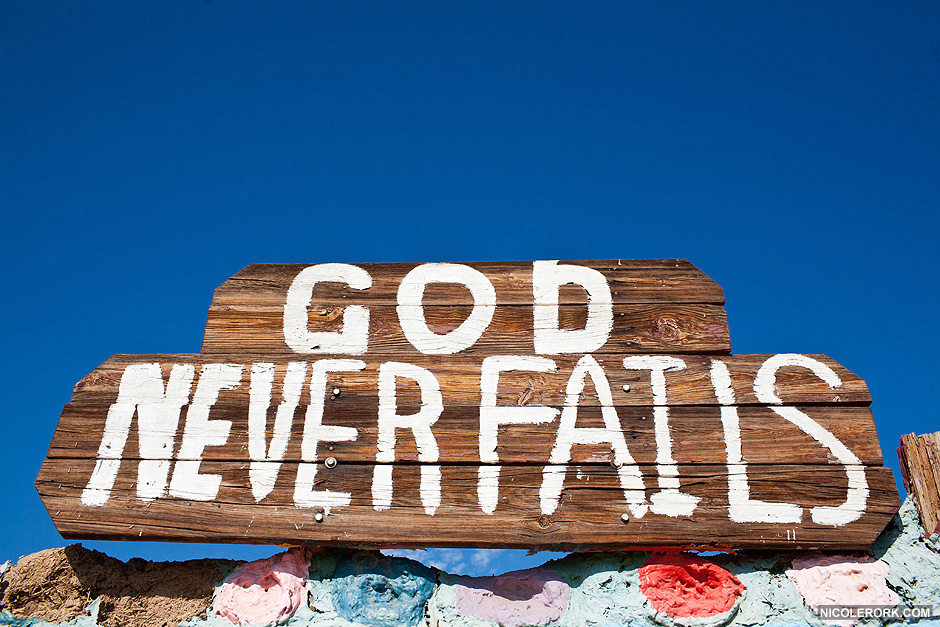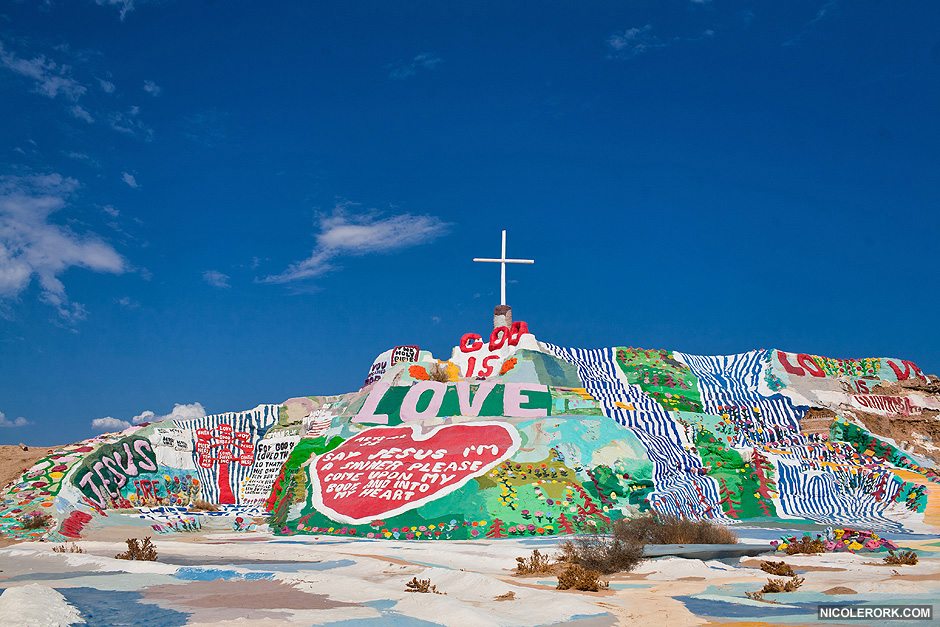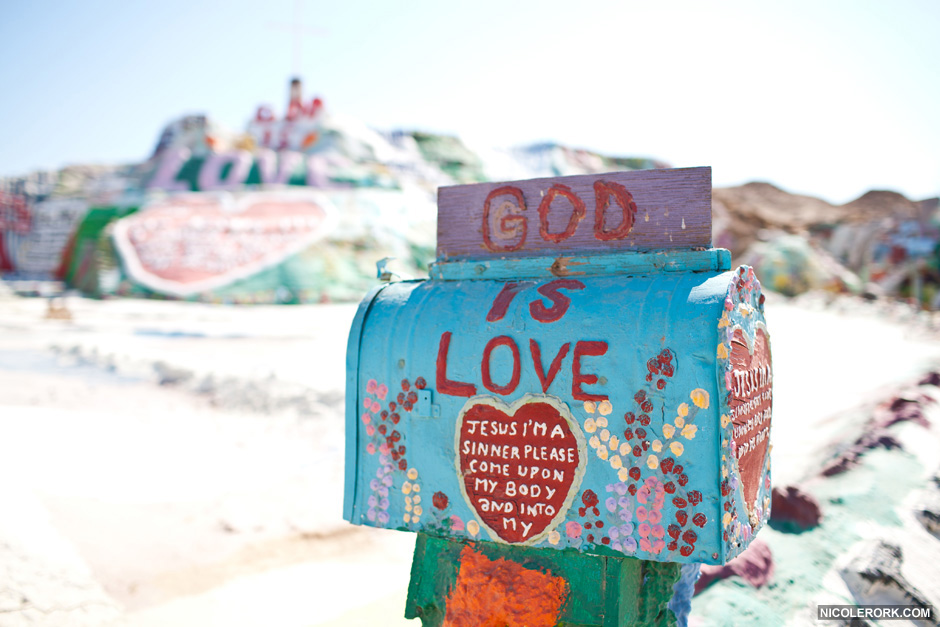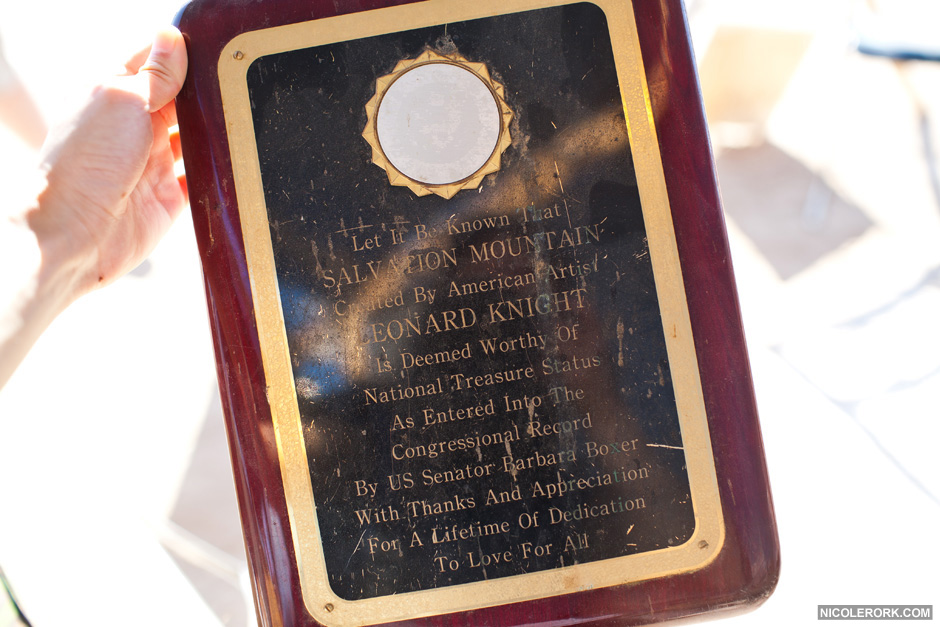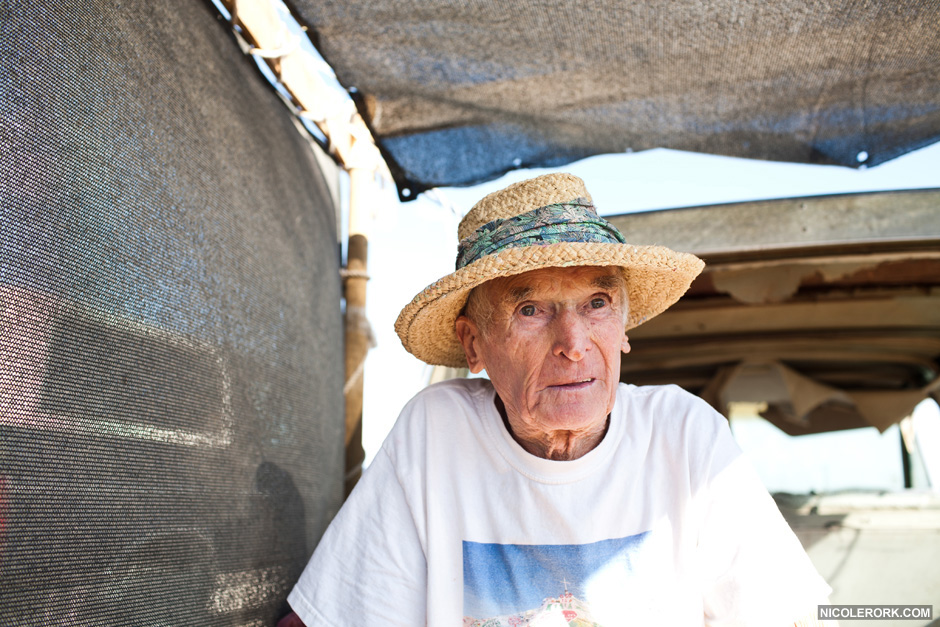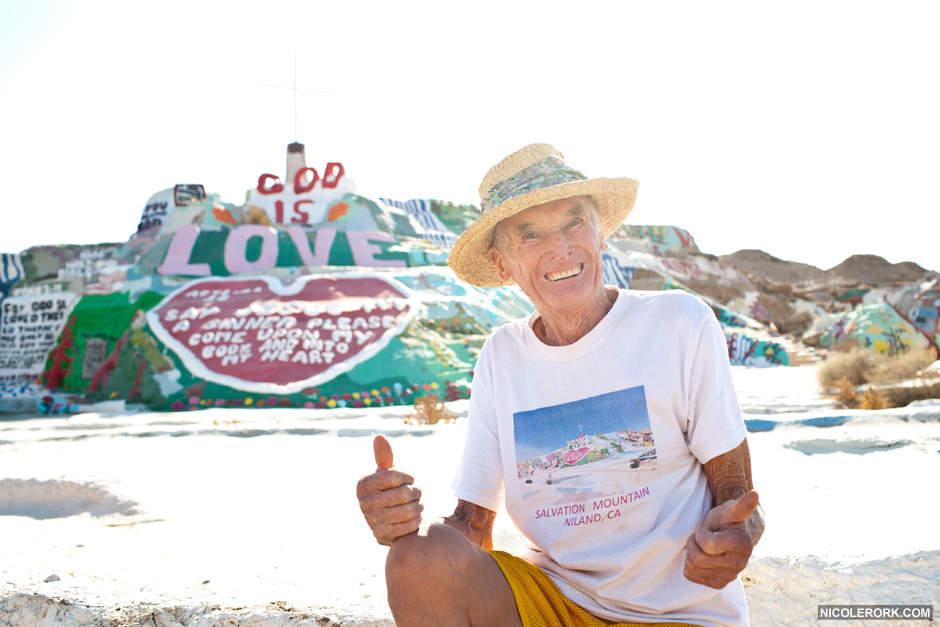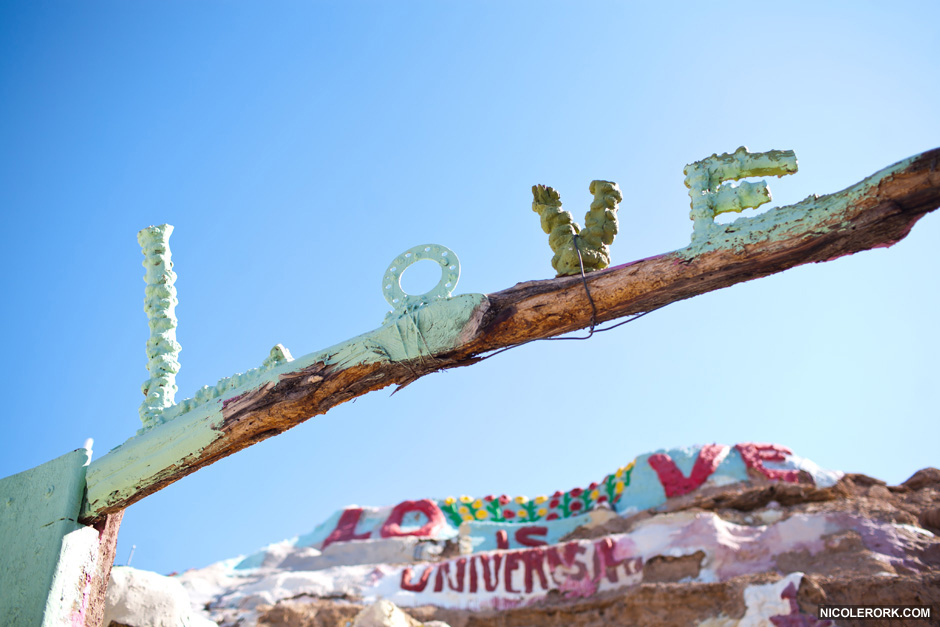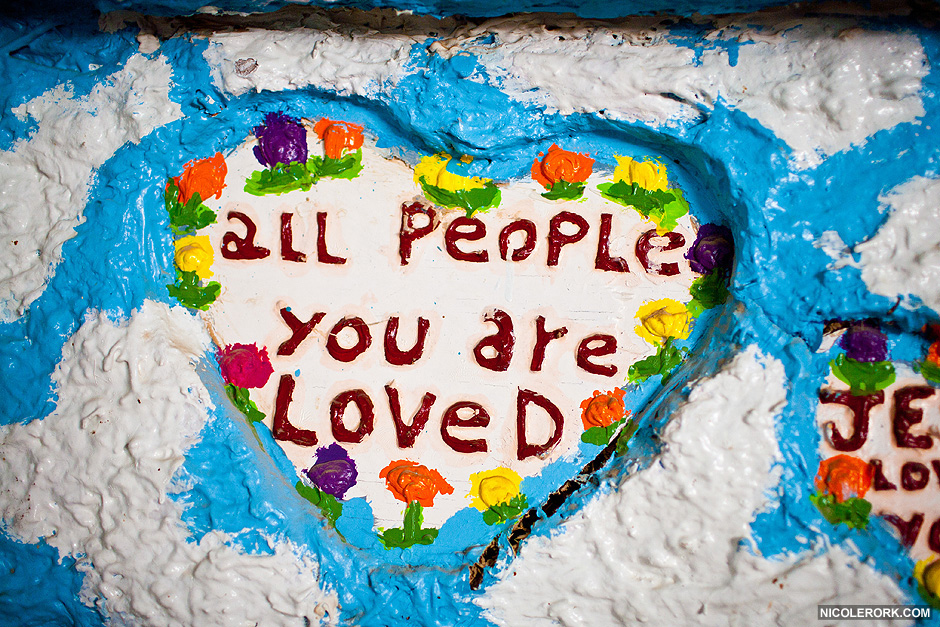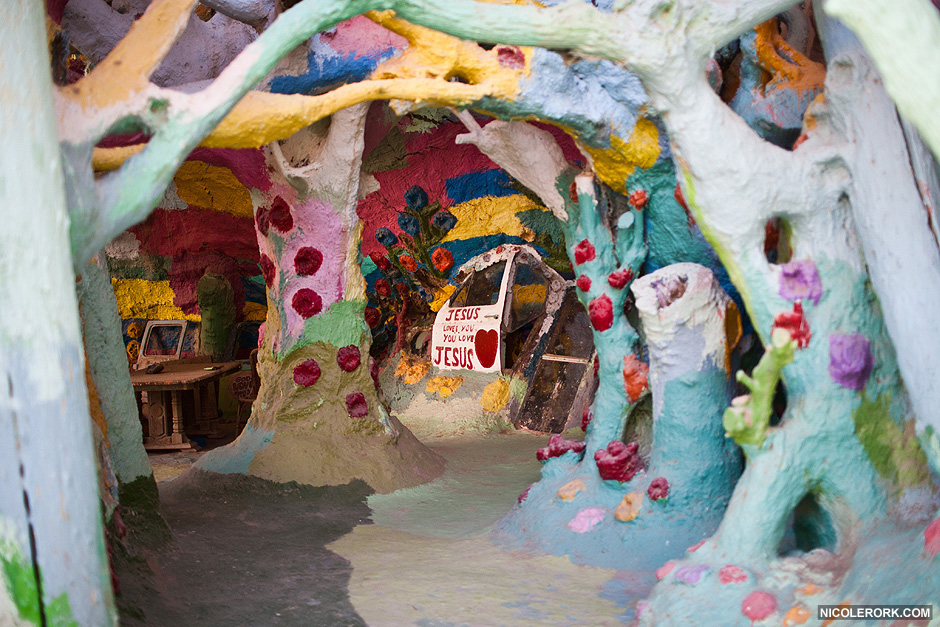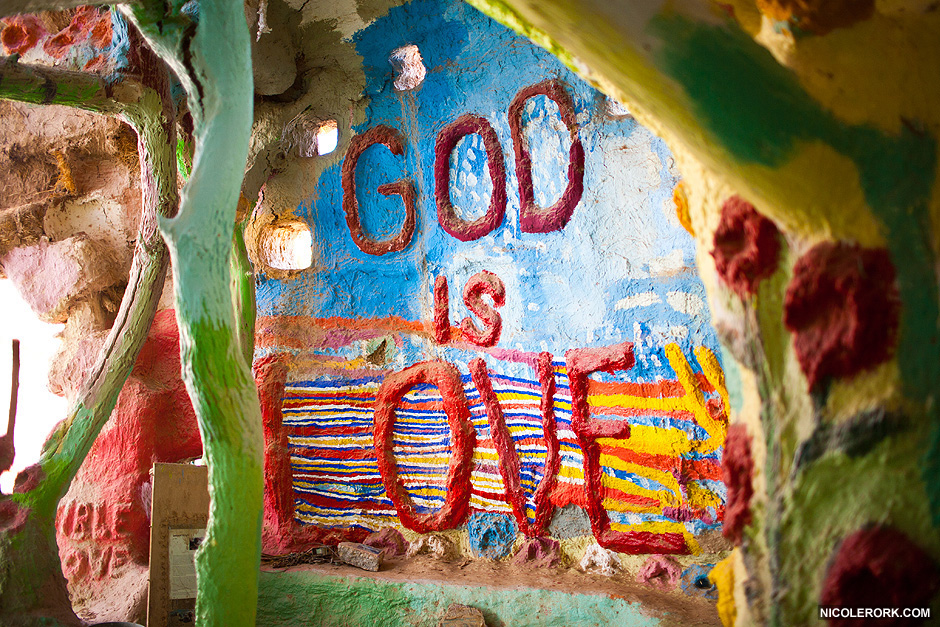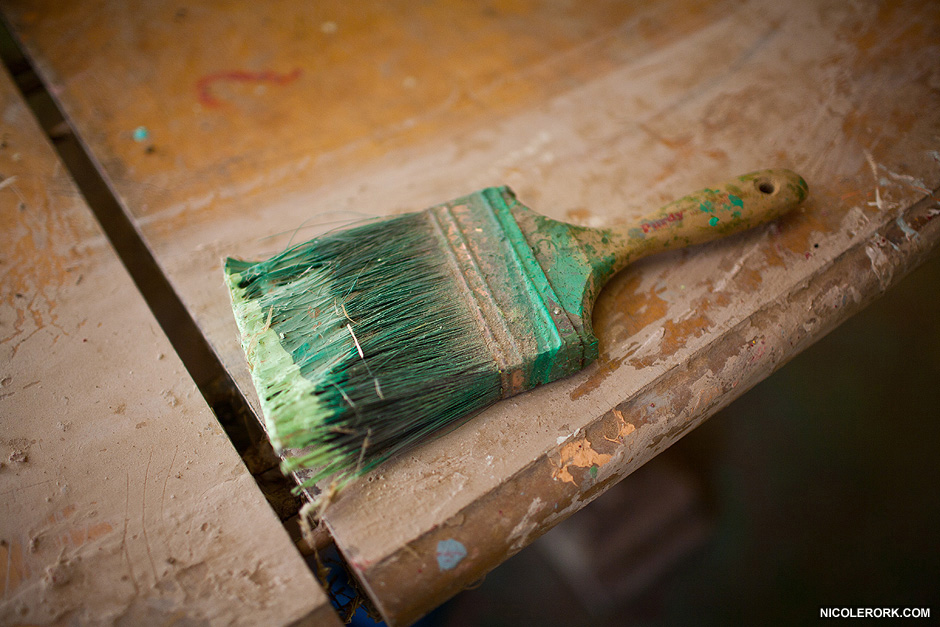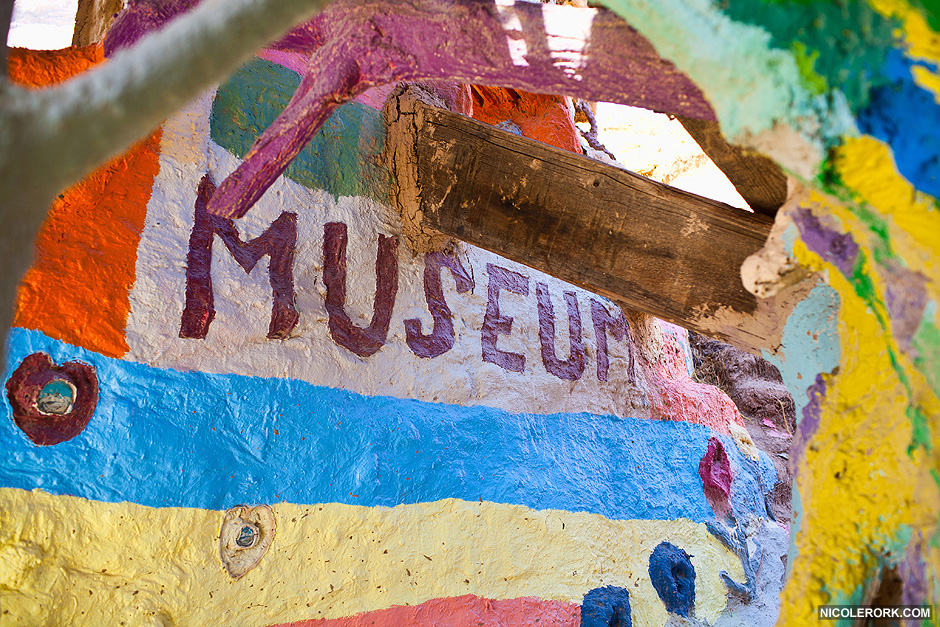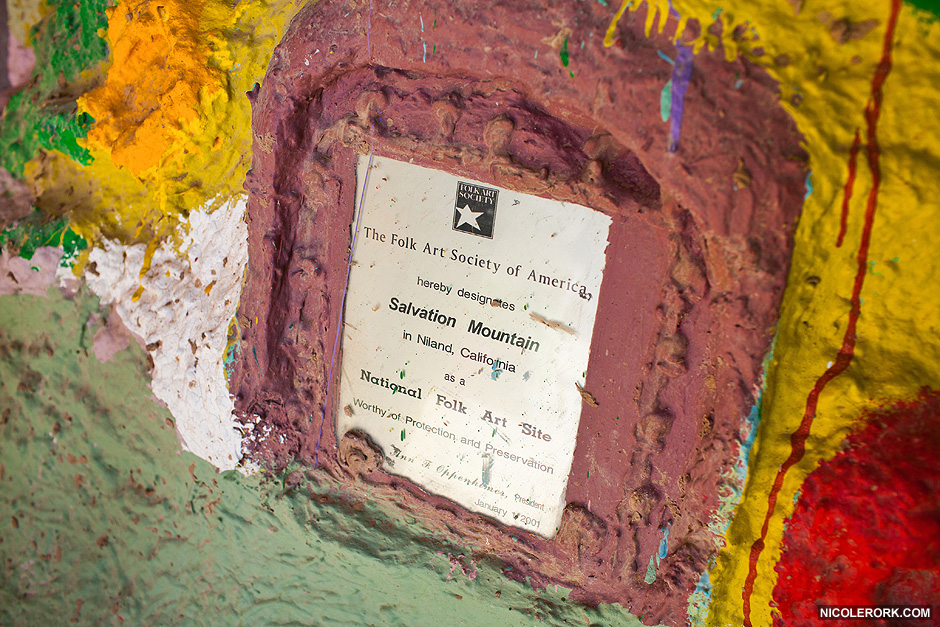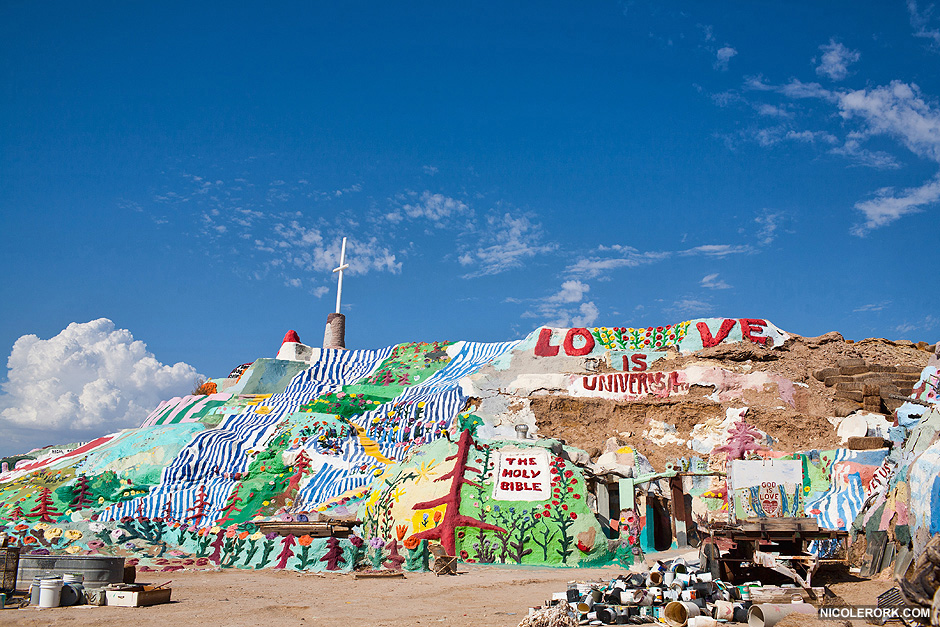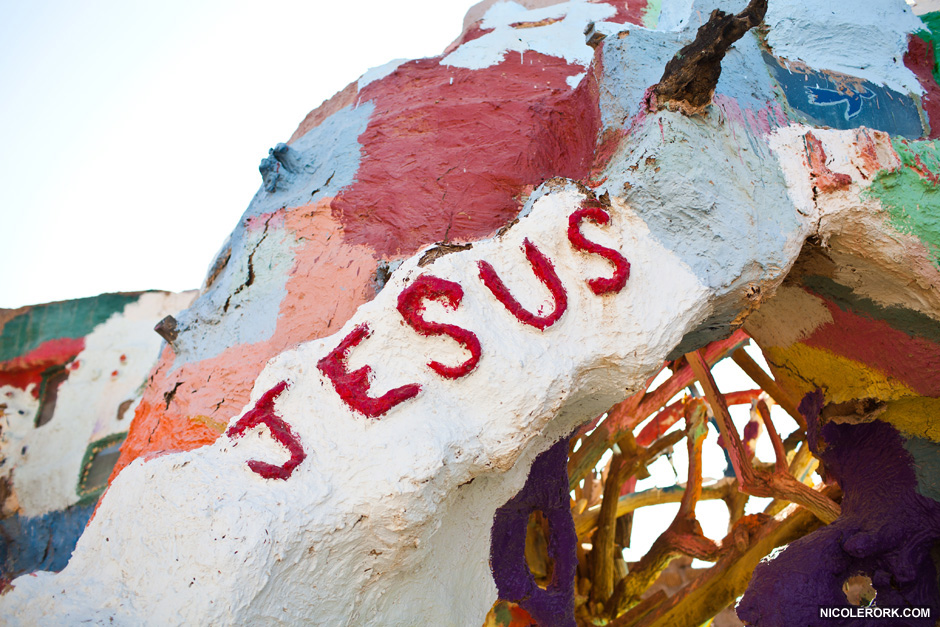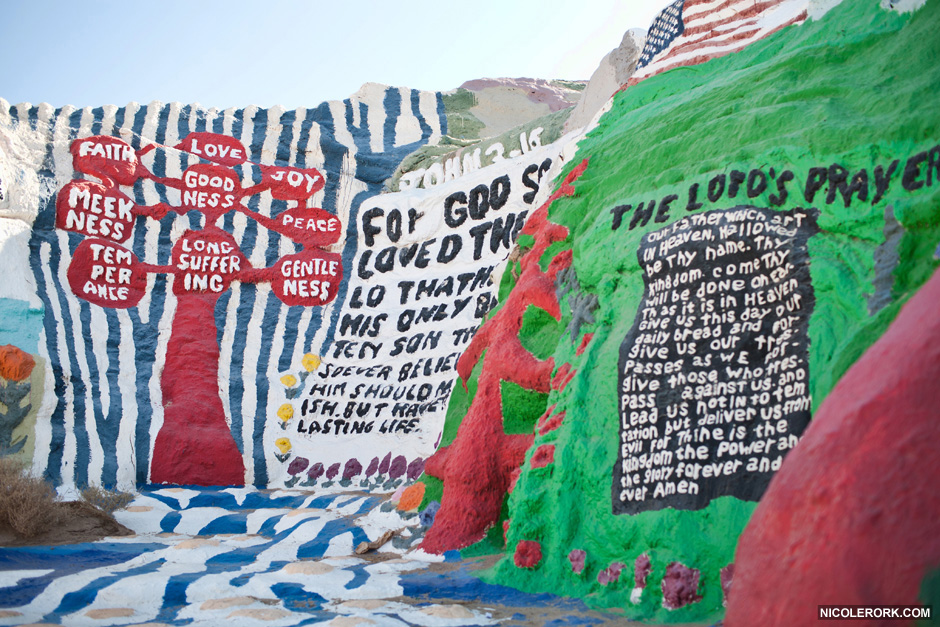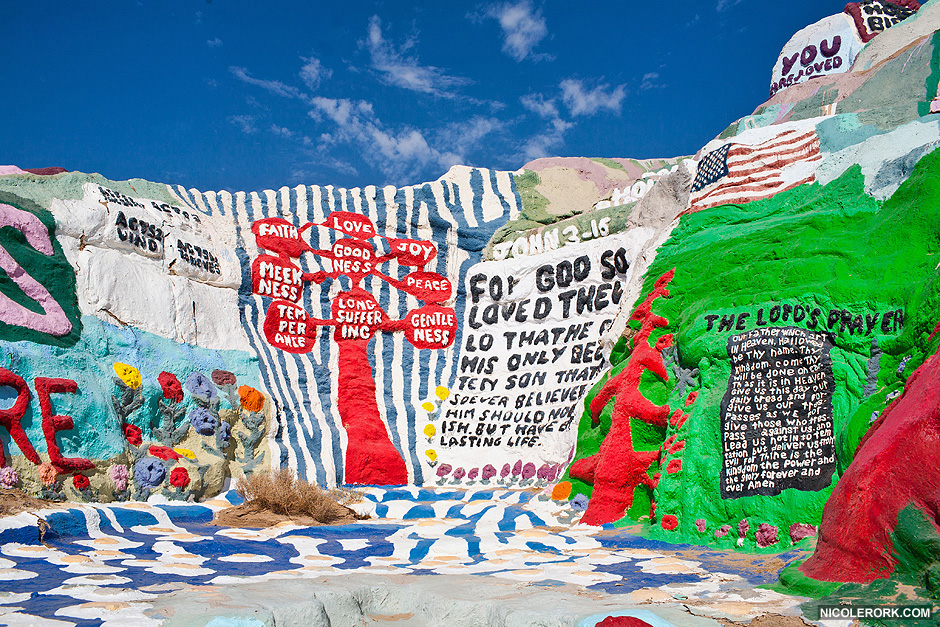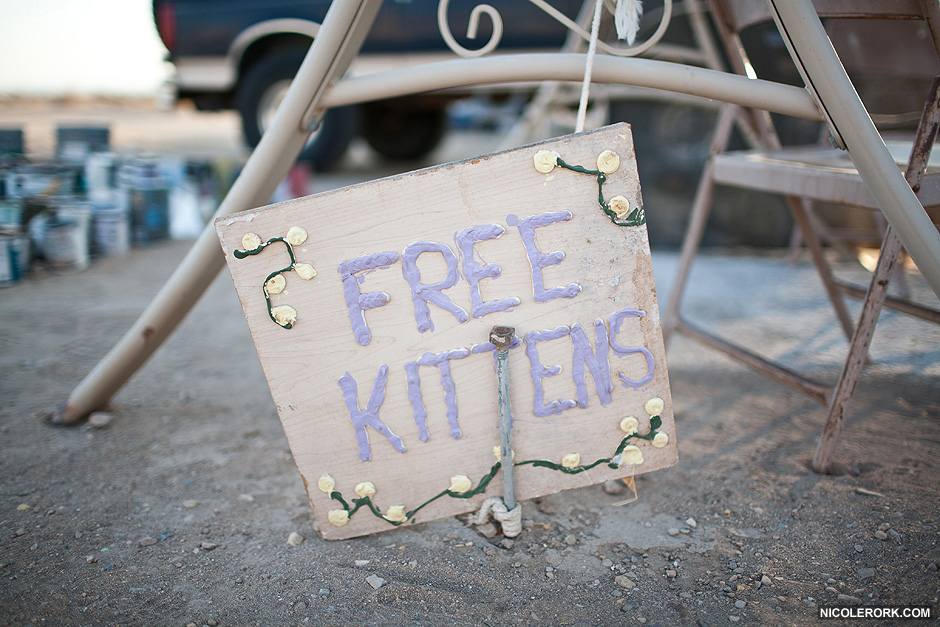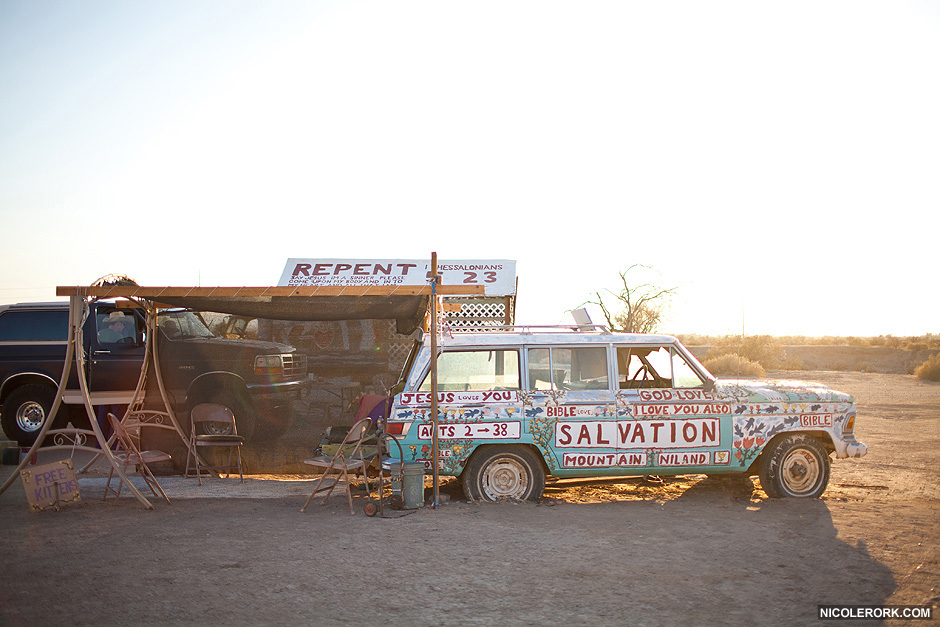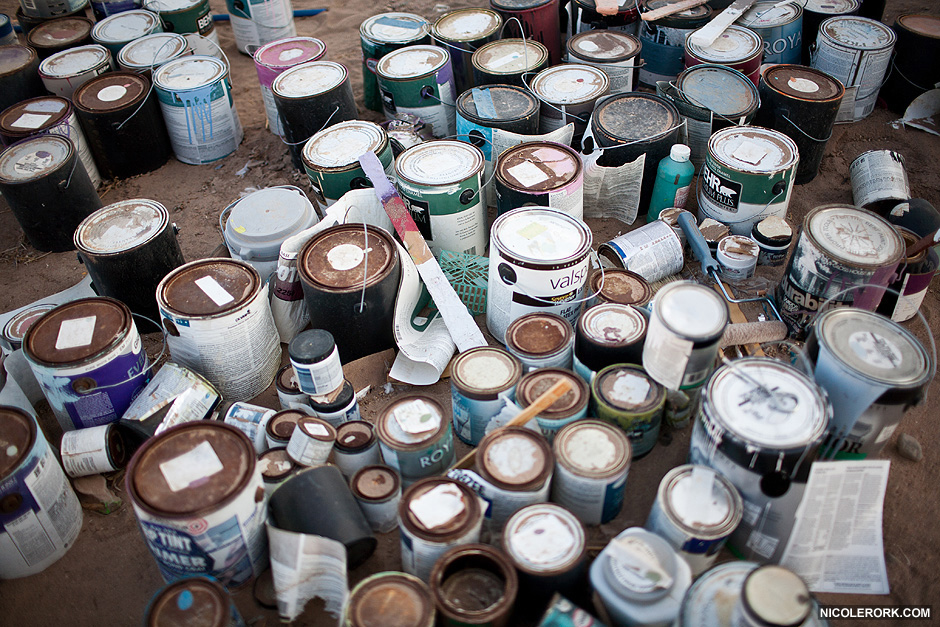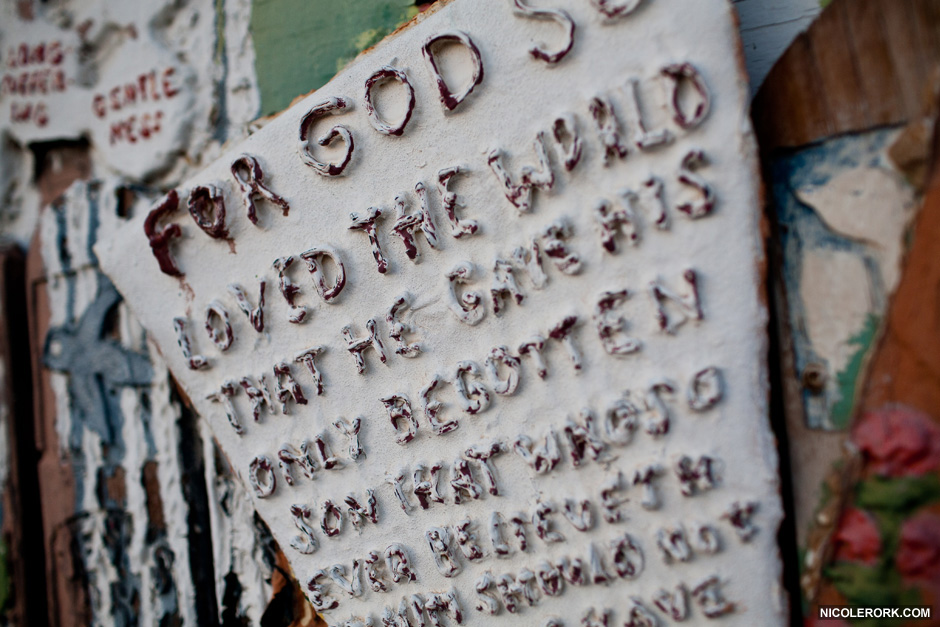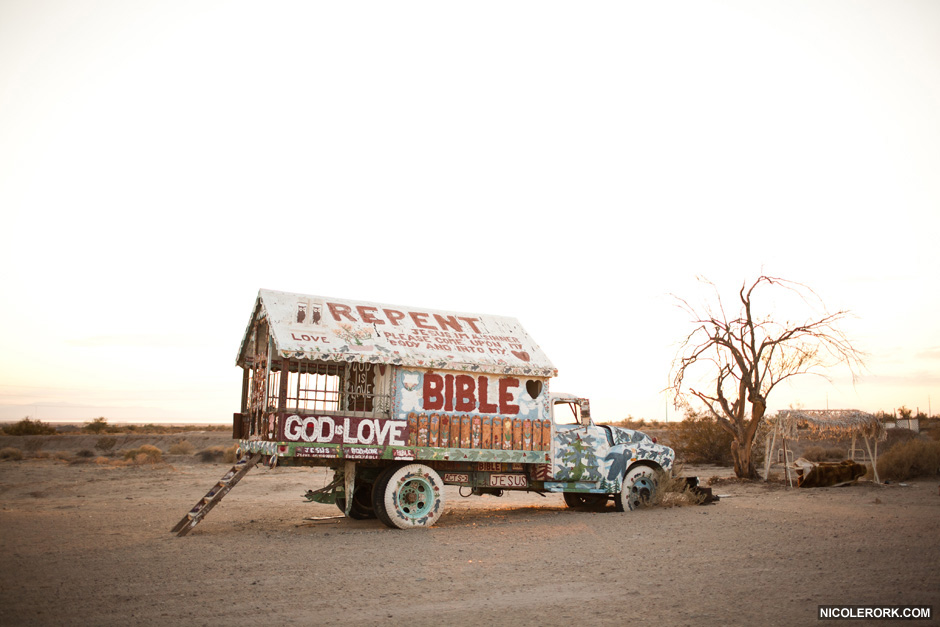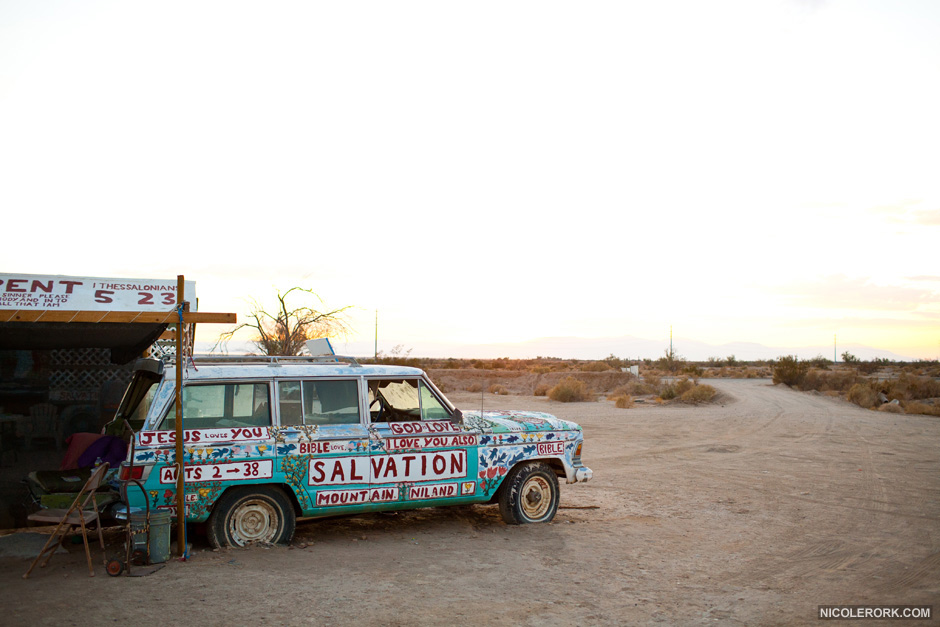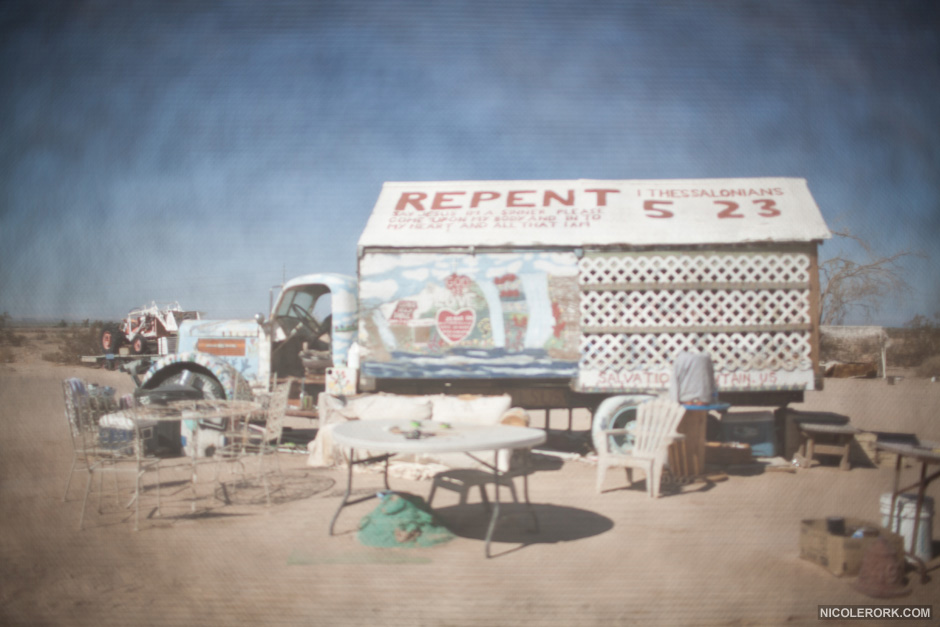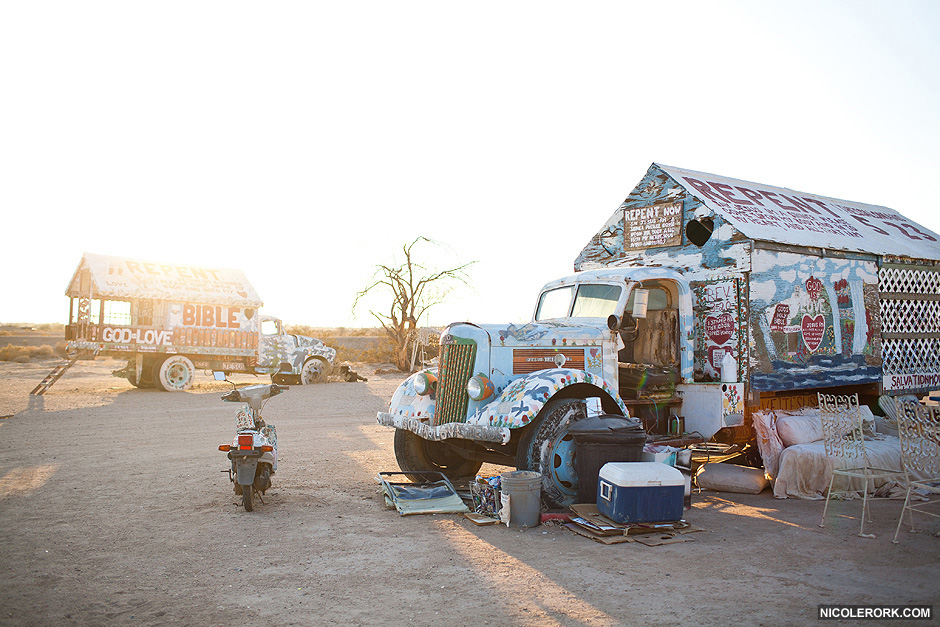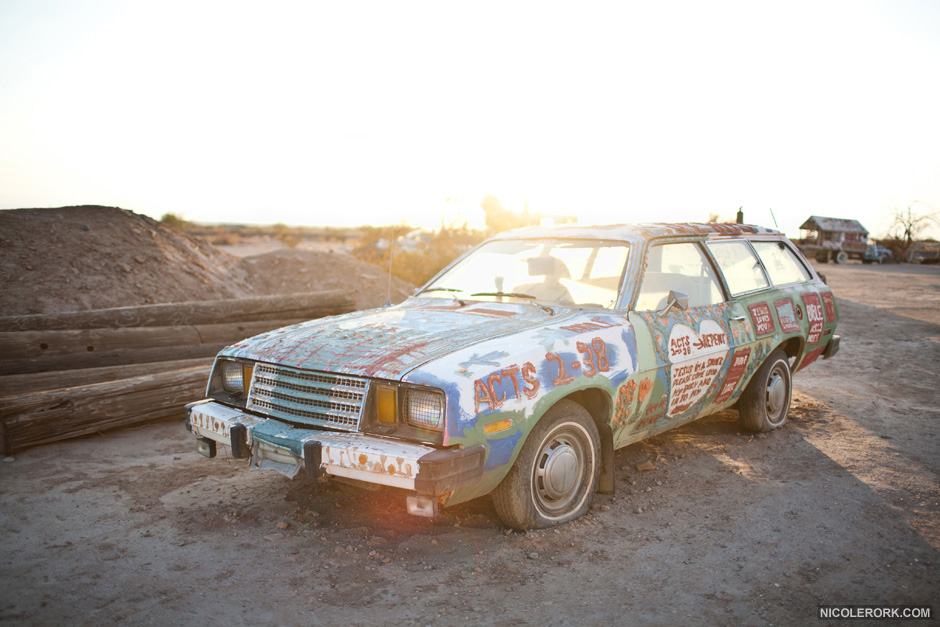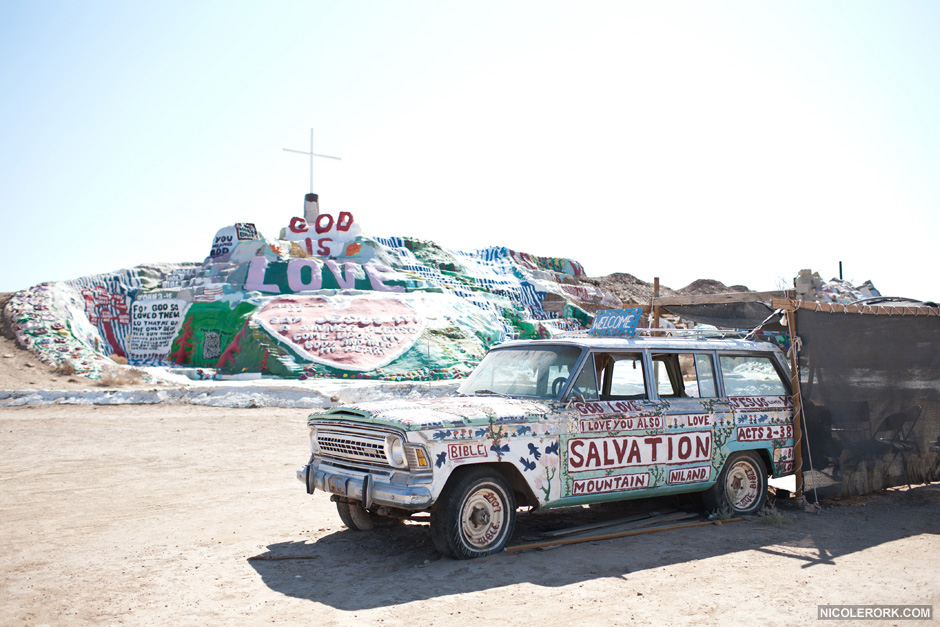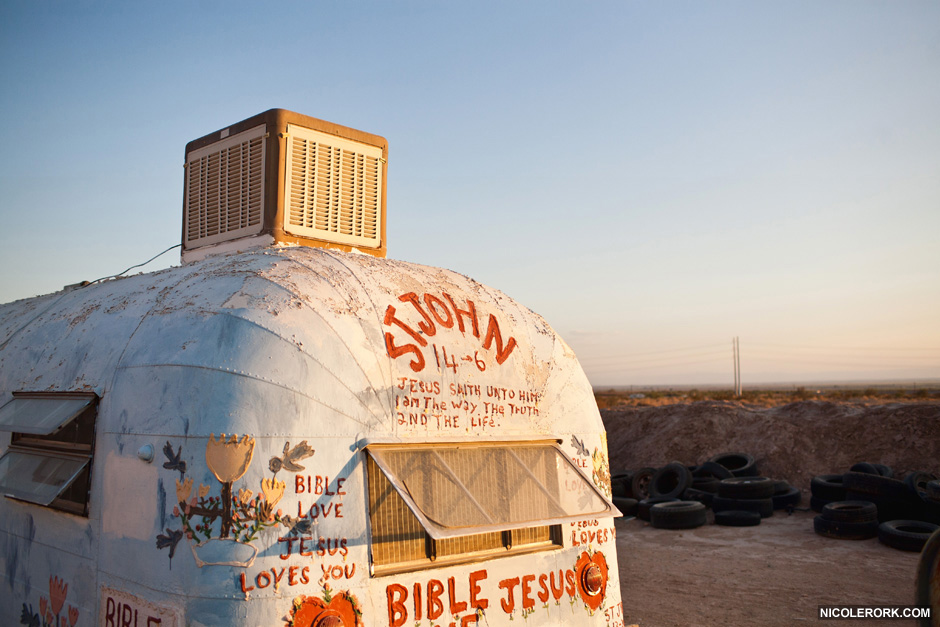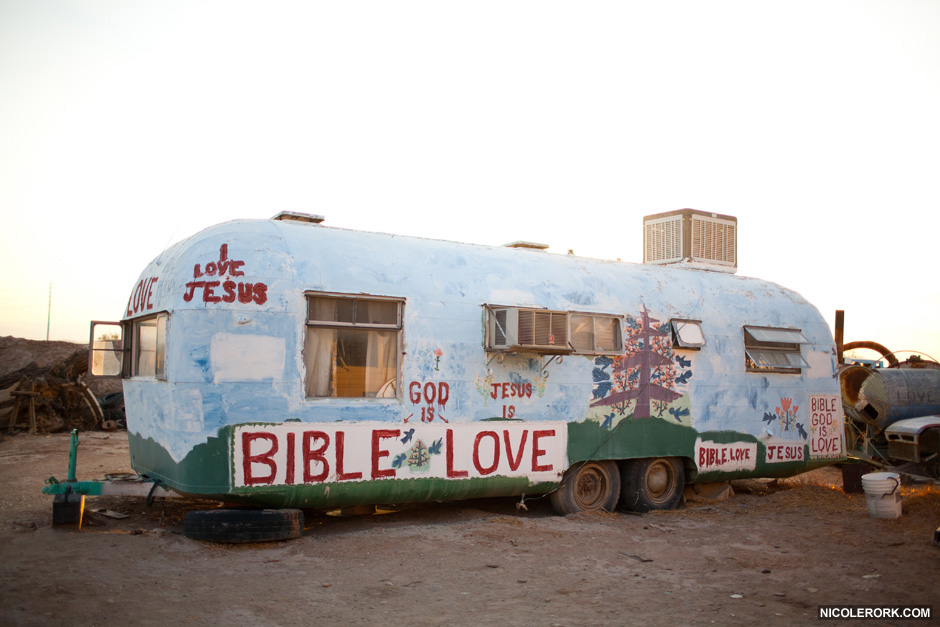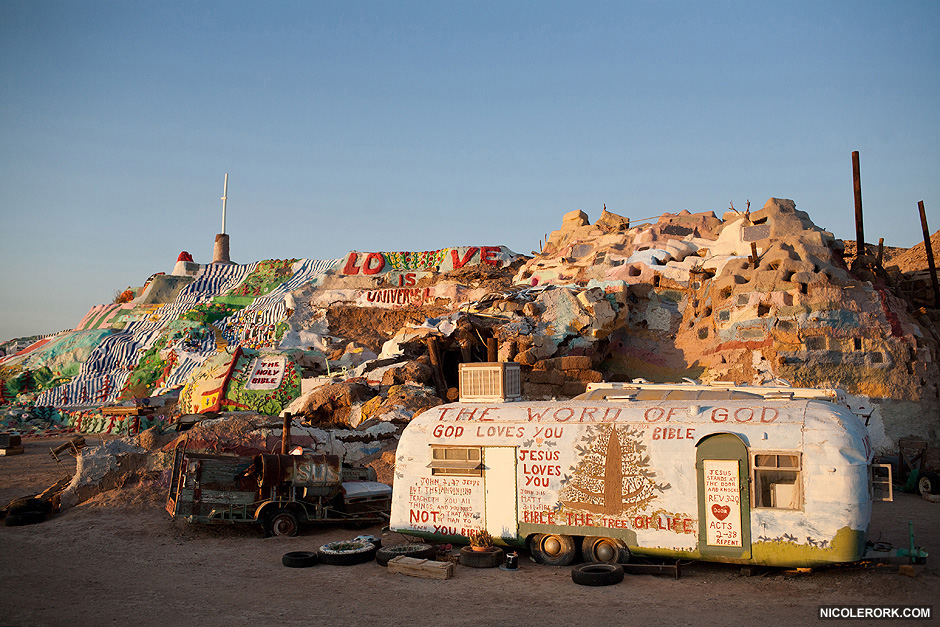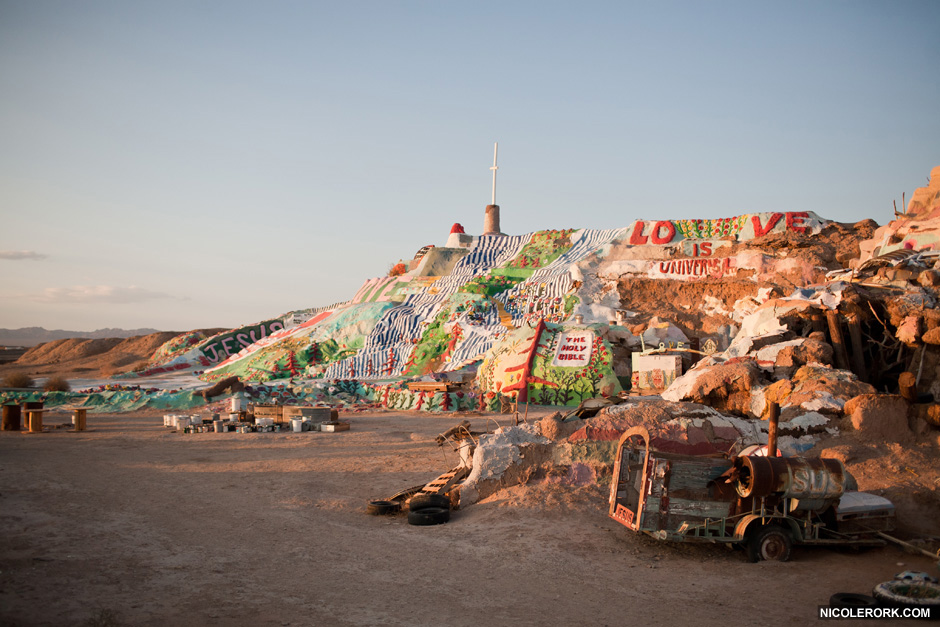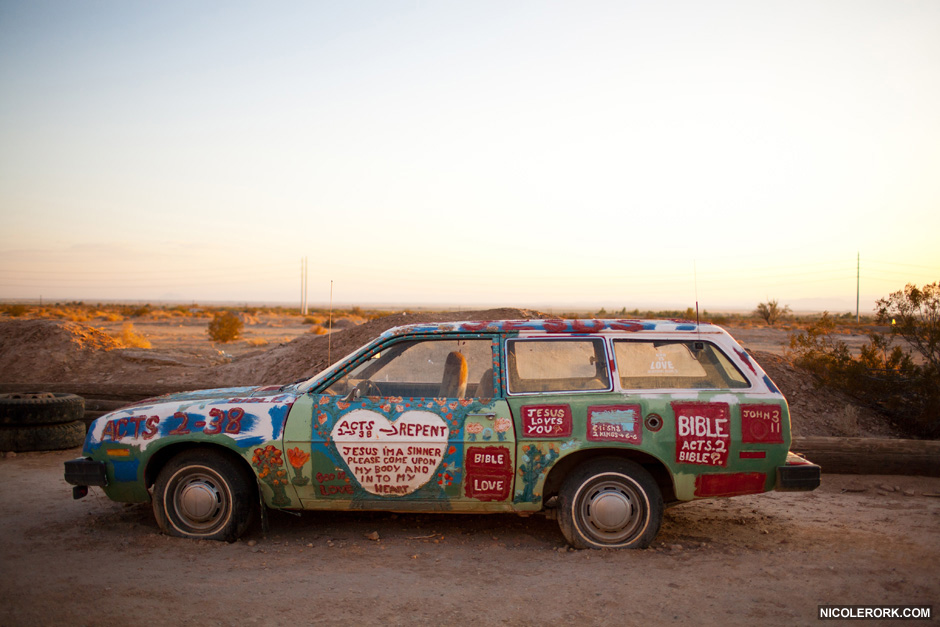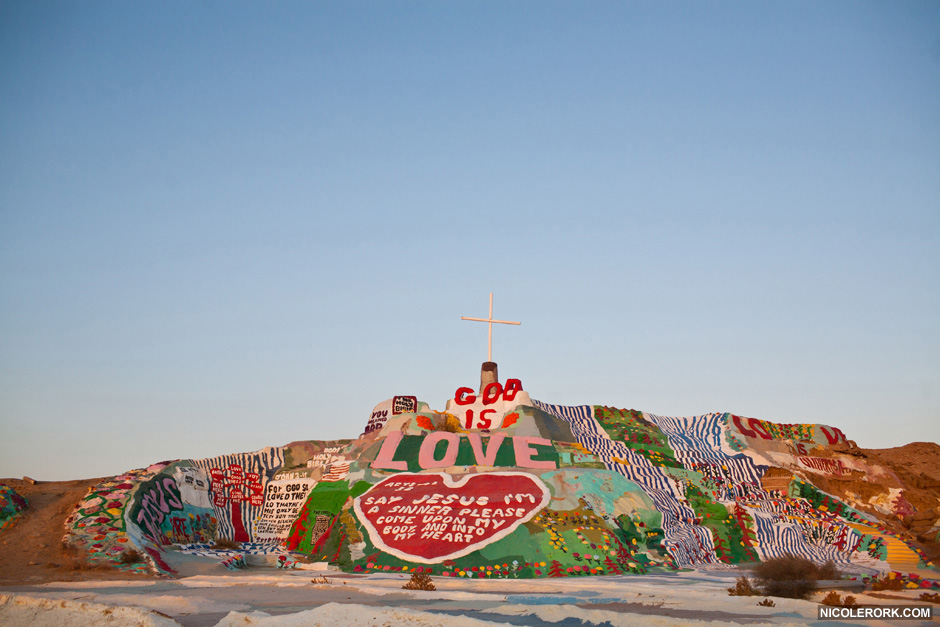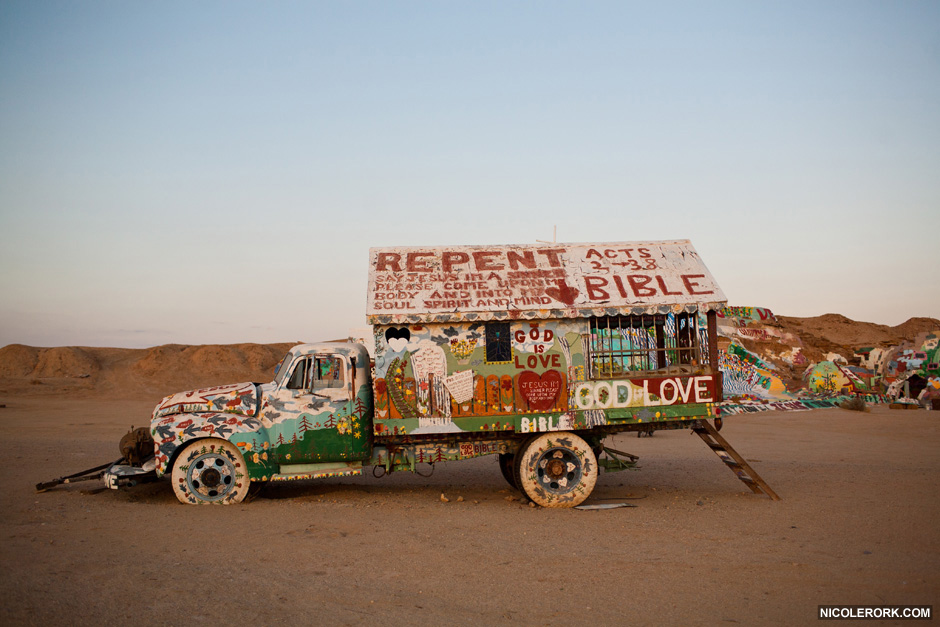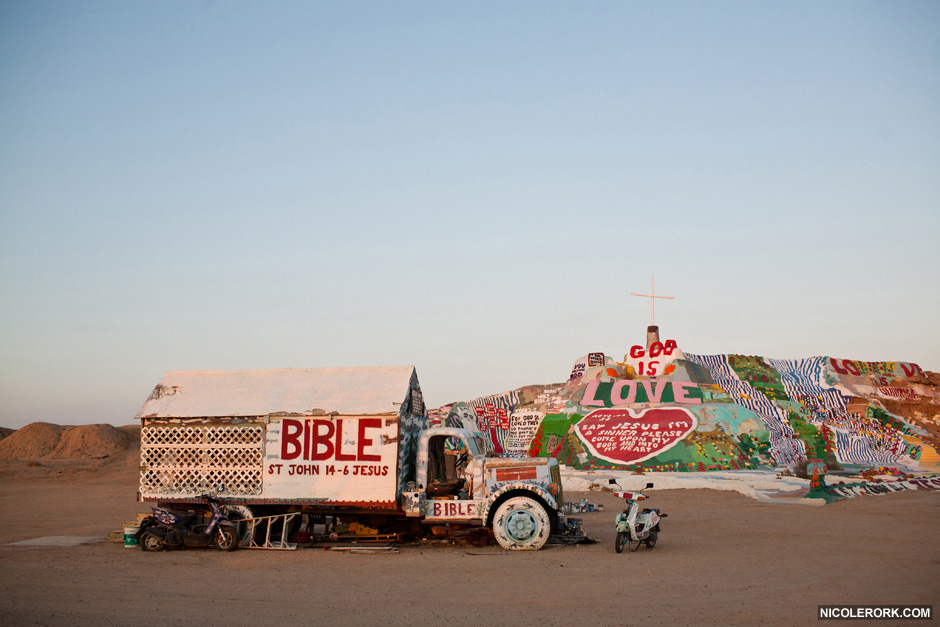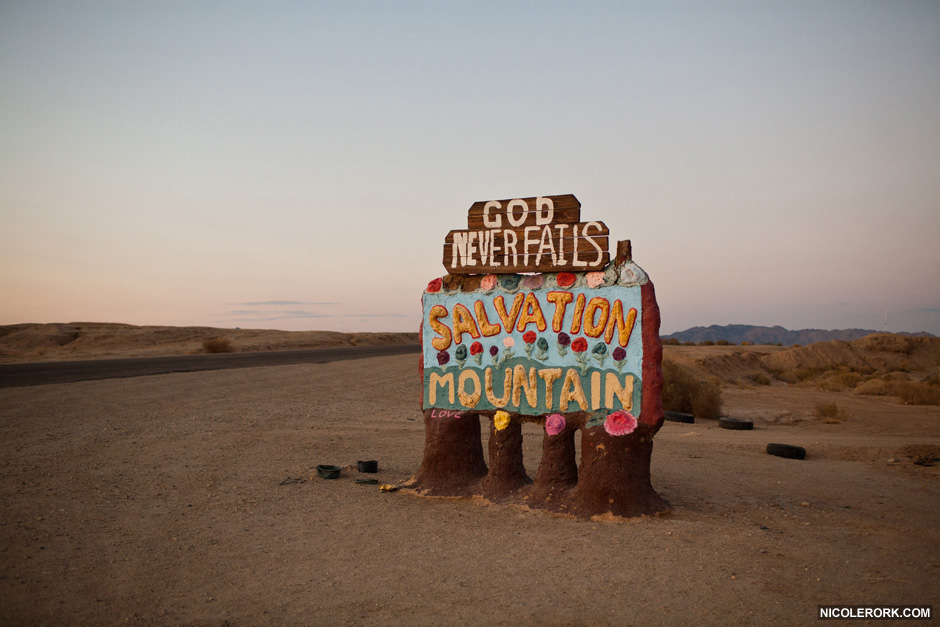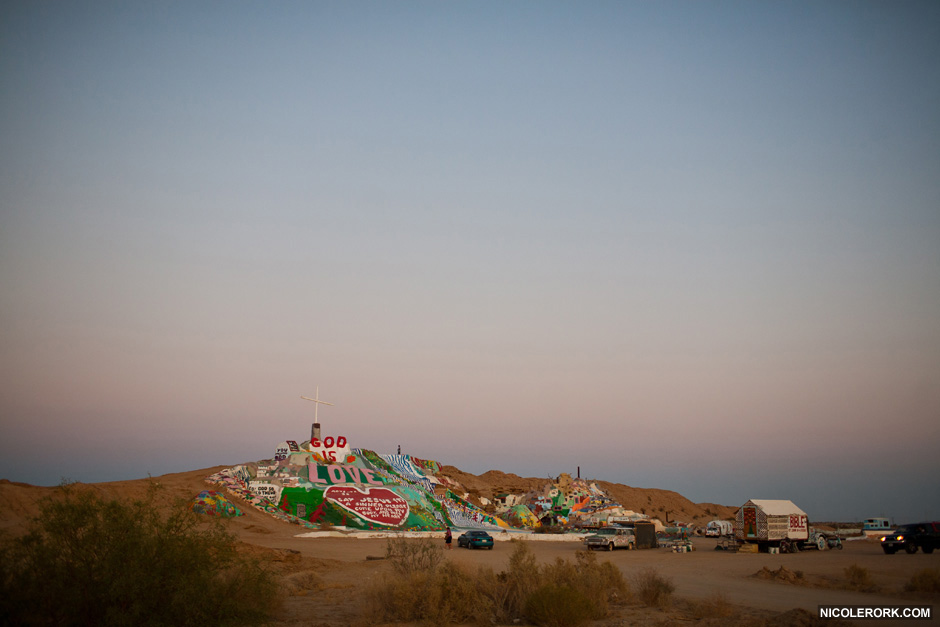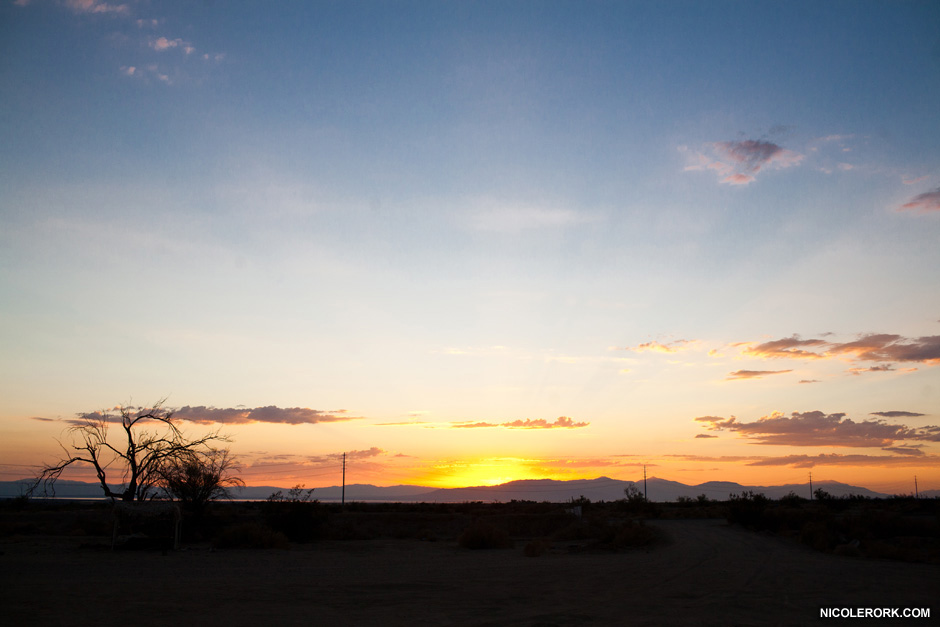 September 21st, 2011 at 10:04 pm | Posted in Personal, Ruins, Travel | 2 Comments »
Slab City has been created by a small but committed community of squatters in the Colorado Desert of South Eastern California, USA. Taking its name from the concrete slabs that remain from an abandoned World War II base, it is a tragic yet romantic landscape that commands its residents to possess the same balance of beauty and beast. Unbearable temperature highs in summer weed out the many who inhabit the free space in winter leaving only the most resilient, or the most unfortunate, as permanent residents. These same people maintain the ad-hoc infrastructure that makes it such a desirable community to visit in the cooler months. Those who stay year after year could be described as poverty stricken; living in some of the worst conditions in America. Some residents would tell you this is the truth. Others fiercely defend their lifestyle as a deliberate choice of rejecting mainstream society. For these people Slab City provides a freedom they'd never experienced before. There are others who were forced here through circumstance; society won't tolerate them due to their pasts as felons, addicts or vagrants, but who wholeheartedly embrace the opportunity to live in a community that won't judge them. Slab City is a place for the broken and desperate and for the fierce defenders of freedom from tyranny. But more than anything else, it is what this small group of people call home. (text from Light Journeys)
More information about Slab City:
The Land of the Free (The Observer)
Parked in the Desert, Waiting out the Winter of Life (New York Times)
Light Journeys – Claire Martin
Facts about Slab City
Culturally enhanced desert boondock town.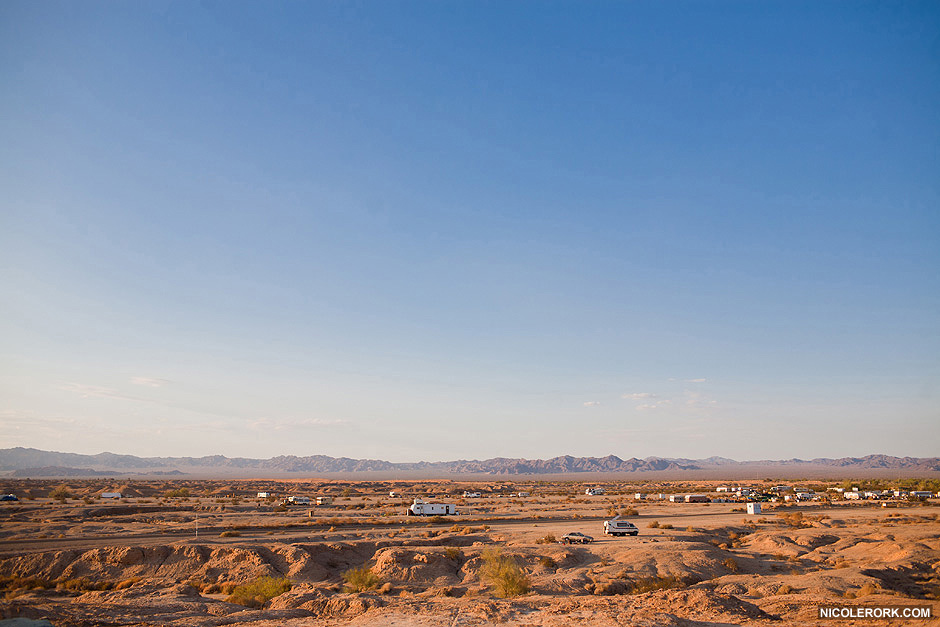 View of Slab City from the top of Salvation Mountain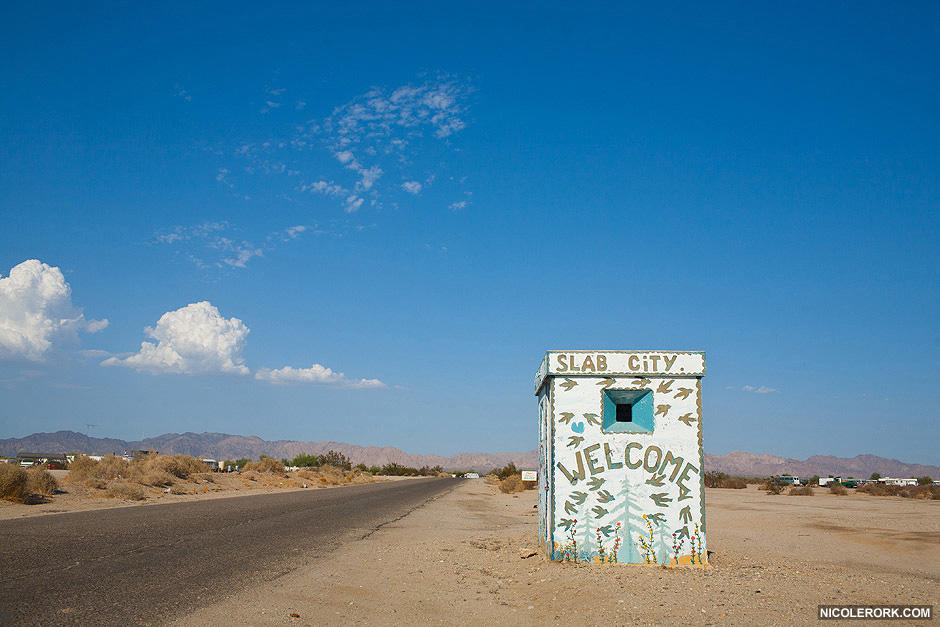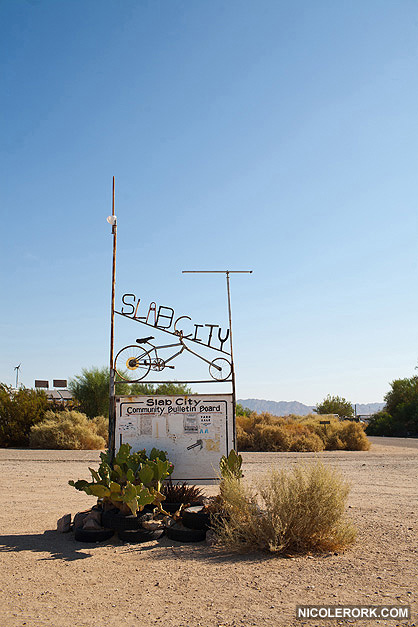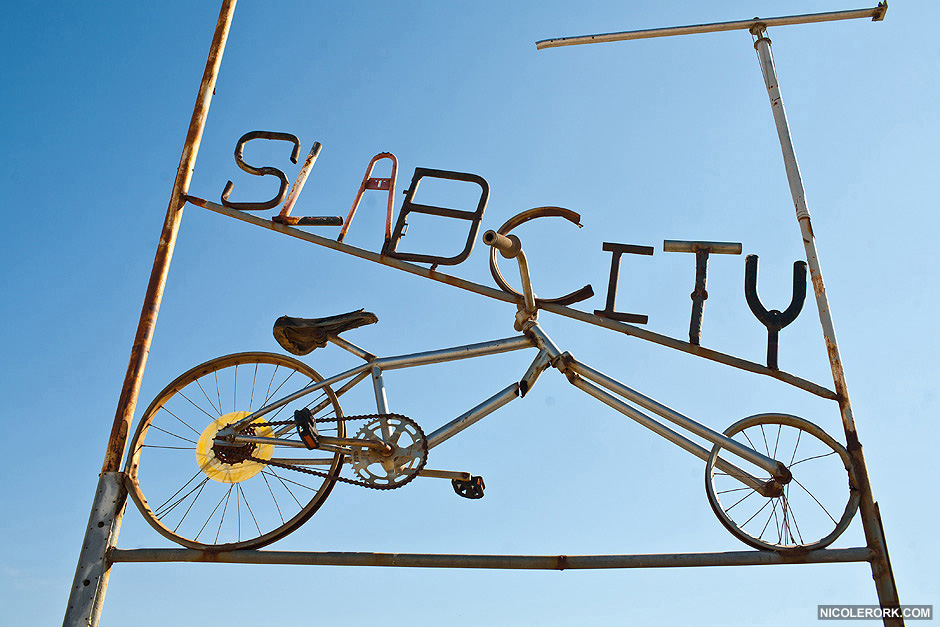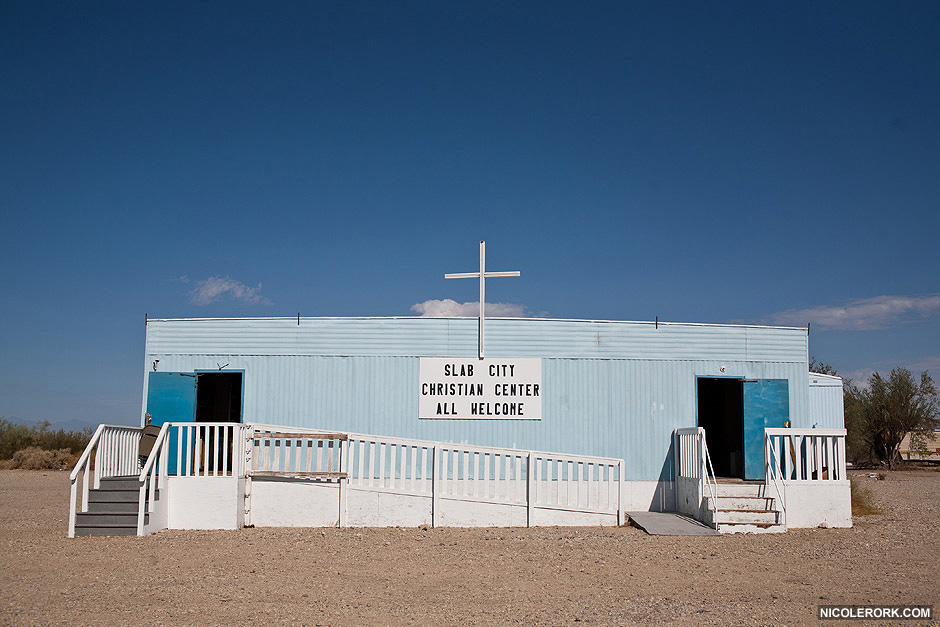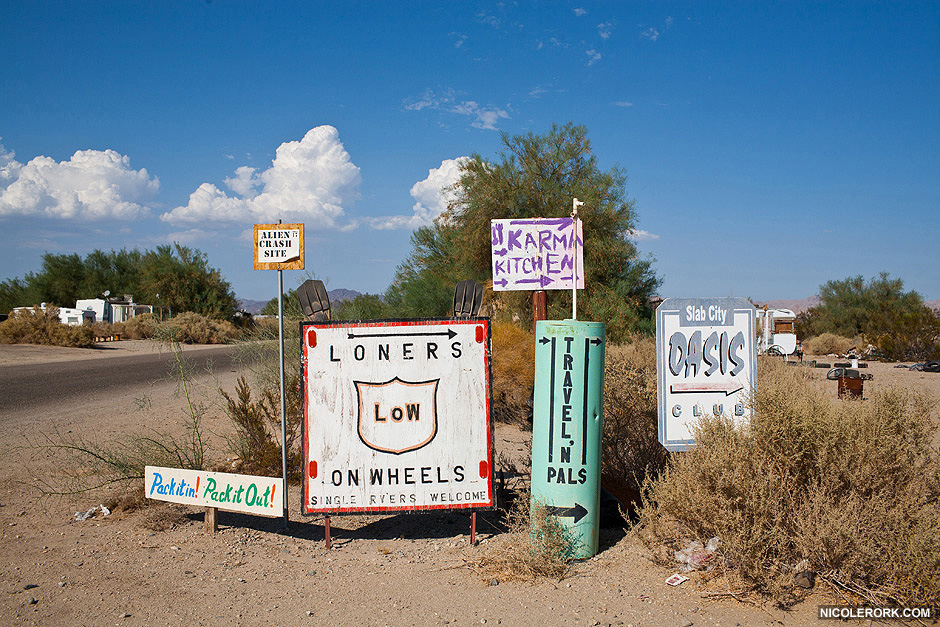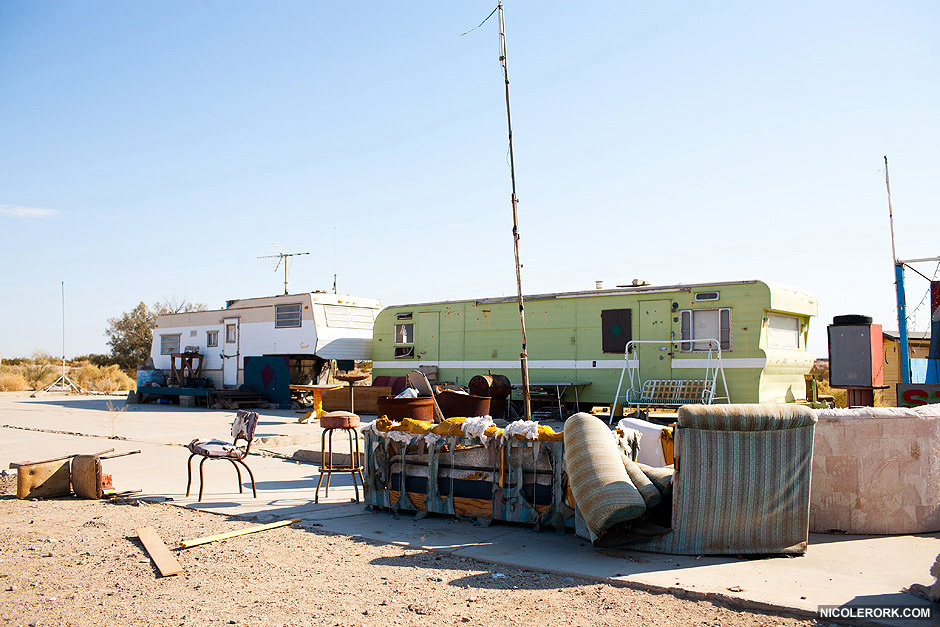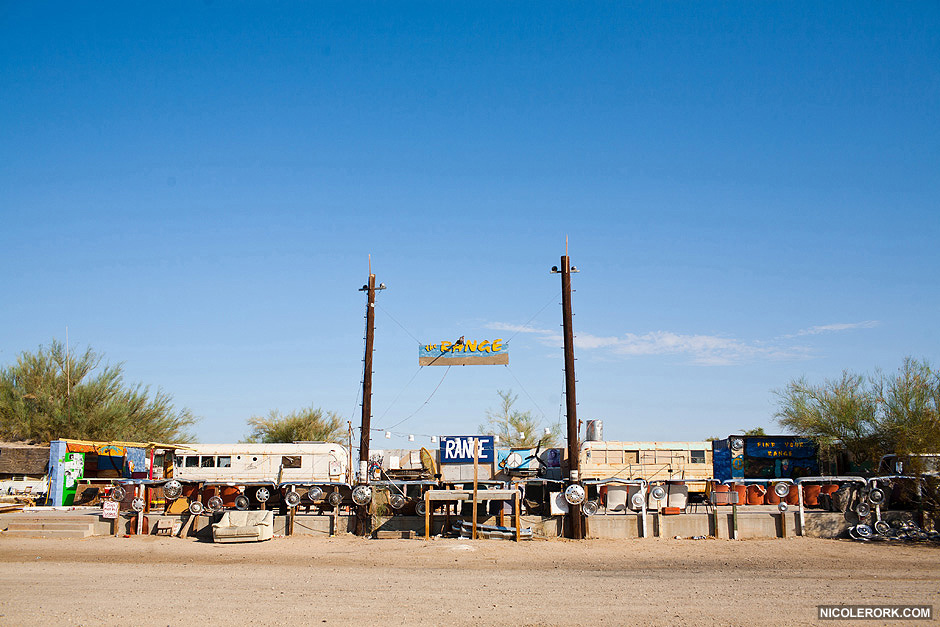 "The Range" built by a permanent "slabber" – Builder Bill.  Every Saturday night the community gets together at The Range for music, socializing and all around fun.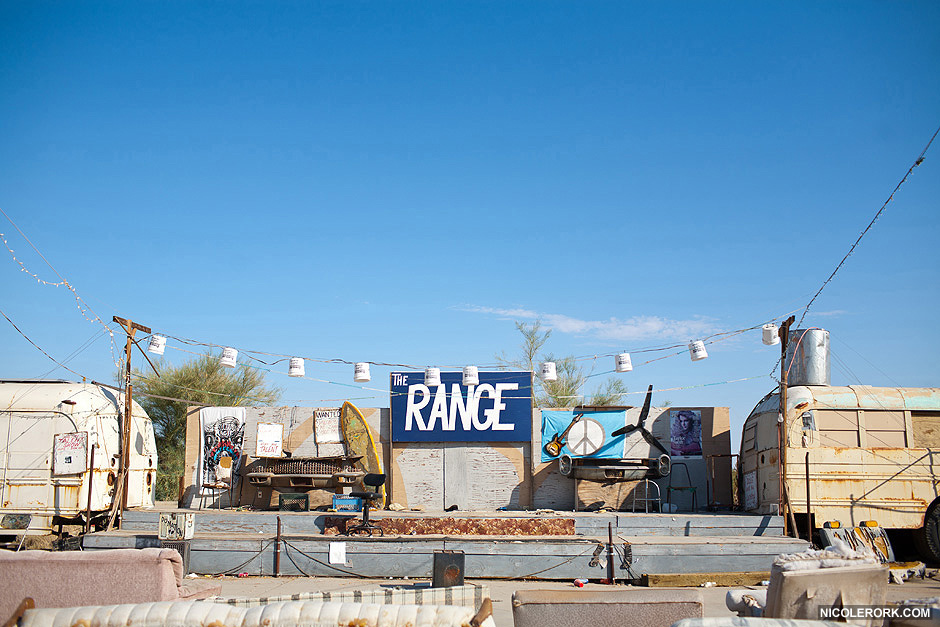 The Range was also featured in Sean Penn's film, "Into the Wild" with Emile Hirsch and Kristen Stewart. Check out a clip from The Range. ** Random fact: Builder Bill has been a resident at the Slabs for 13 years as of 2011. It wasn't until 7-8 years after Chris McCandless passed through there that Bill settled in, so The Range didn't actually exist until well after Chris McCandless's stay there.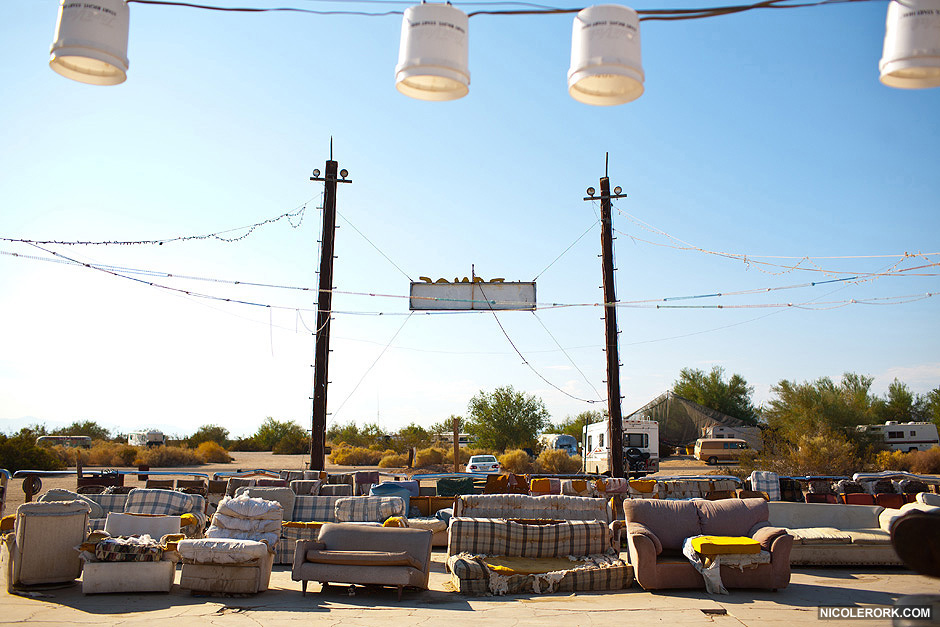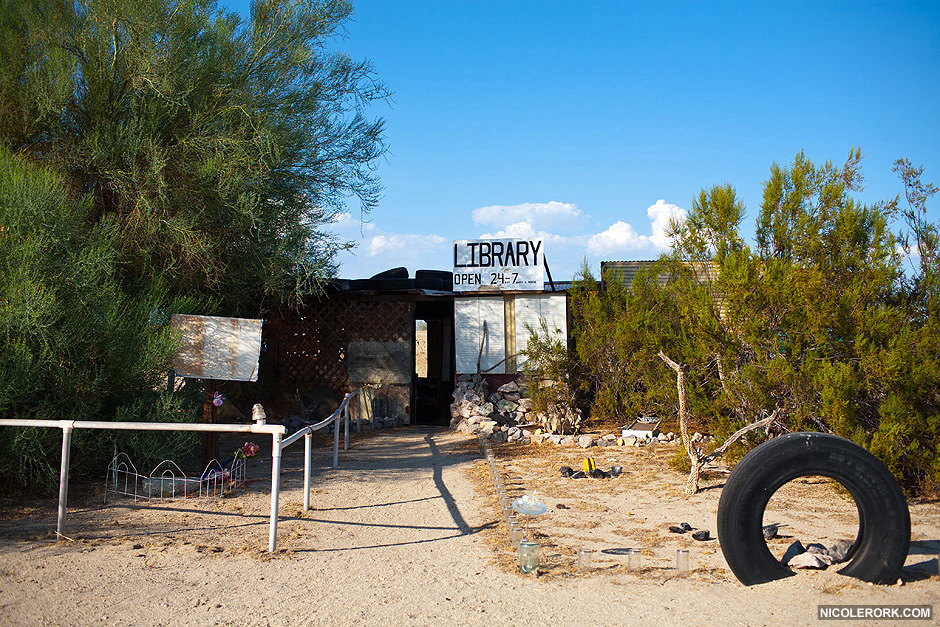 The Lizard Tree Library – open 24/7.  Originally opened and run by a slabber who called herself Rosalie.  Unfortunately, she passed away in 2003, but a memorial in her honor was left in front of the library.  The library is run on the honor system – take a book, leave a book.  Many of the books, magazines and anthologies have been donated by the seasonal "snowbirds" during their travels.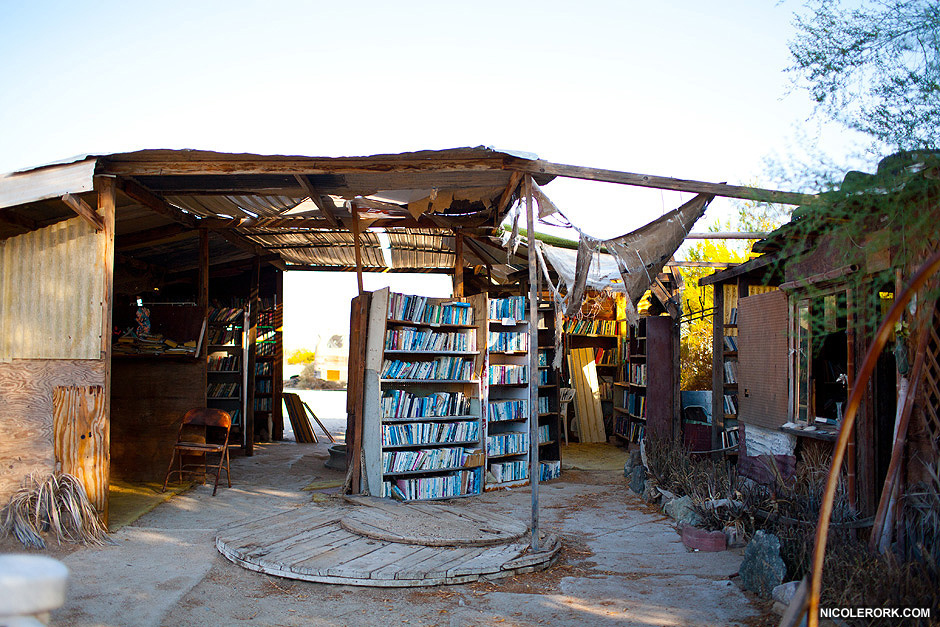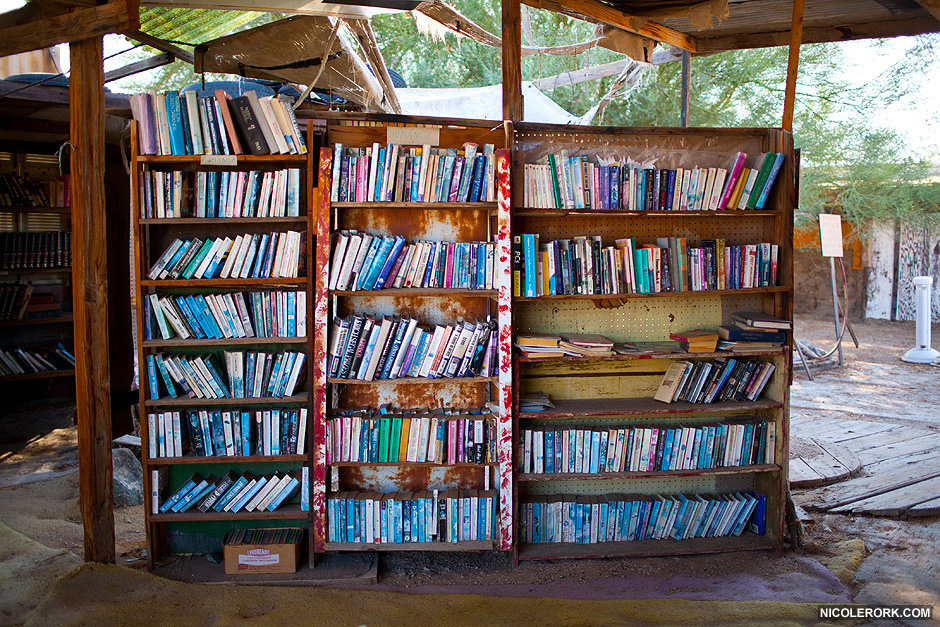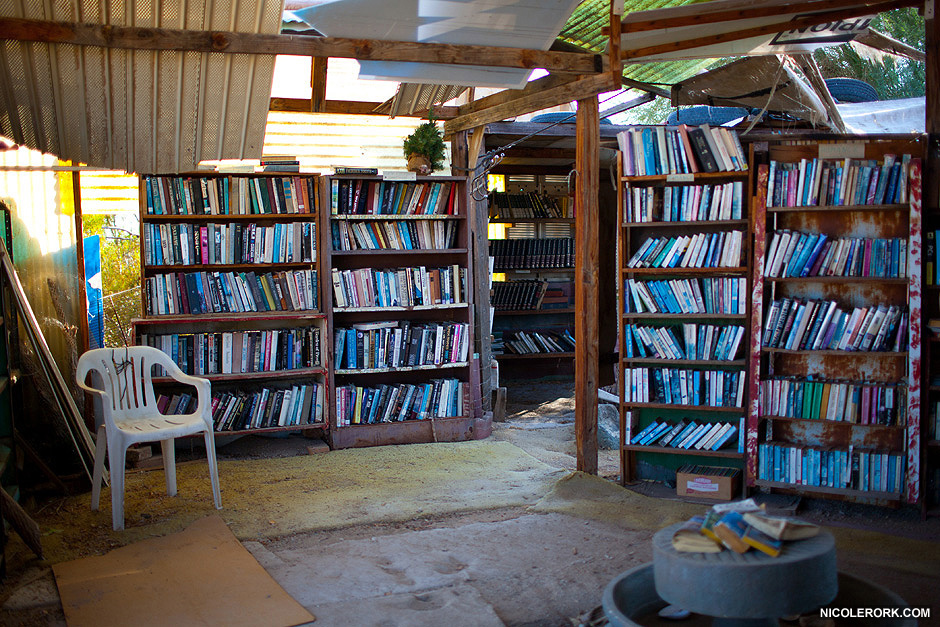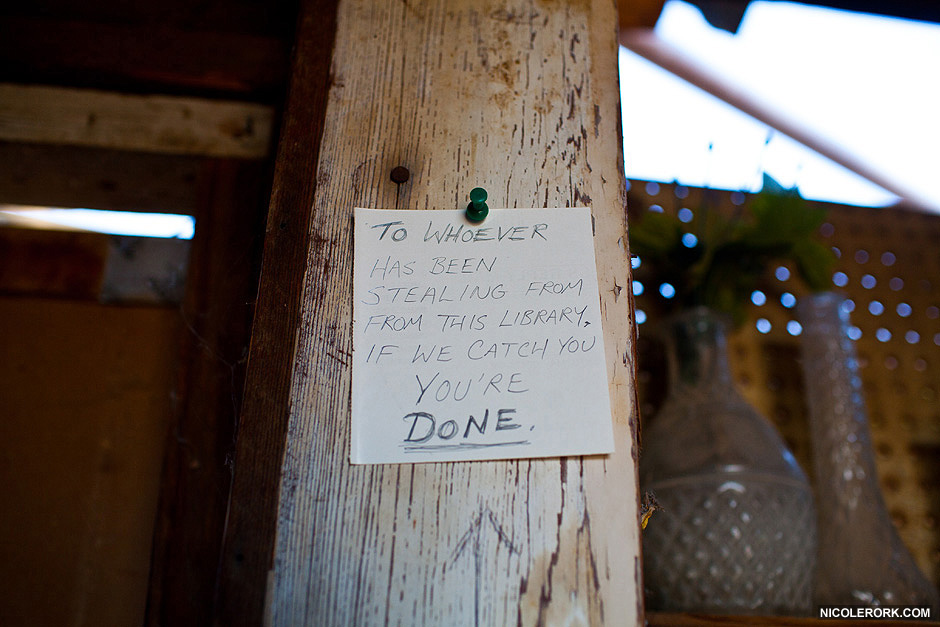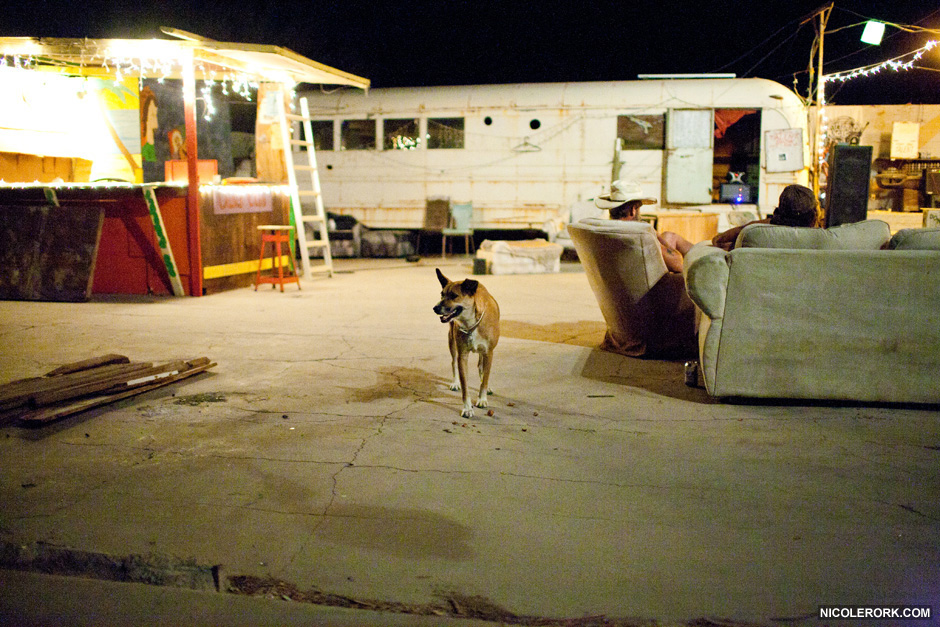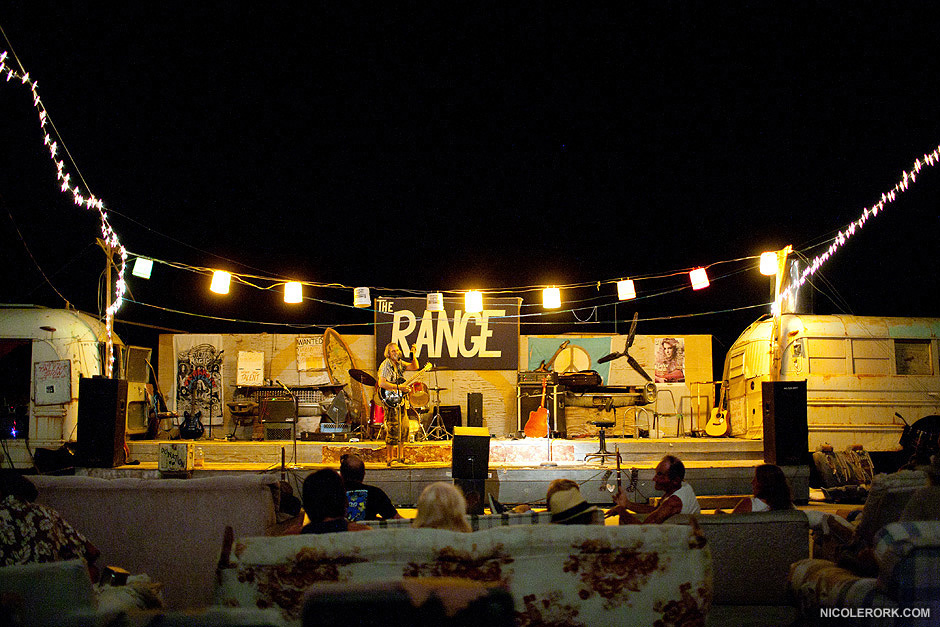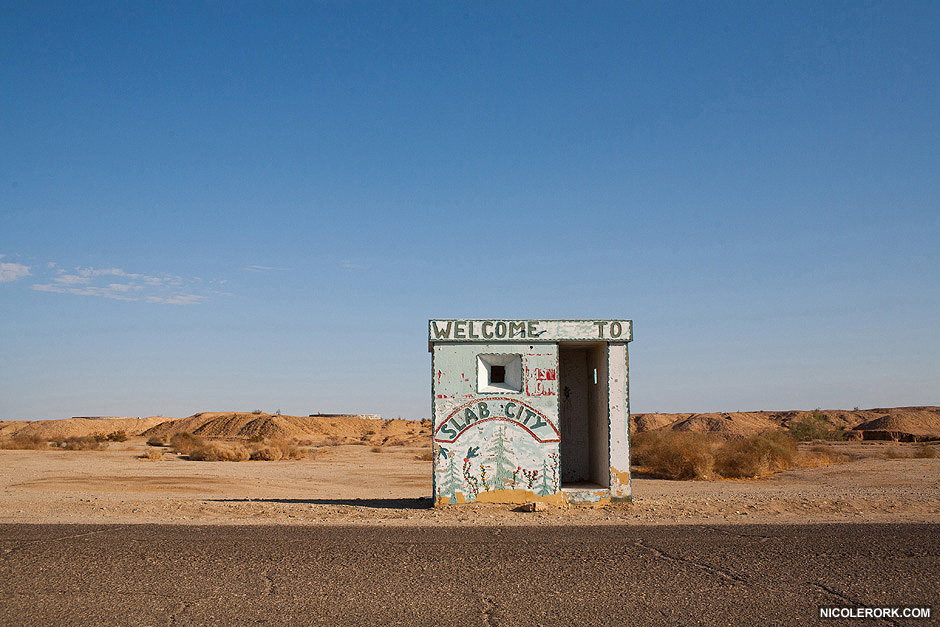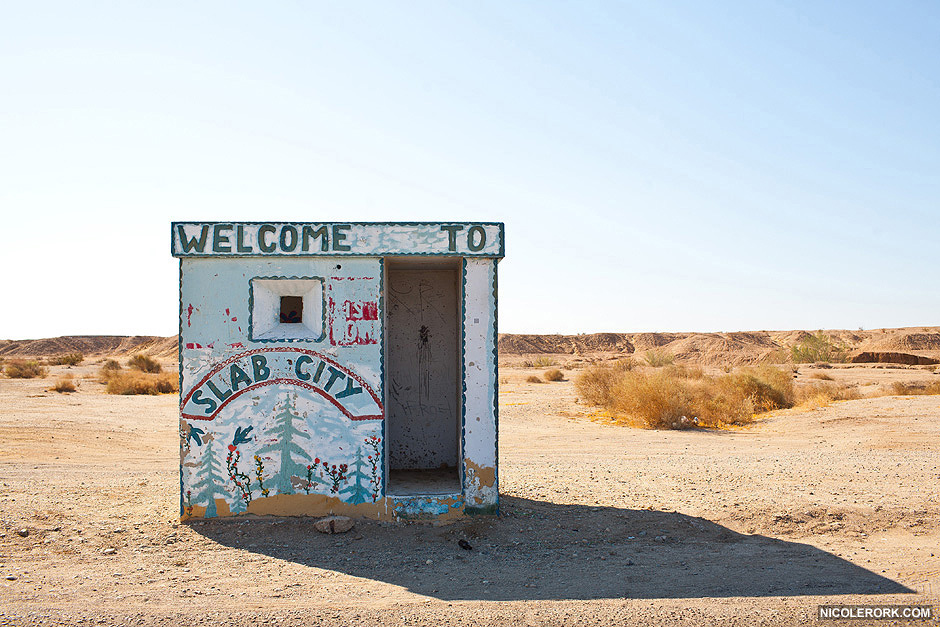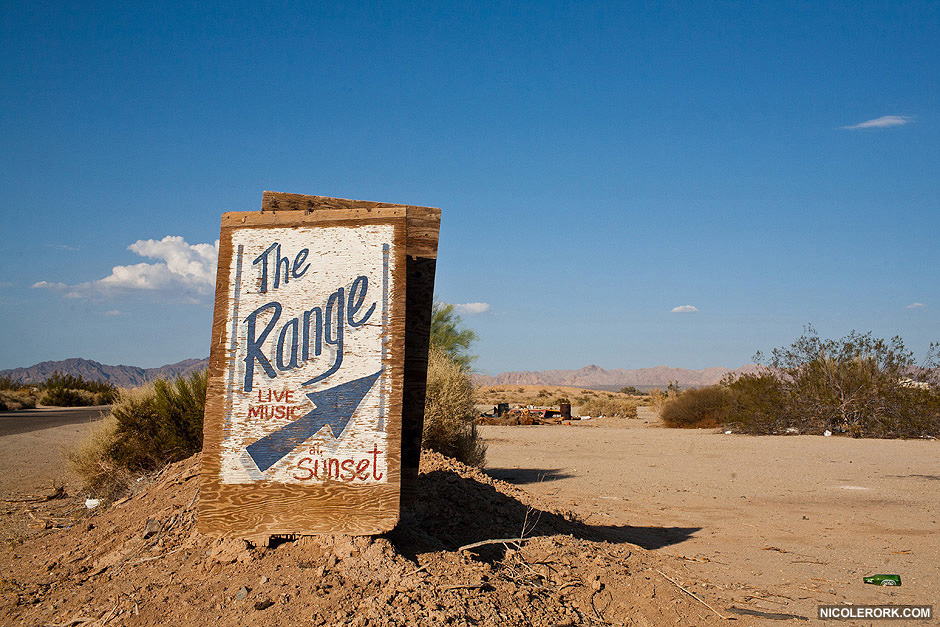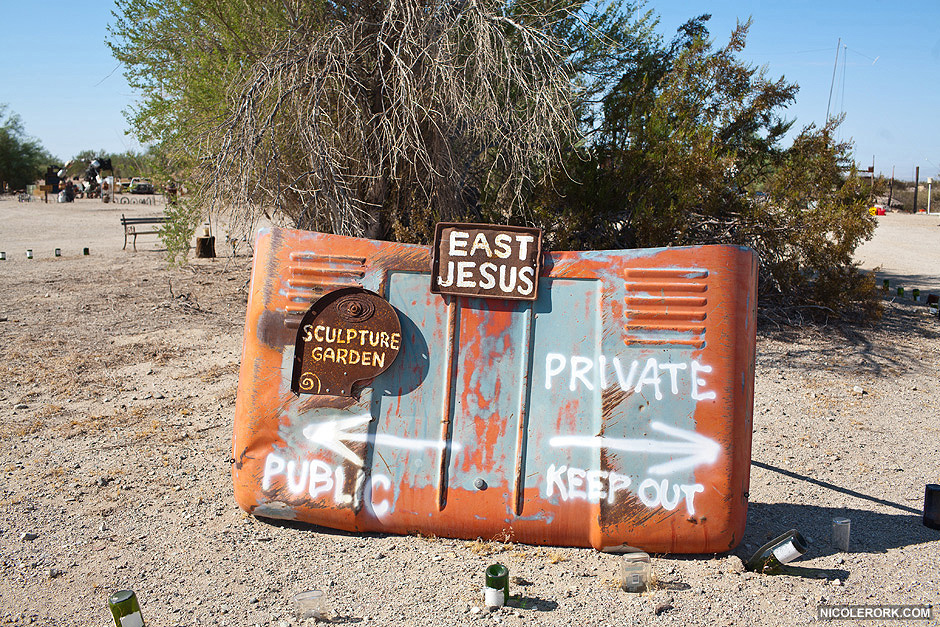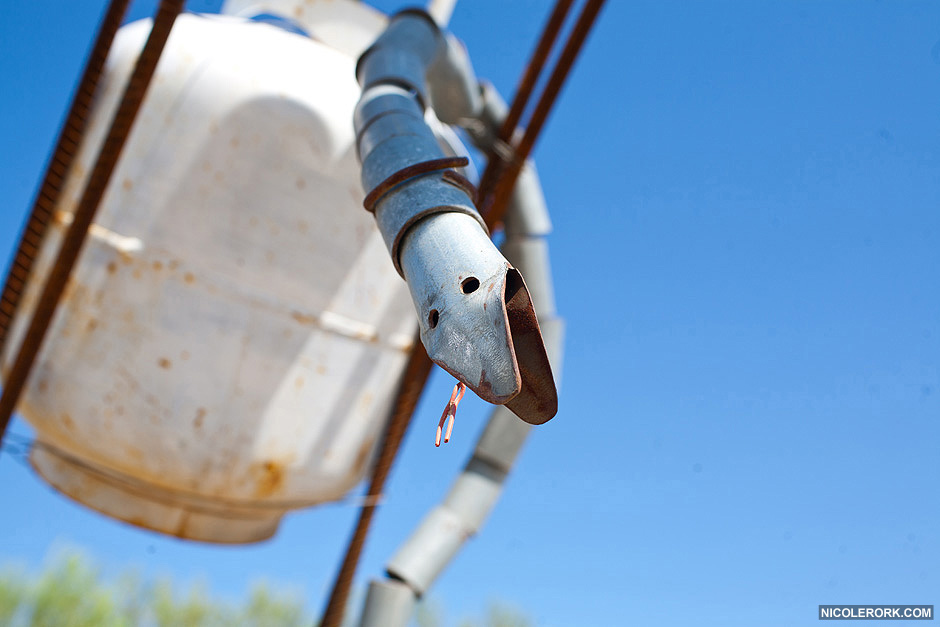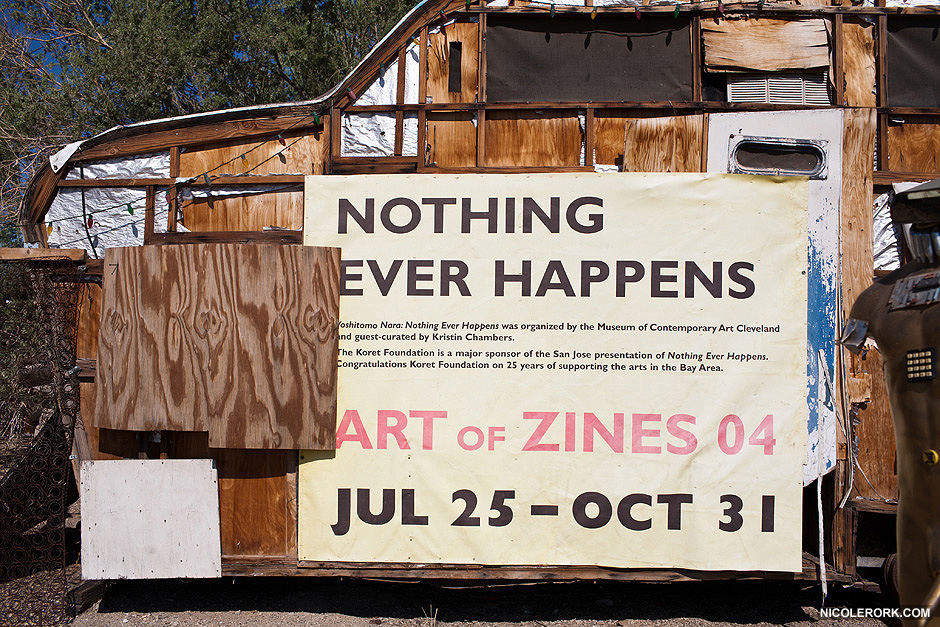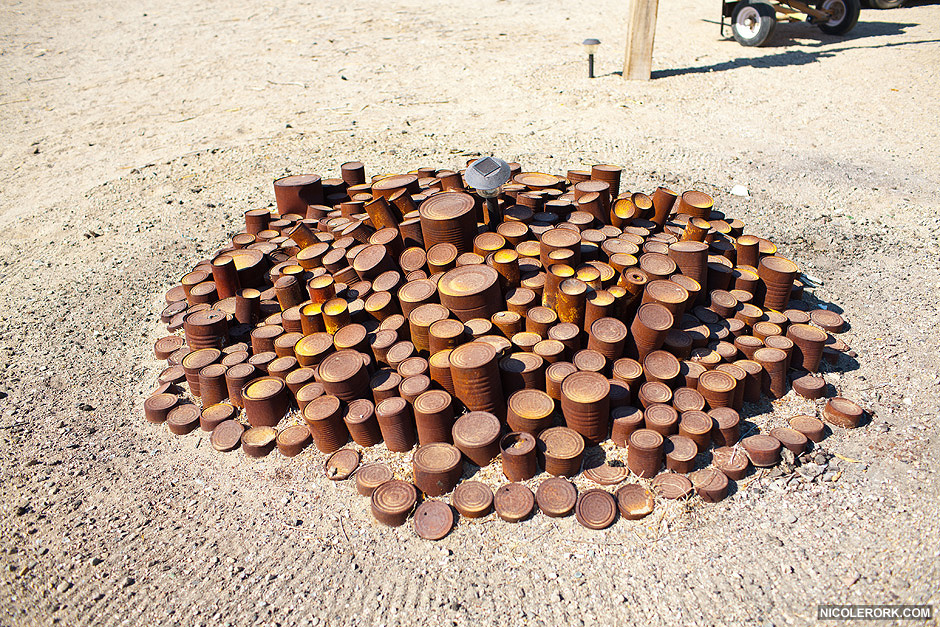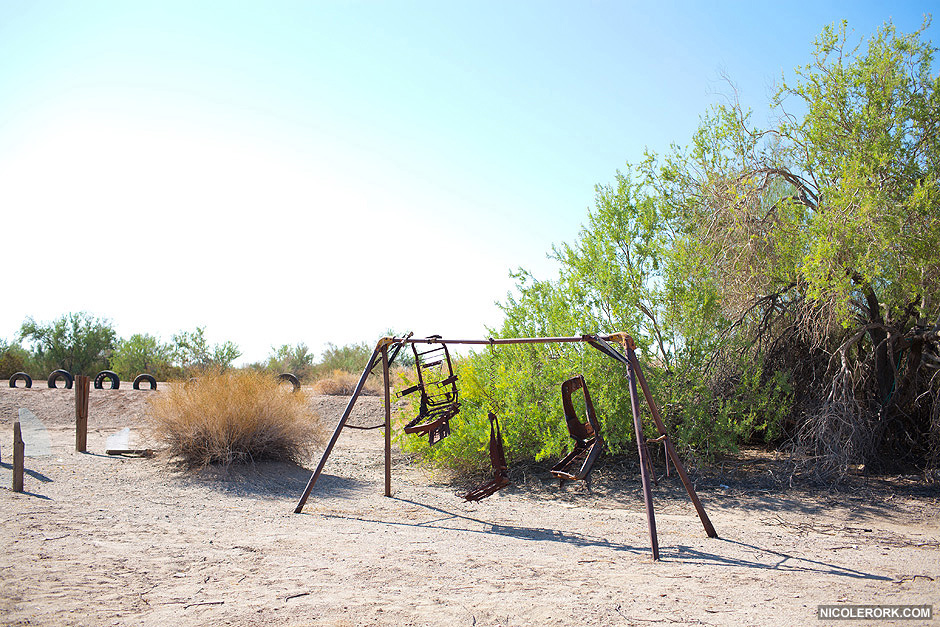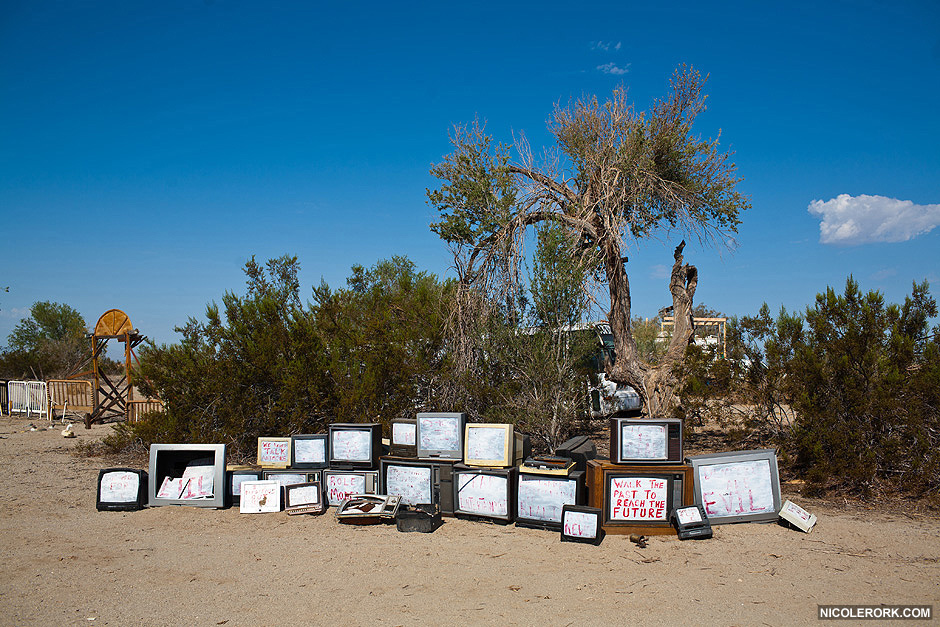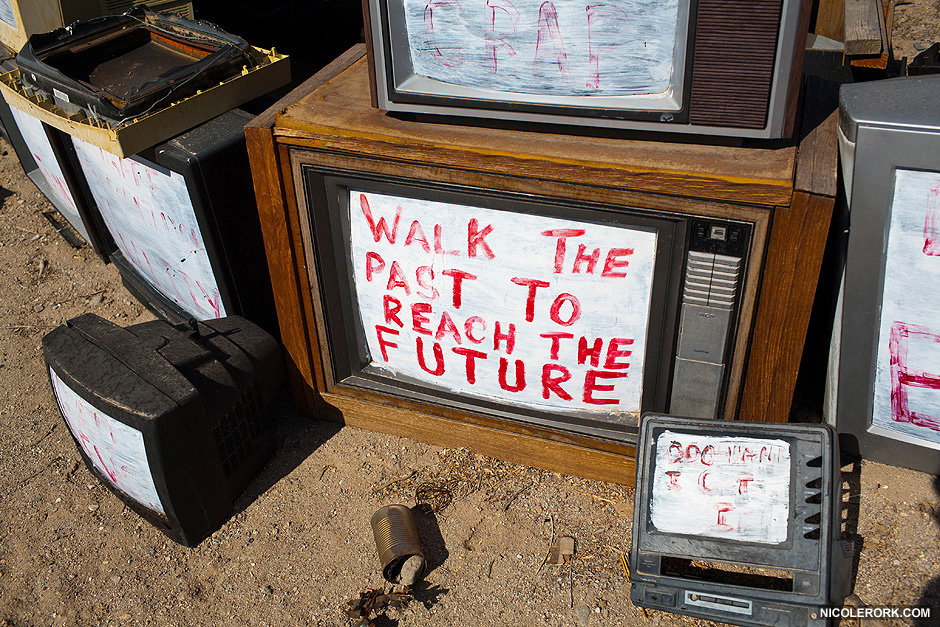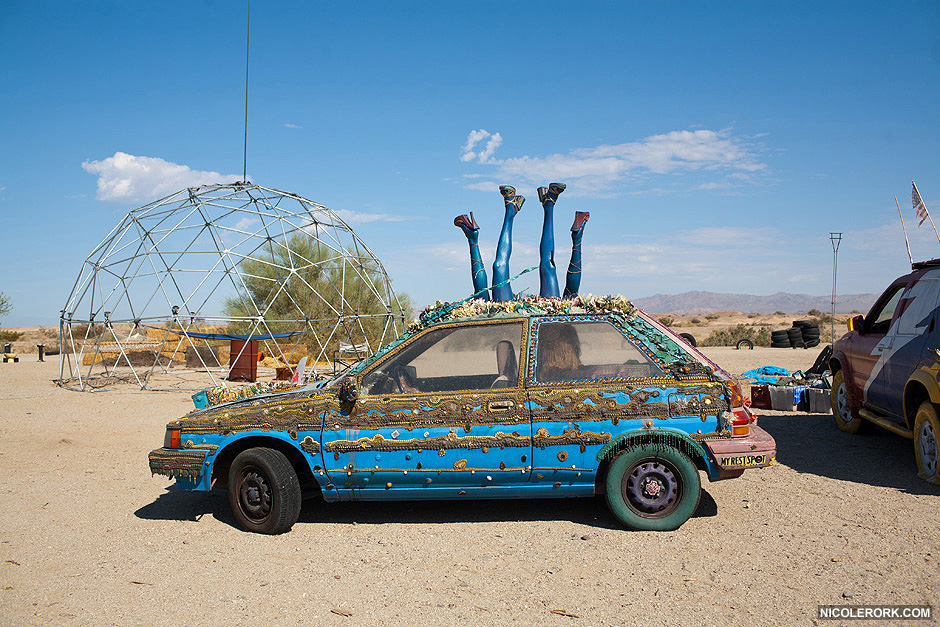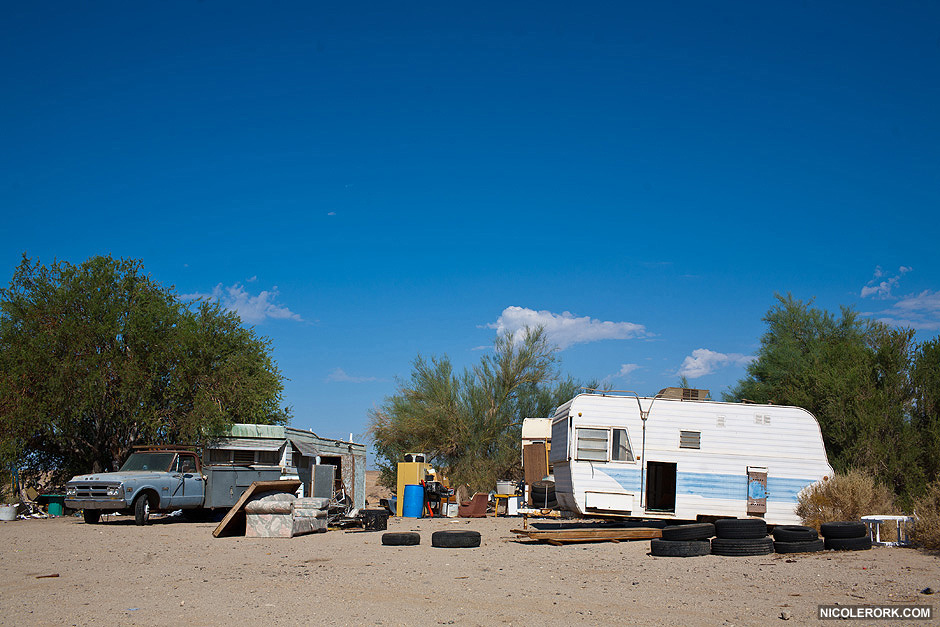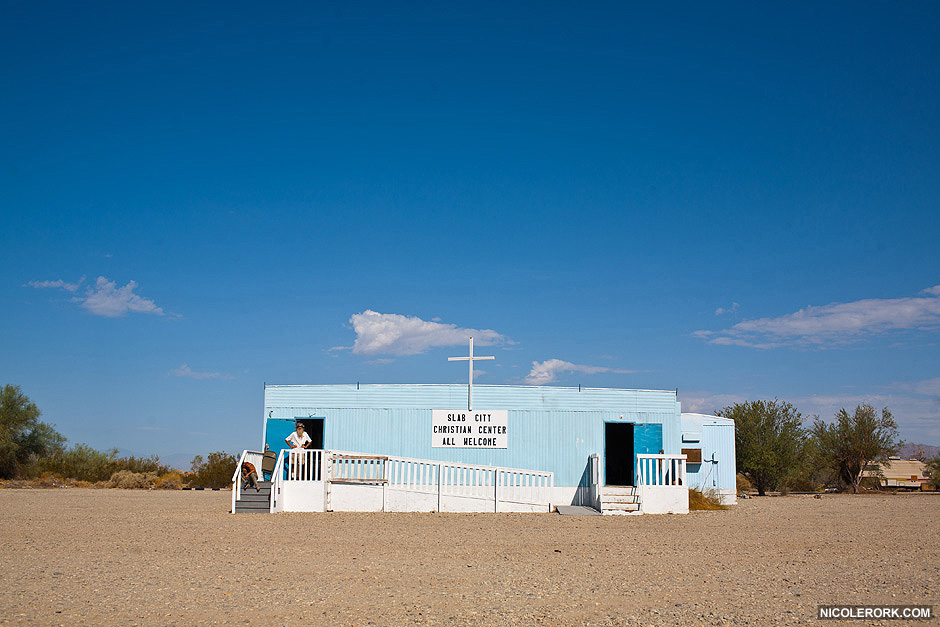 John and Dave outside the church waiting for the sermon to begin.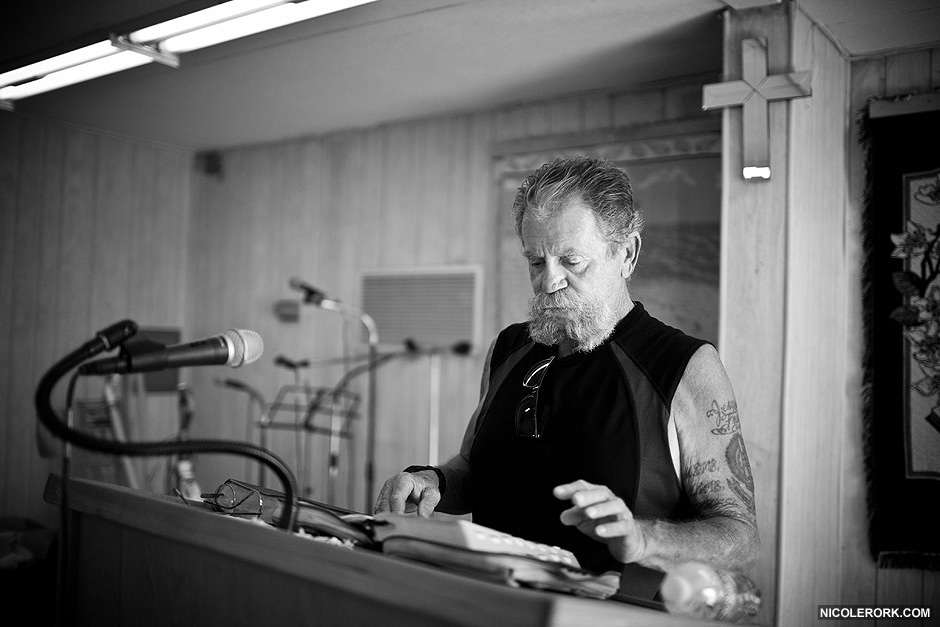 Pastor Pat preparing for his sermon.  Prior to moving to the Slabs, he had extensive surgery for cancer and had a new outlook and view on life.  When asked if he had a choice between "normal" life and life in the Slabs, he said he would chose the Slabs because you don't experience the type of freedom in any other "society."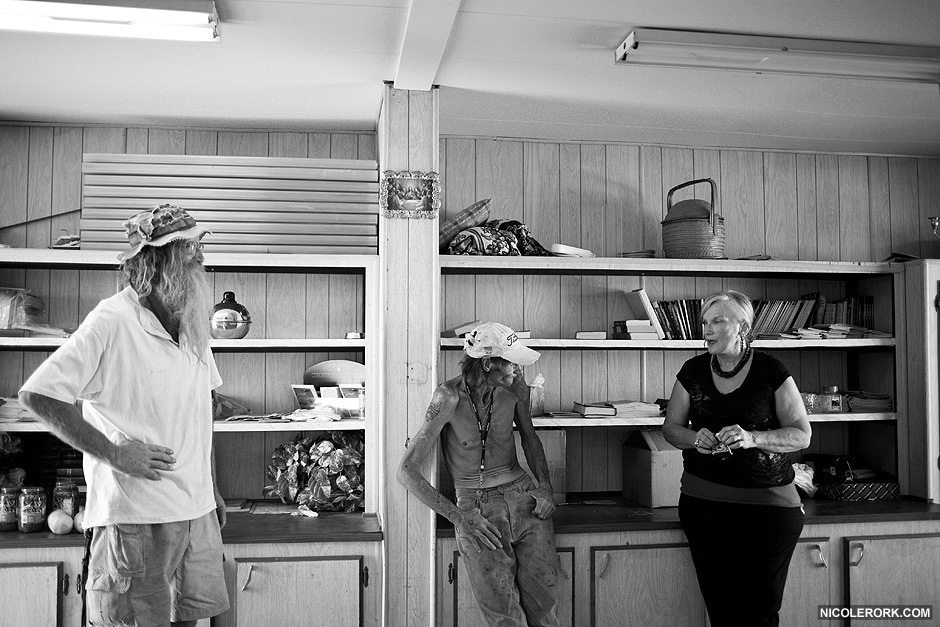 Dave, John and Laura, the church's congregation for the day.
September 5th, 2011 at 7:36 pm | Posted in Personal, Ruins, Travel | 2 Comments »
It's been awhile, I apologize. The past four months have been some of the busiest and craziest of my life. The past two weeks have been some of the most humbling. I'll spare you the sappy details, but life always has a way of keeping you in check and reminding you of what's really important.
I've been working on a lot of awesome projects, some of which I will be sharing in the near future, but for now – eye candy from the past couple of weeks.
Michigan Central Station – Detroit, MI.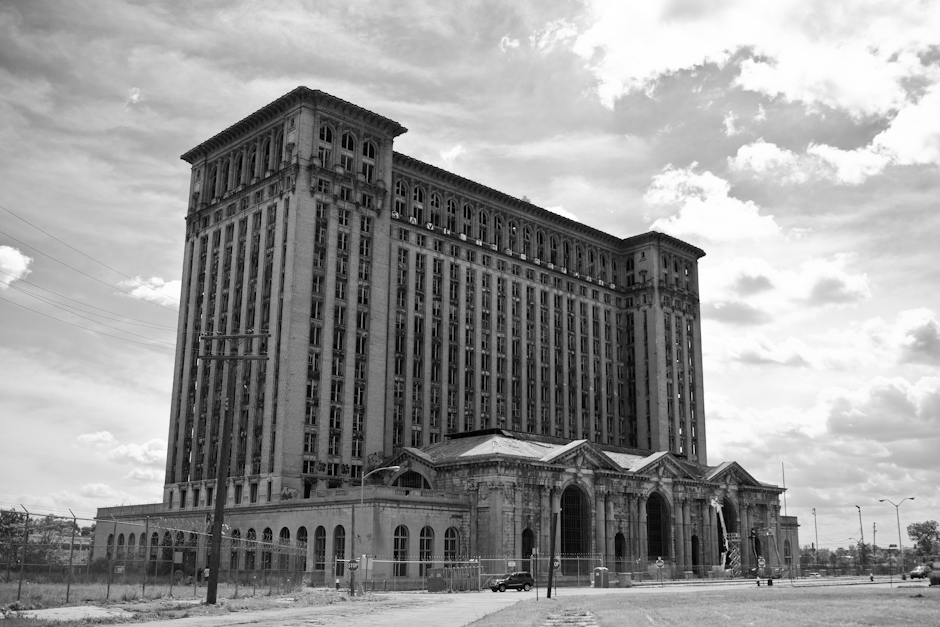 In Fear & Faith for Alternative Press

Hollywood Hills

Aaron Stern of D.R.U.G.S. – San Diego Warped Tour

Craig Owens of D.R.U.G.S. – San Diego Warped Tour

Motion City Soundtrack at House of Blues Hollywood.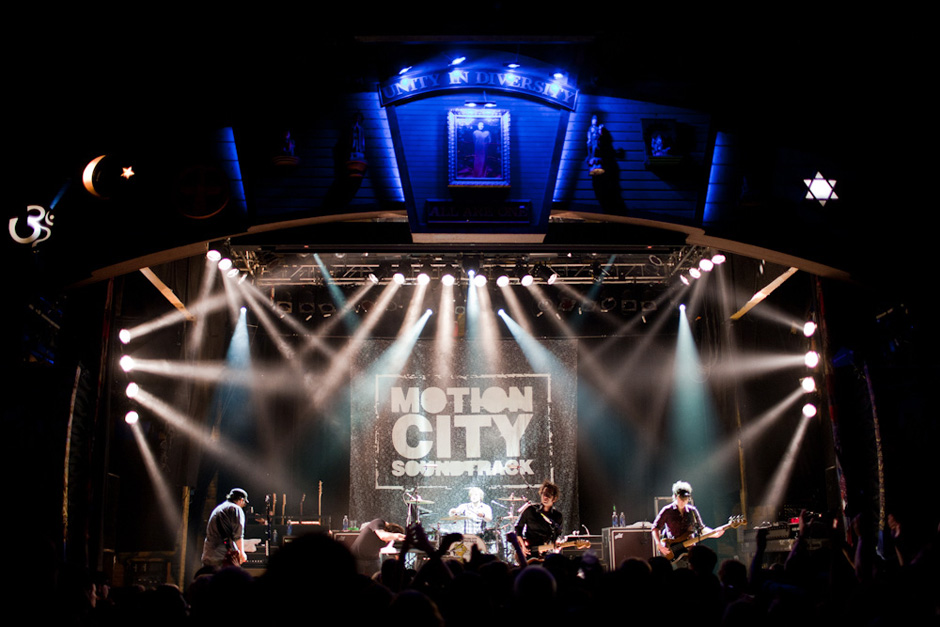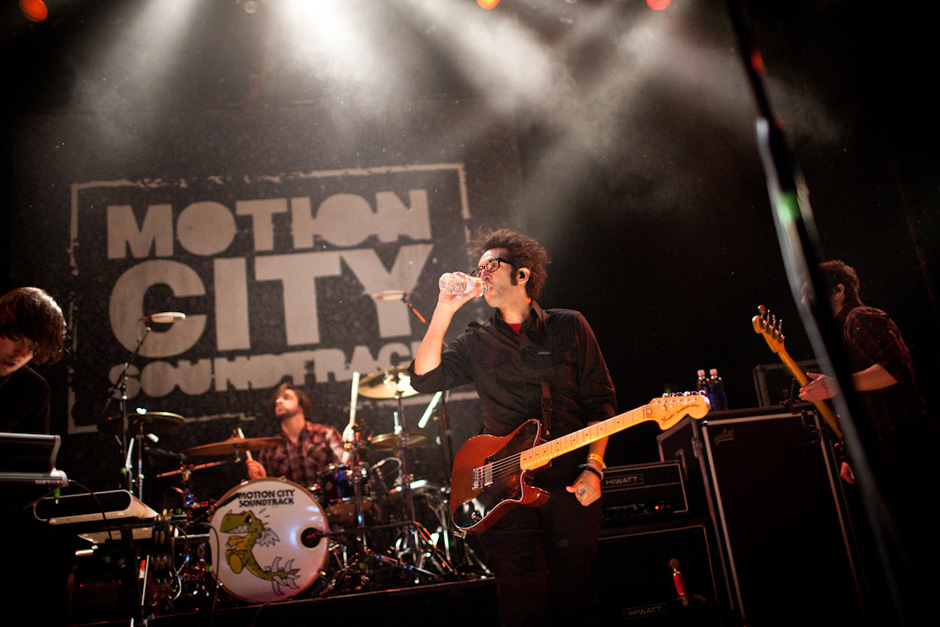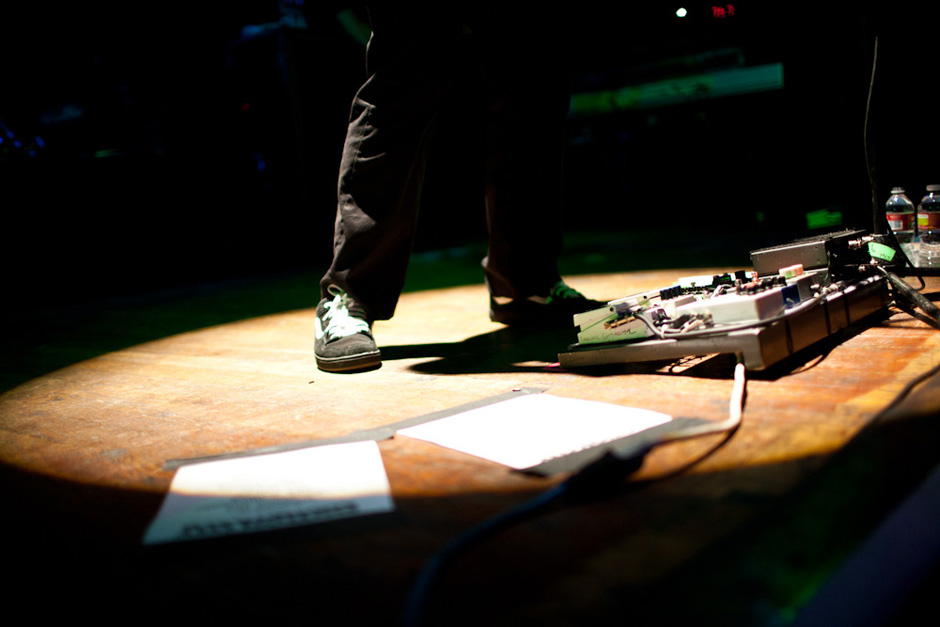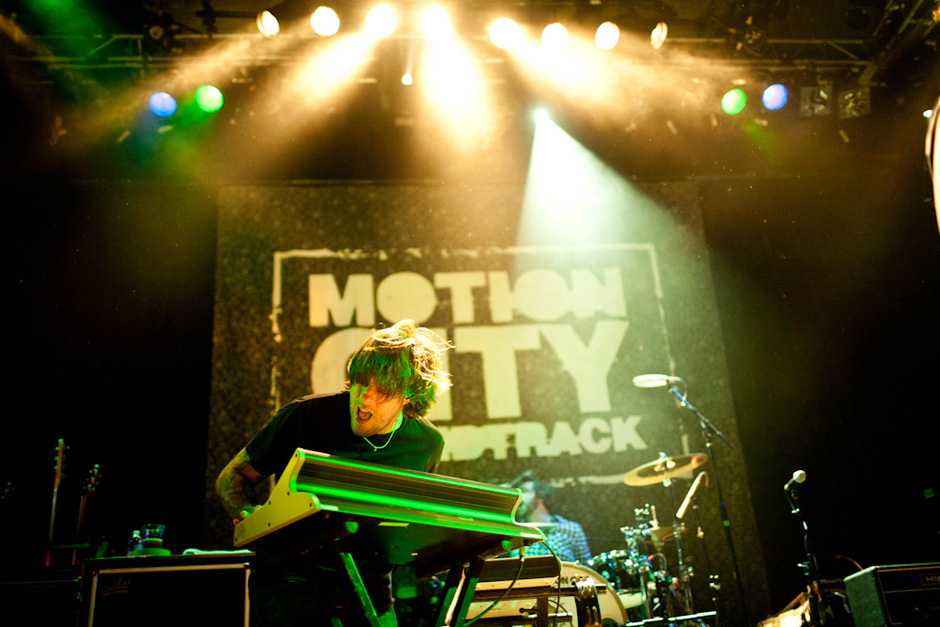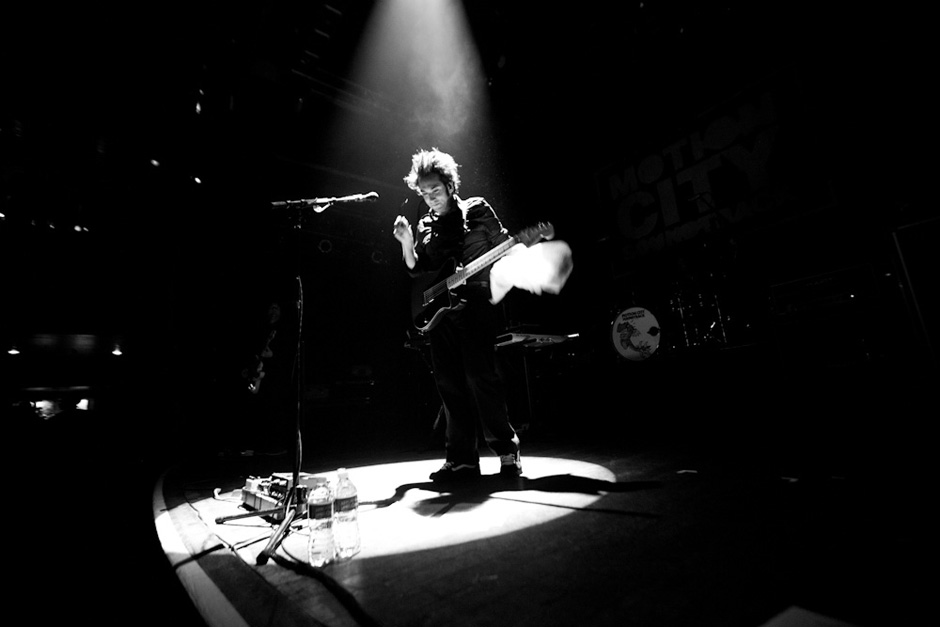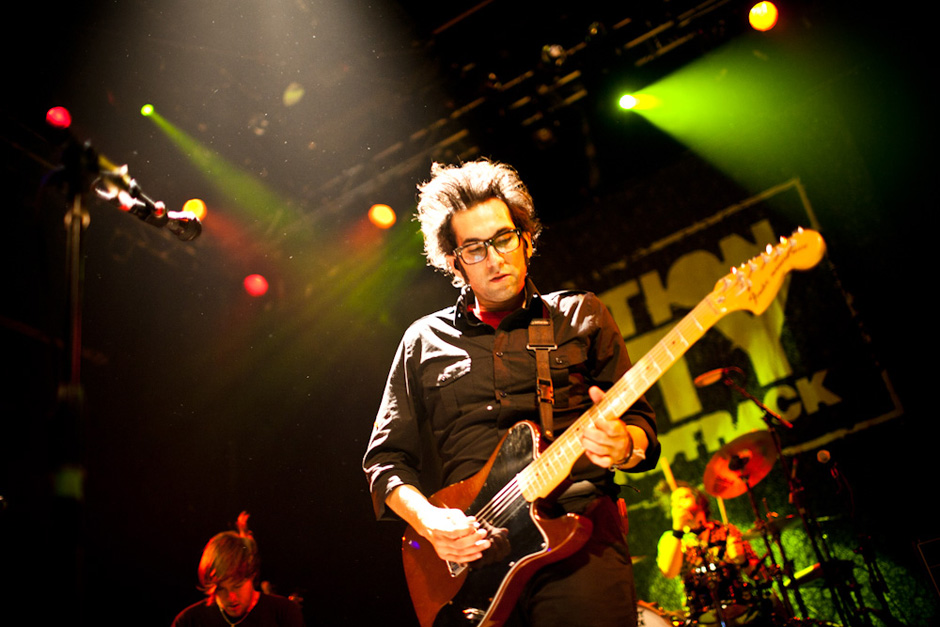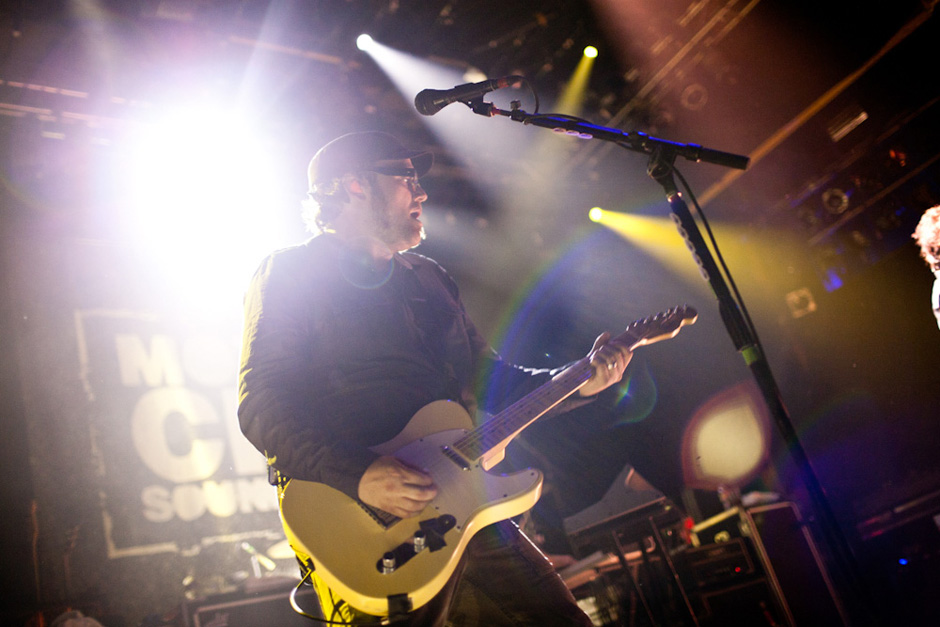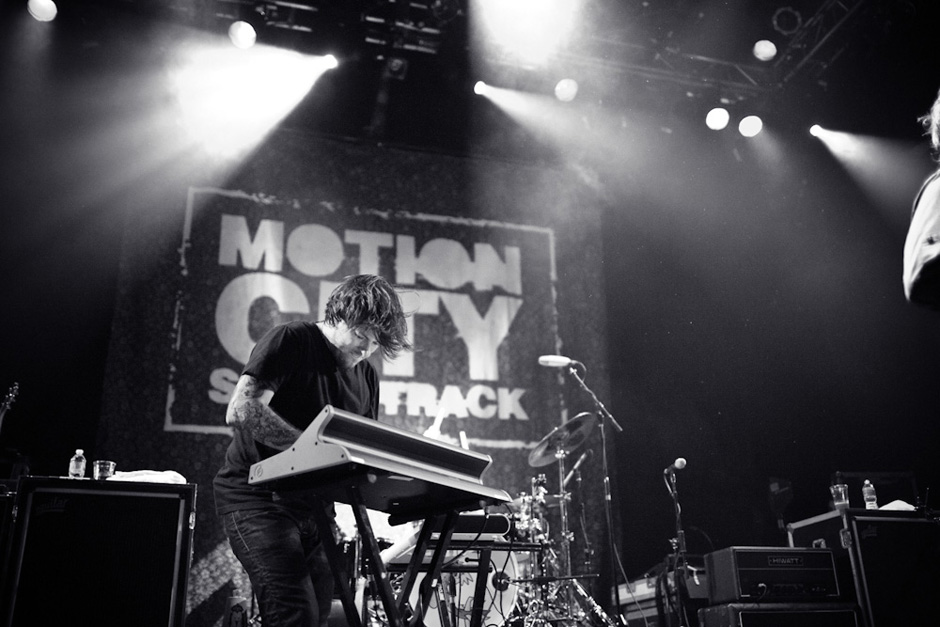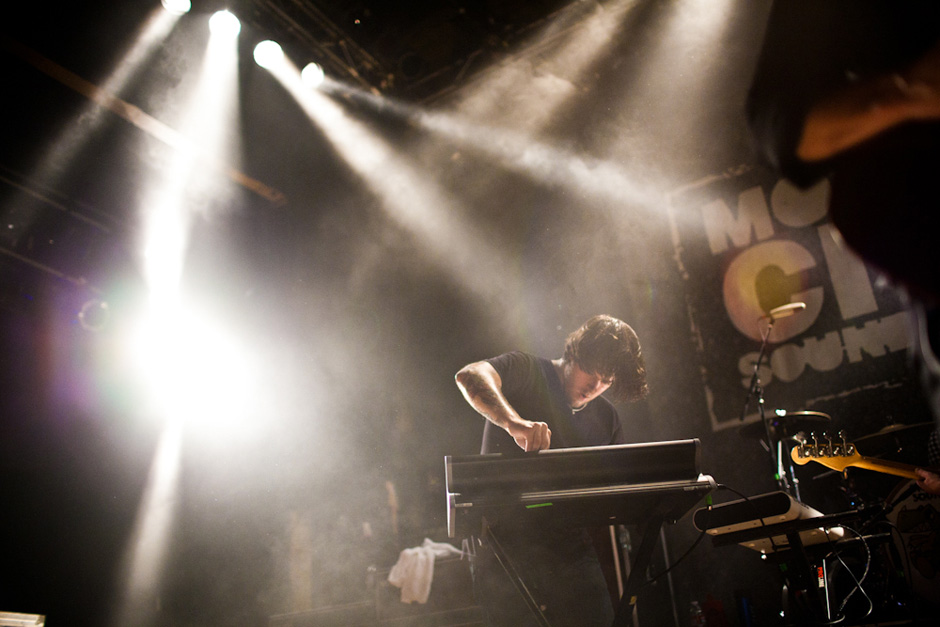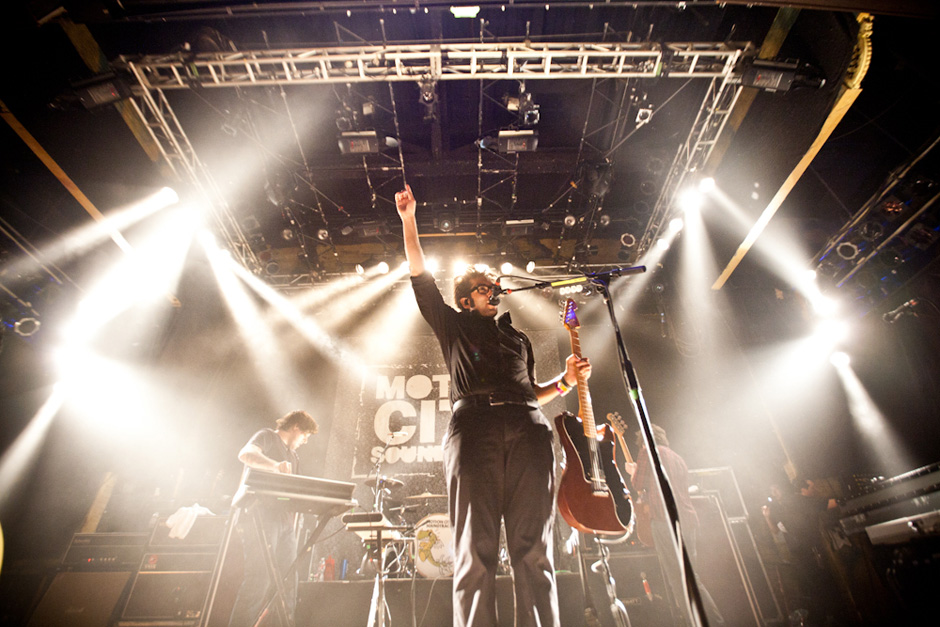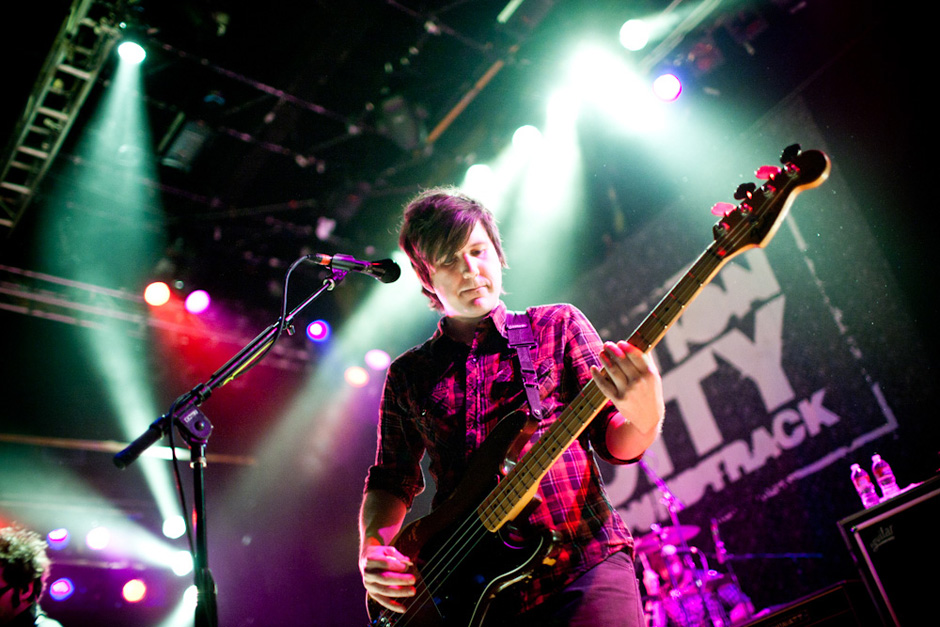 Awesome friends + their ridiculously good looking kids.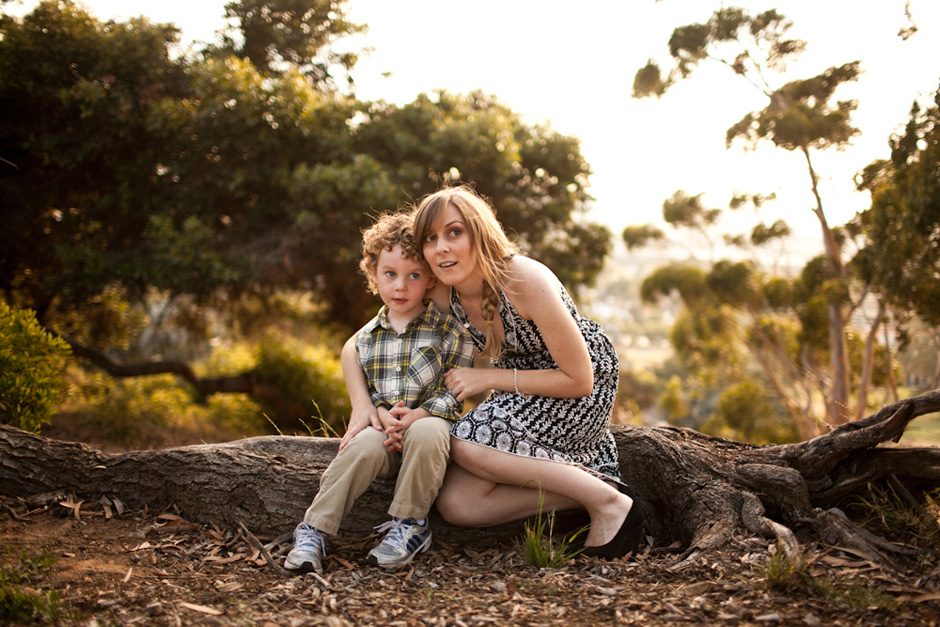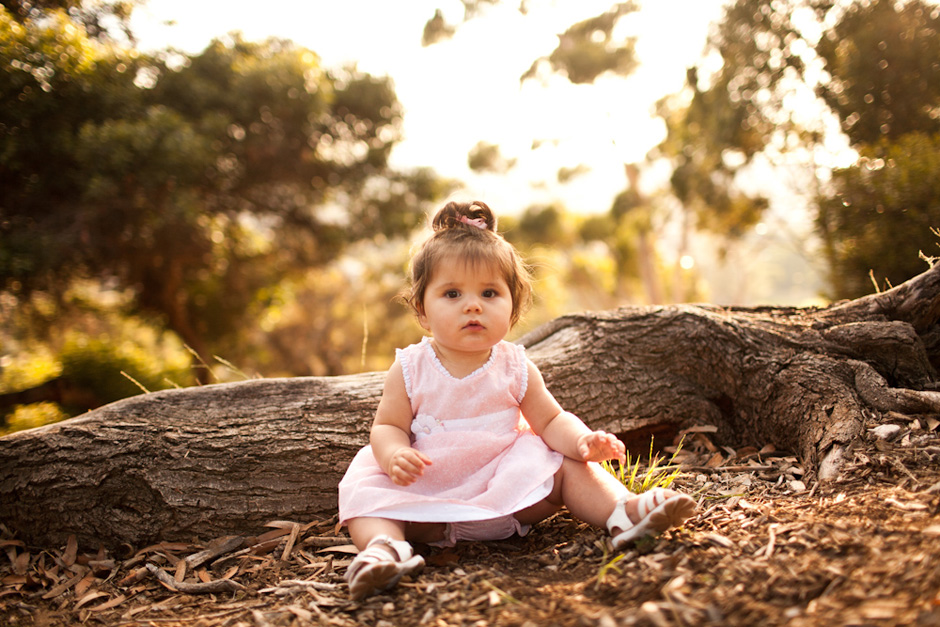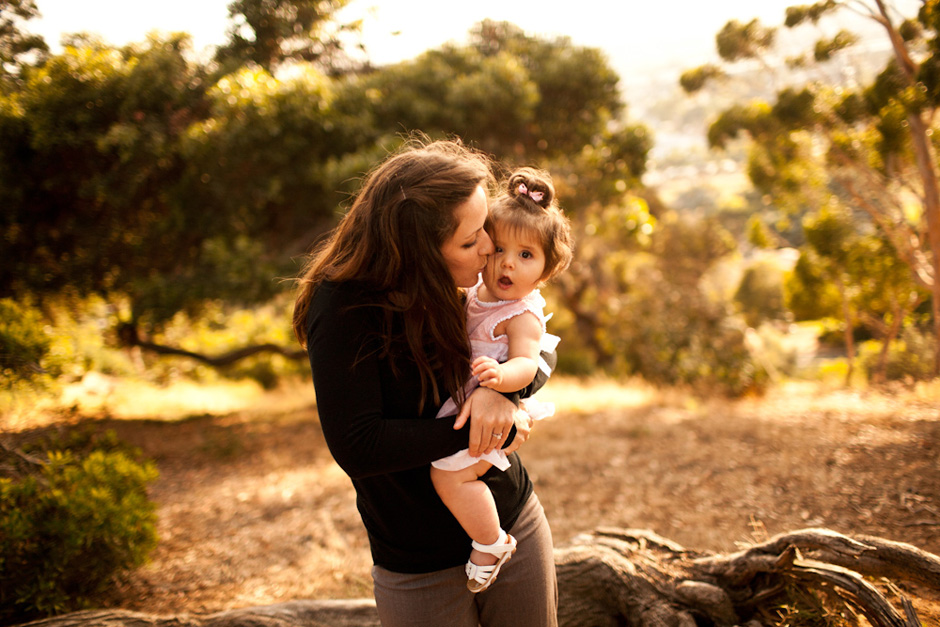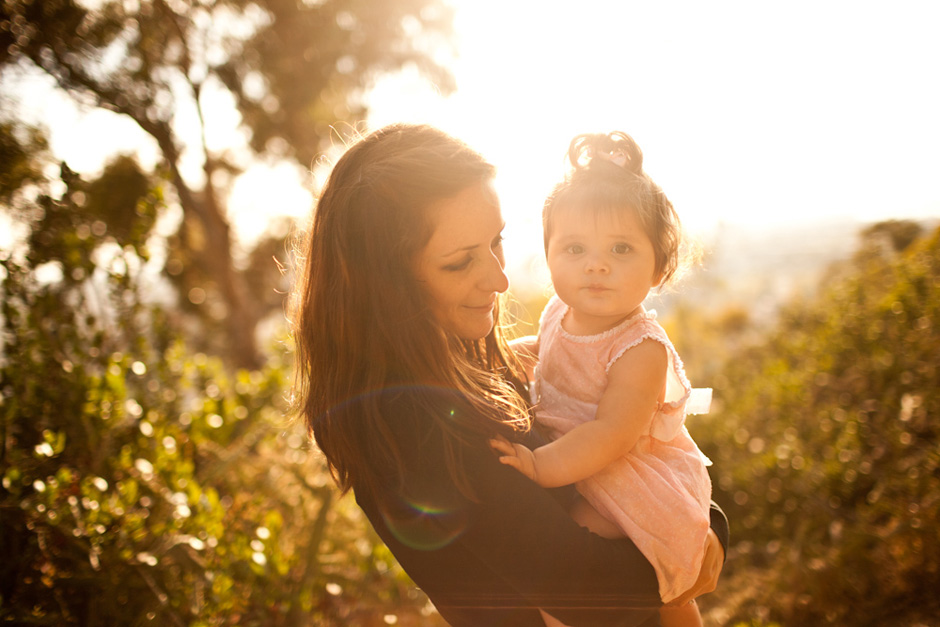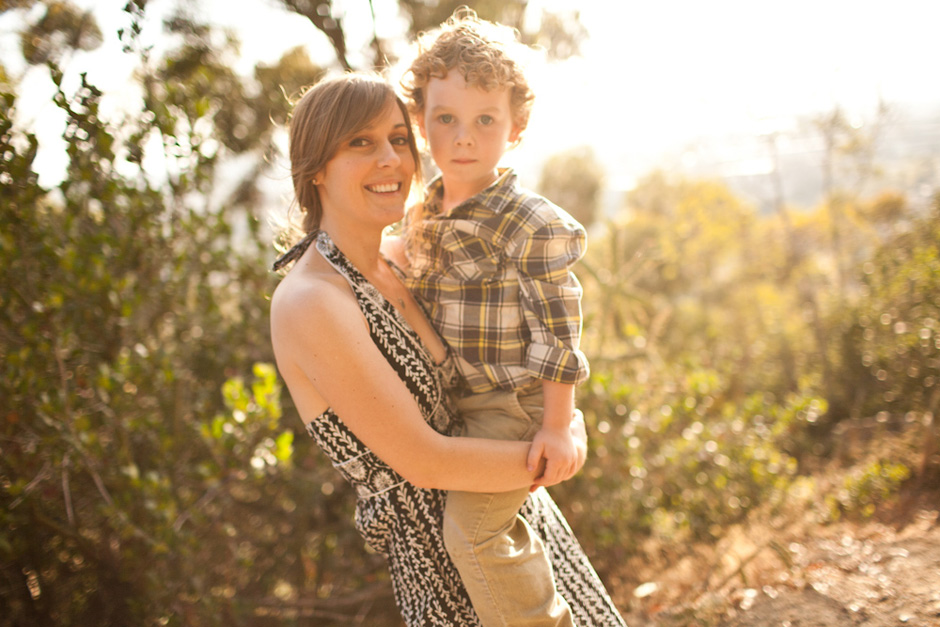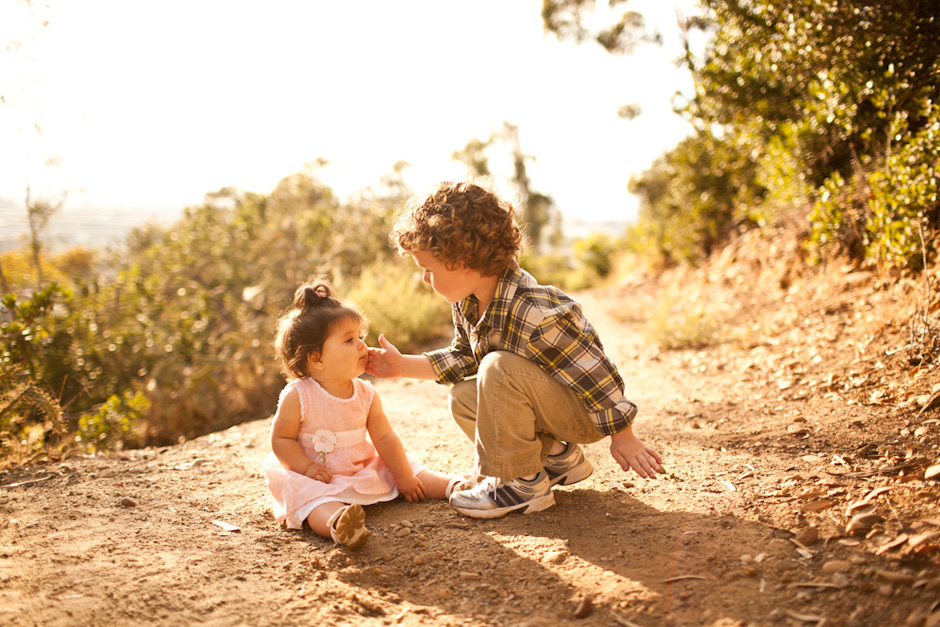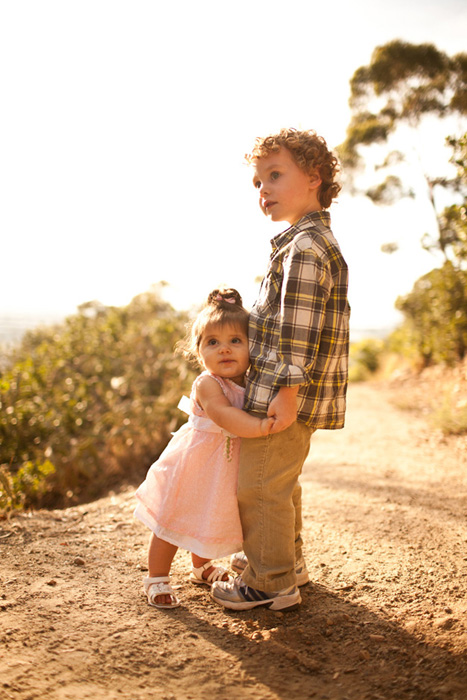 August 23rd, 2011 at 9:09 pm | Posted in Music, Personal, Portraits | No Comments »
Photographing this wedding meant a lot to me. It's not very often that I visit home and it's not often to be able to witness and be a part of something so beautiful. Everything about it was perfect. Call me a sap, but moments like these remind what's really important in life. A little touch of home so you don't forget your roots, creating memories that will be remembered for your entire life and the company good friends / family.
I've known Mike for the latter half of my life and he has been one of closest friends for the past 12 years. He's been there for me regardless of the dilemma, he is everything you could wish for in a good friend. We even started a business together. His family has become my second family – many nights spent watching movies, chopping vegetables, fishing, lighting fireworks, beach house vacations and all around fun. I knew he and Nicole were perfect for each other when they met eight years ago. Nicole is one of the most down the earth, genuine and caring people I've met, it was a perfect match.
We decided to hit all of the major landmarks in Detroit – Fox Theater, Monument to Joe Louis (the "fist"), Hart Plaza, Renaissance Center and Packard Plant. Mike was actually the first person to go with me when I started exploring abandoned buildings, so it was only fitting that we made a stop at the abandoned Packard Plant in Detroit for some photos.
Be sure to swing by Forever Cherished Productions – they stood next to me and captured the day in motion. If you're in Michigan and you're looking for quality wedding video and awesome people, you need to hire them. You can check out the trailer from the day below all the pictures.
I've never been good with words, so I'll let the photos do the rest of the talking.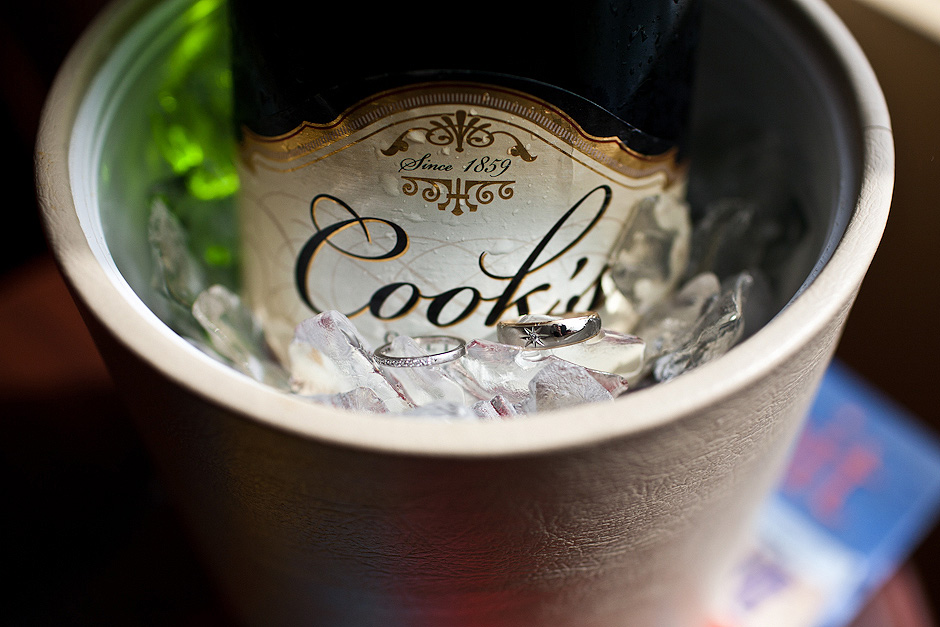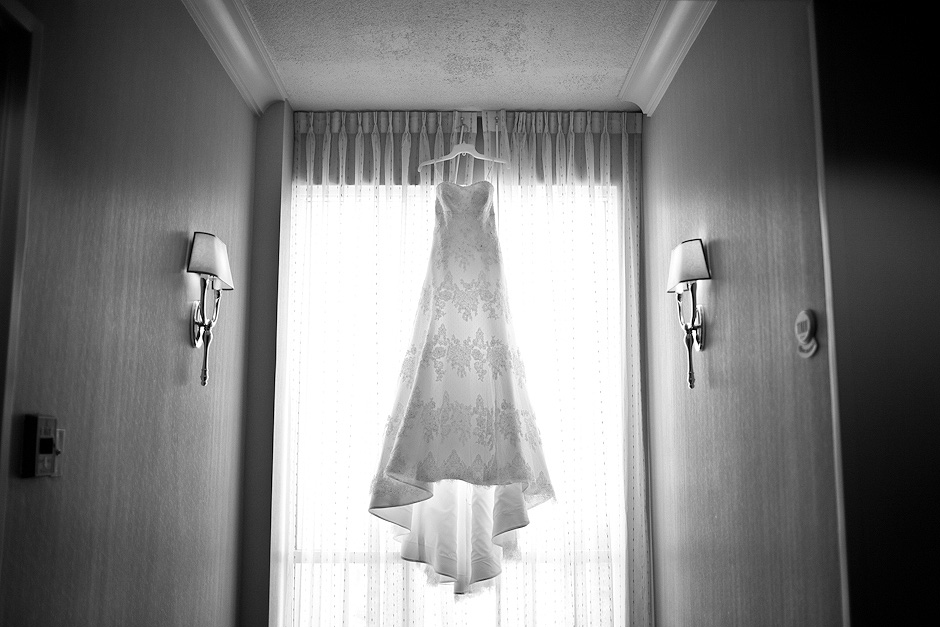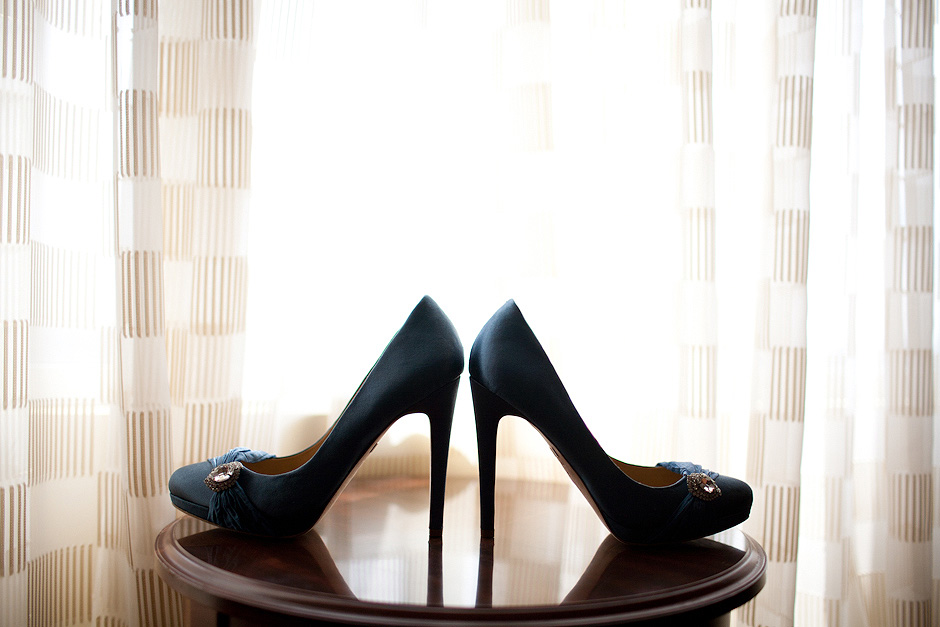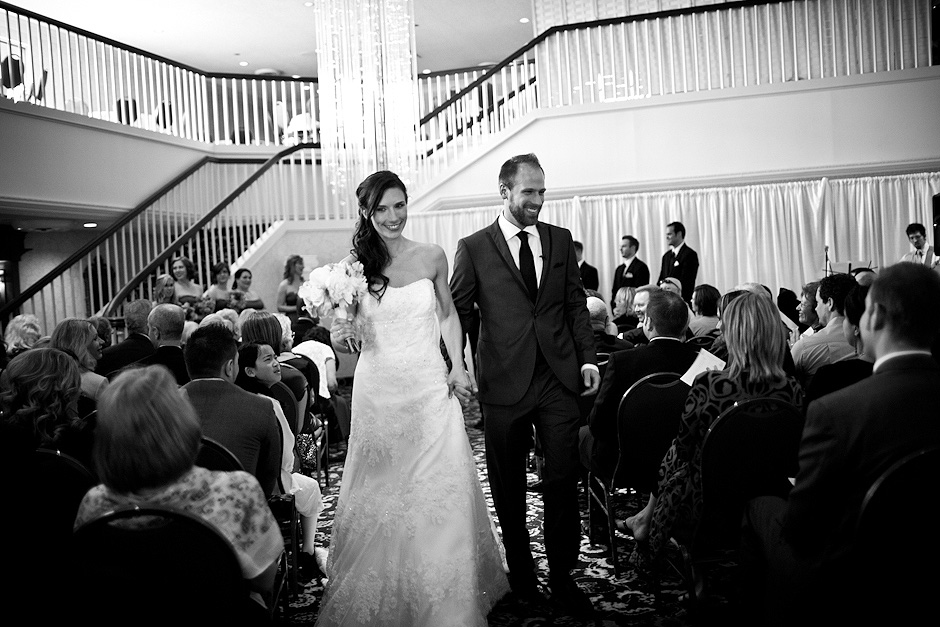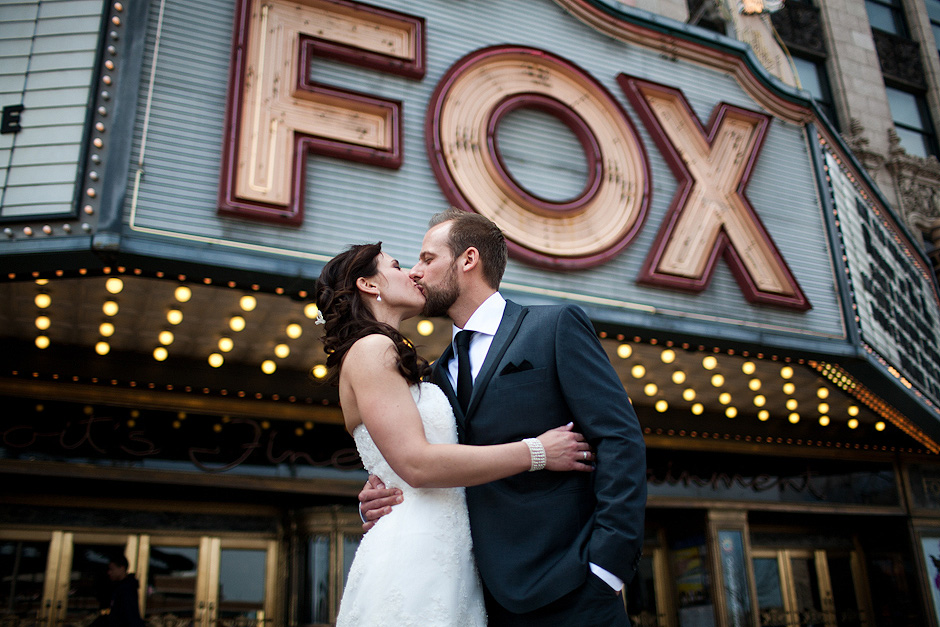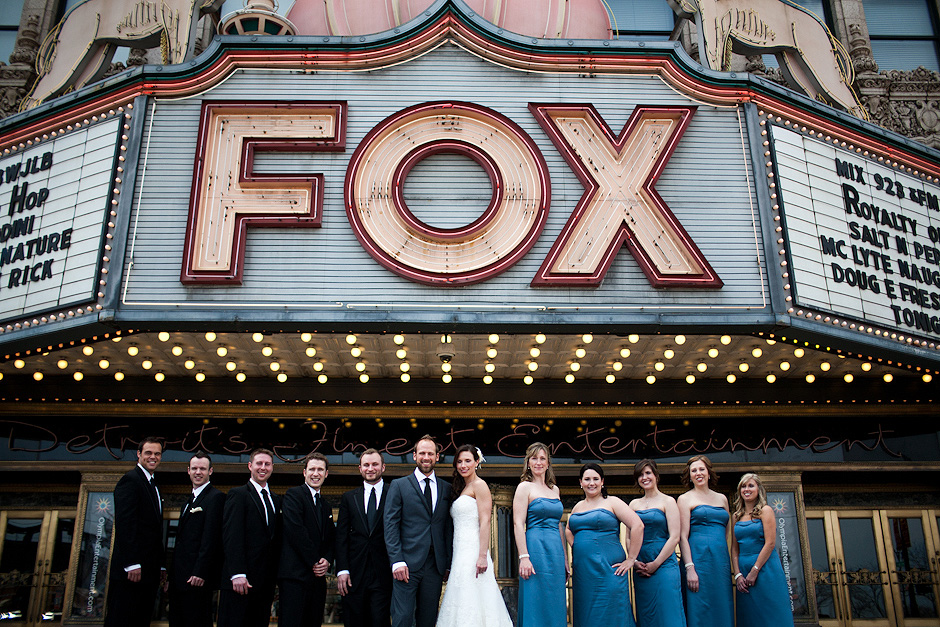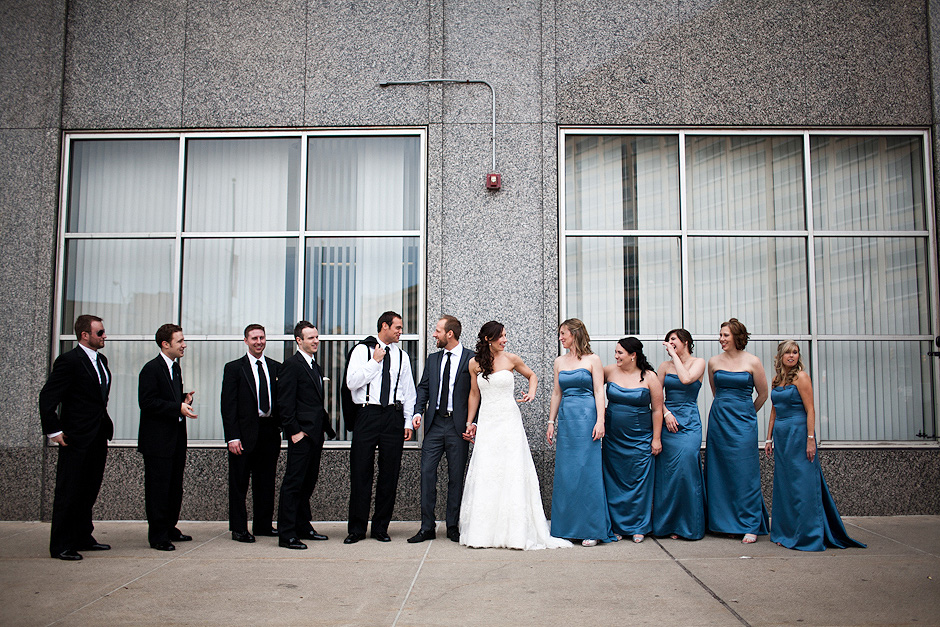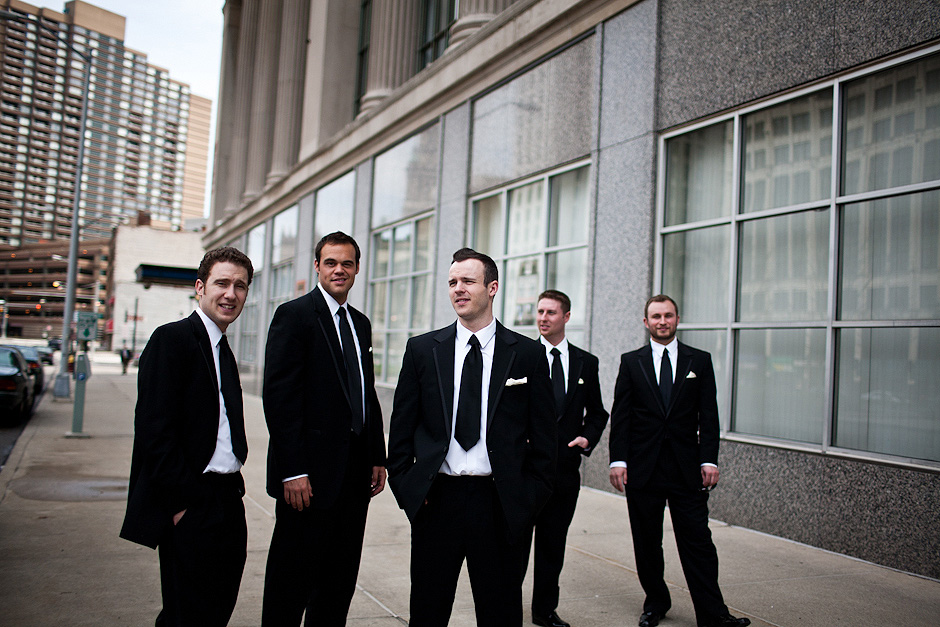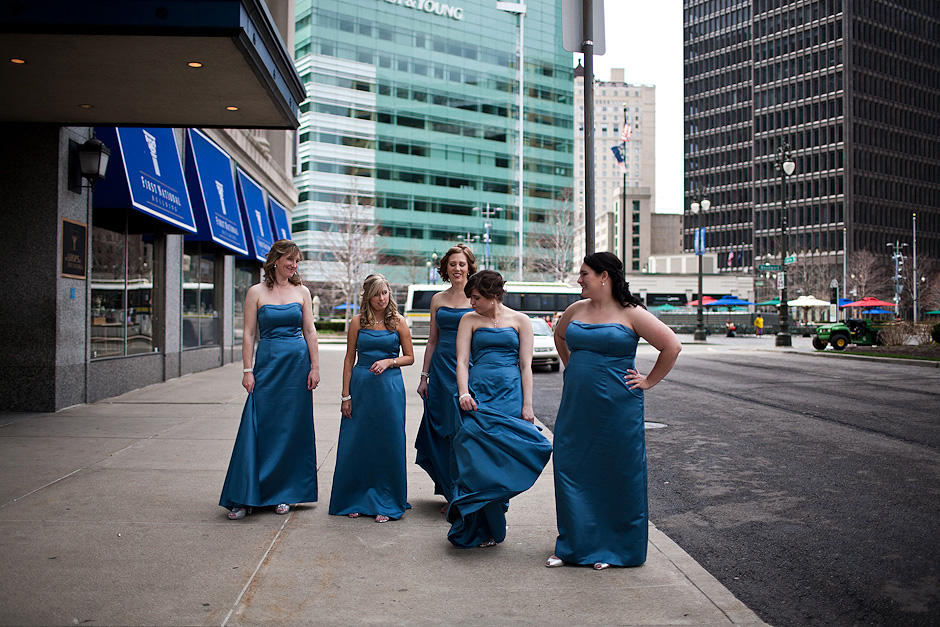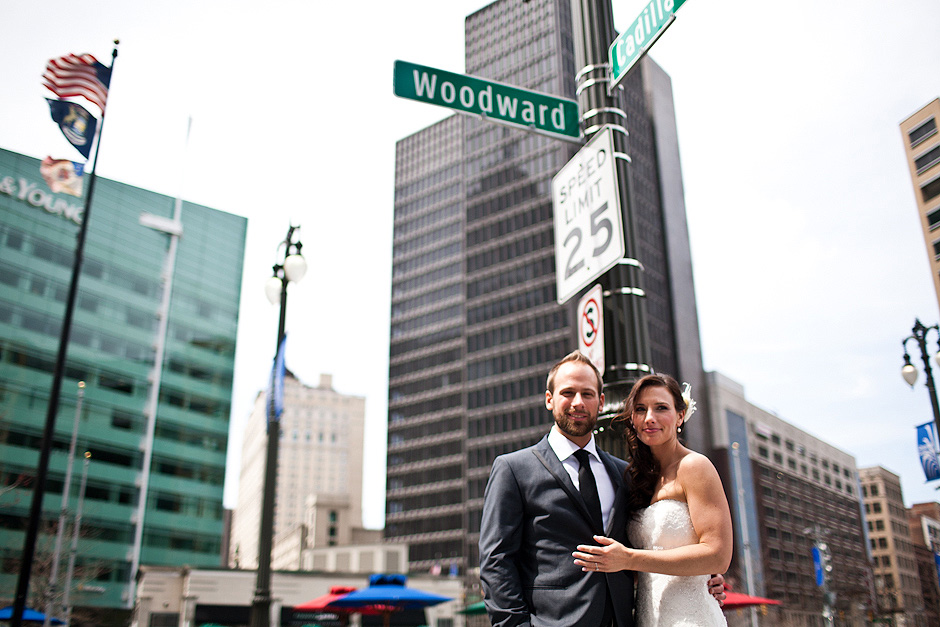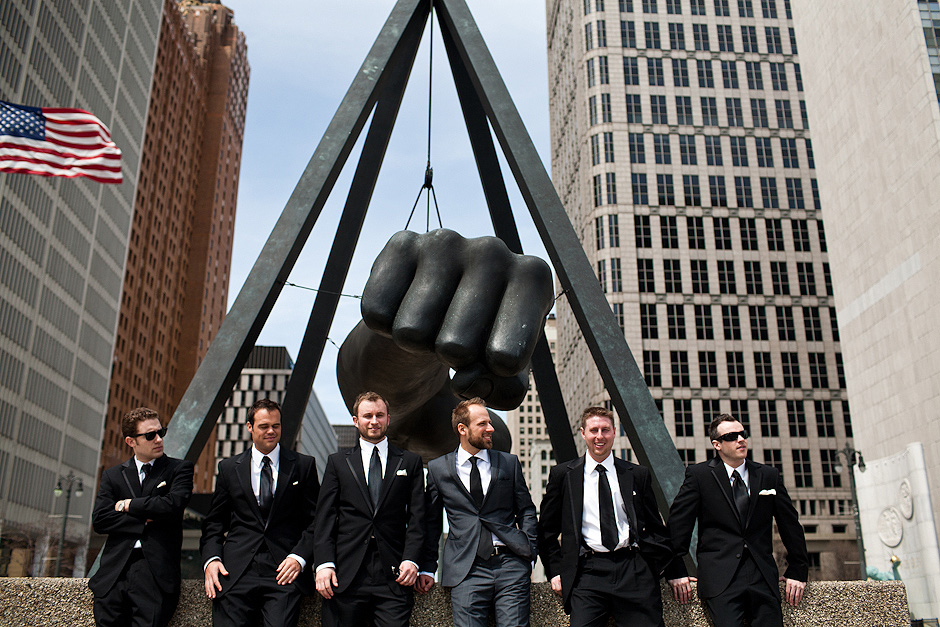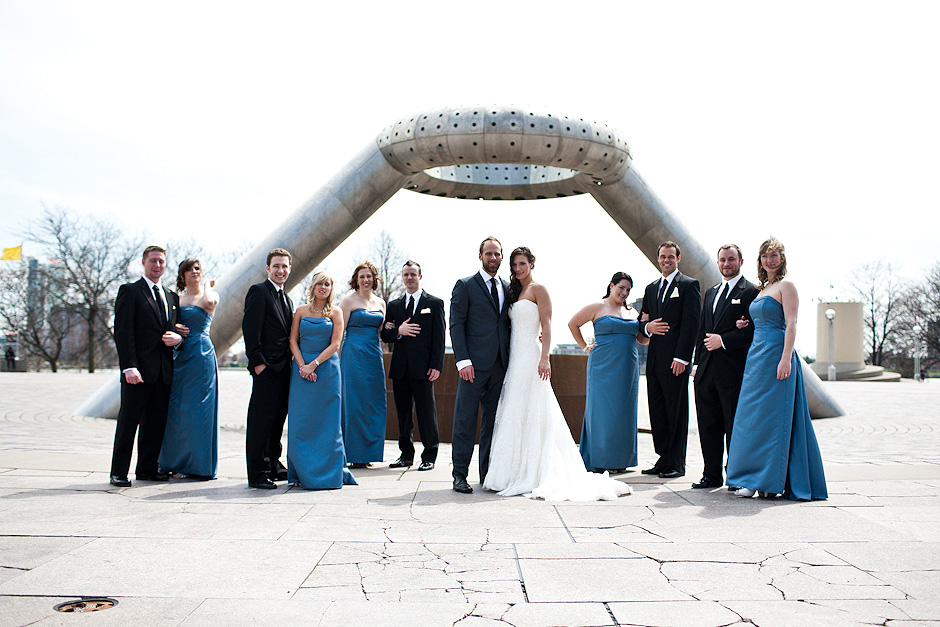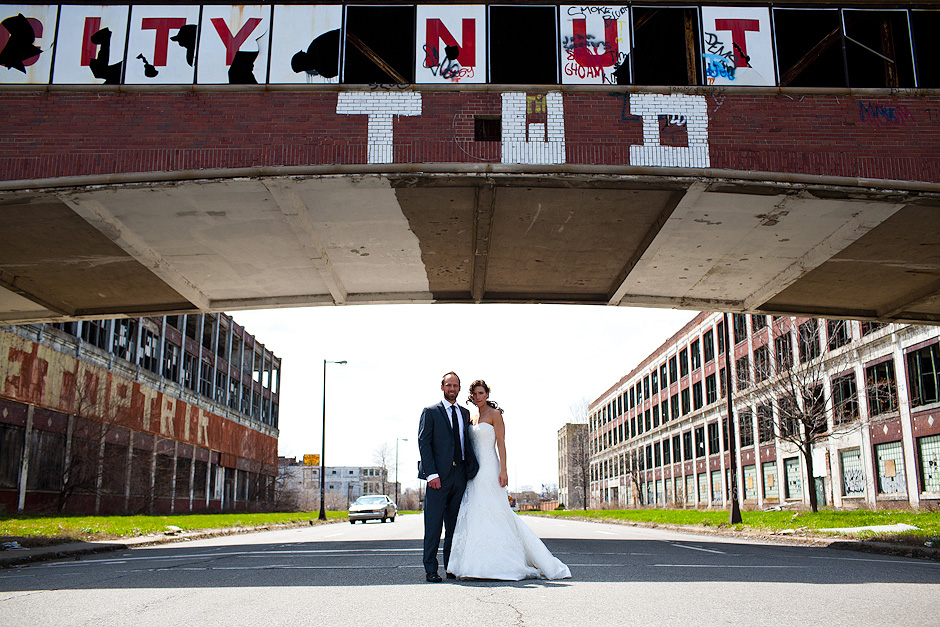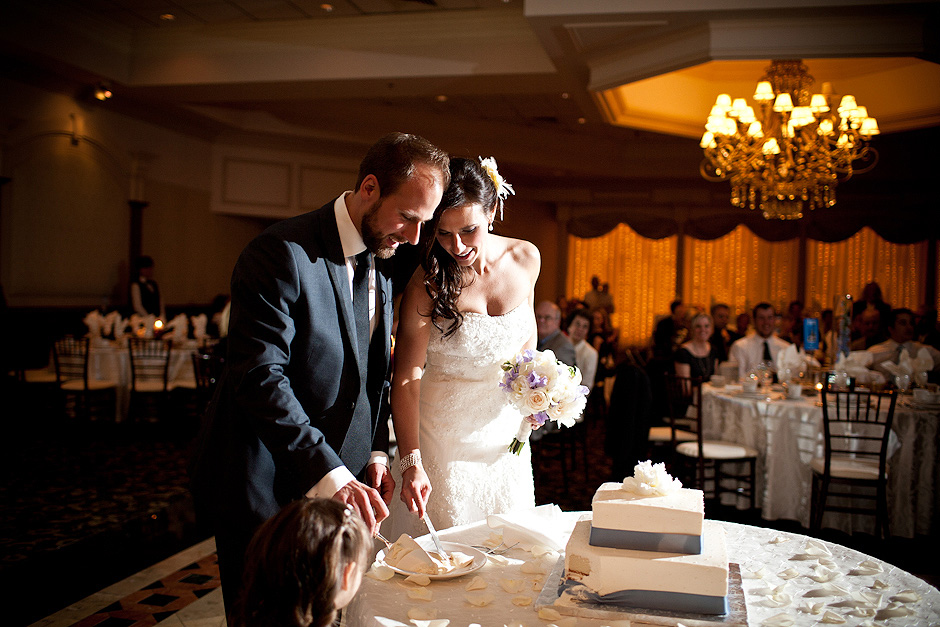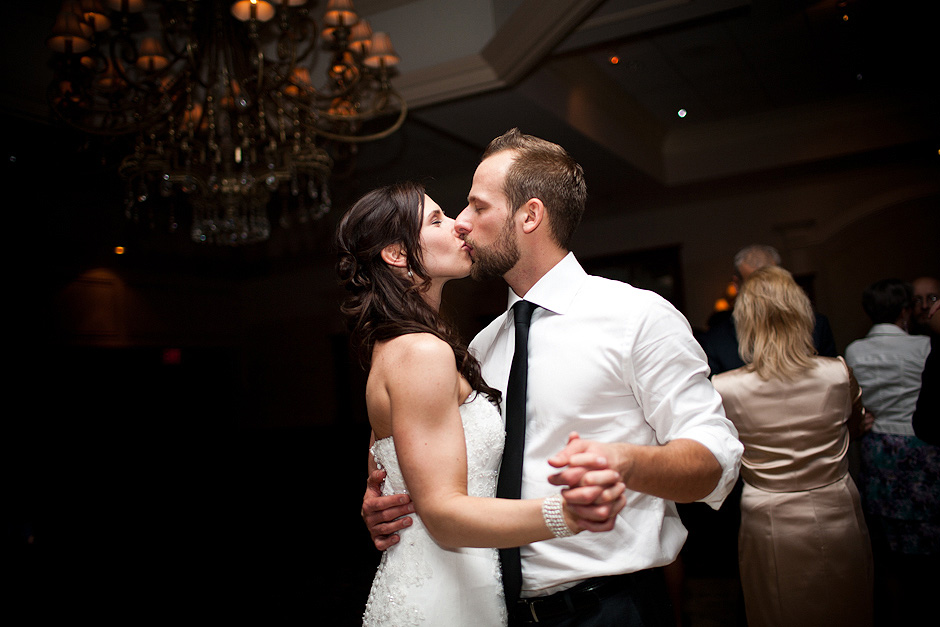 mike and nicole's wedding trailer from forever cherished productions on Vimeo.
May 3rd, 2011 at 12:54 pm | Posted in Personal, Ruins, Weddings | No Comments »
I have been friends with Eric for the past five years.  I met him while he was touring with my friend's band on Warped Tour – this guy rules.  Not only is he ruggedly handsome and talented, but he's full of surprises – actor, musician, model and all around bad-ass friend.  He needed some new portraits of himself for an updated portfolio and I was more than happy to help him out.  Be sure to check him out on this season of Glee and stop by his website and listen to his music!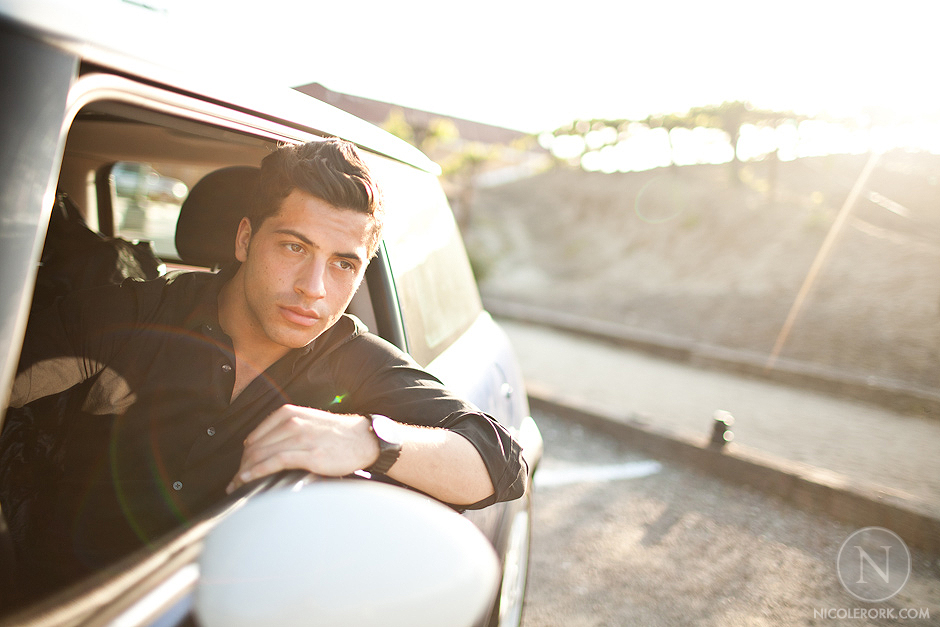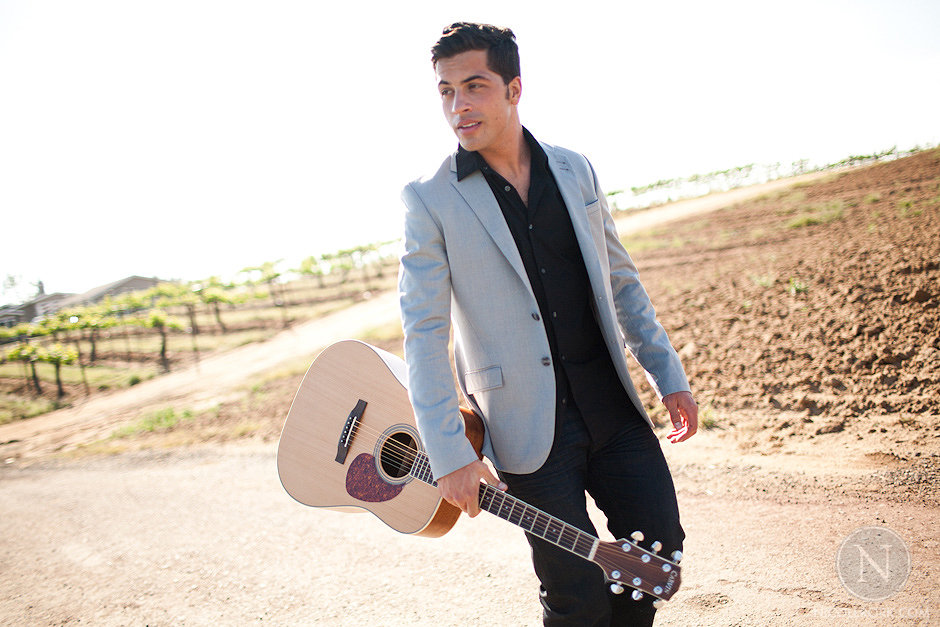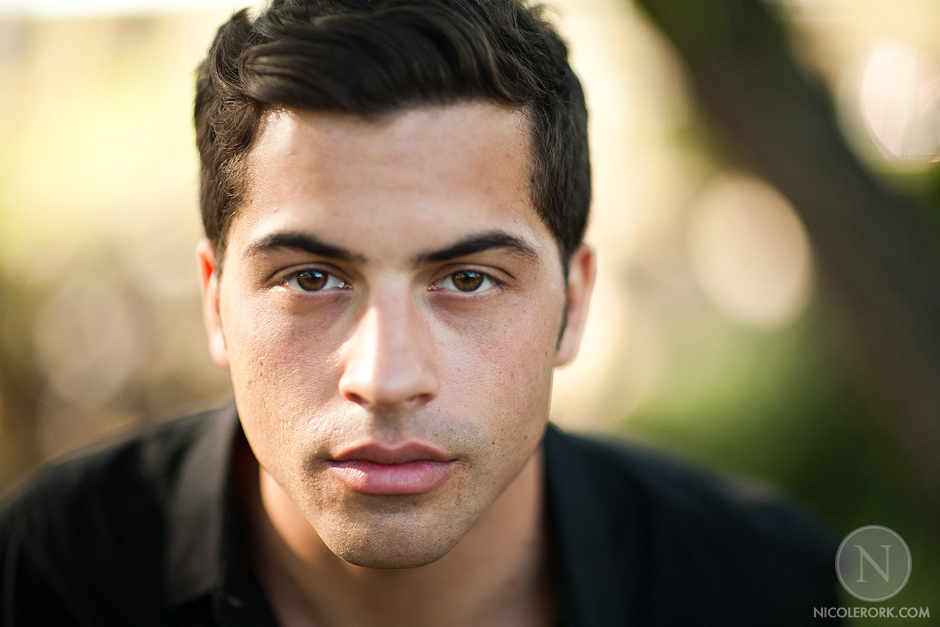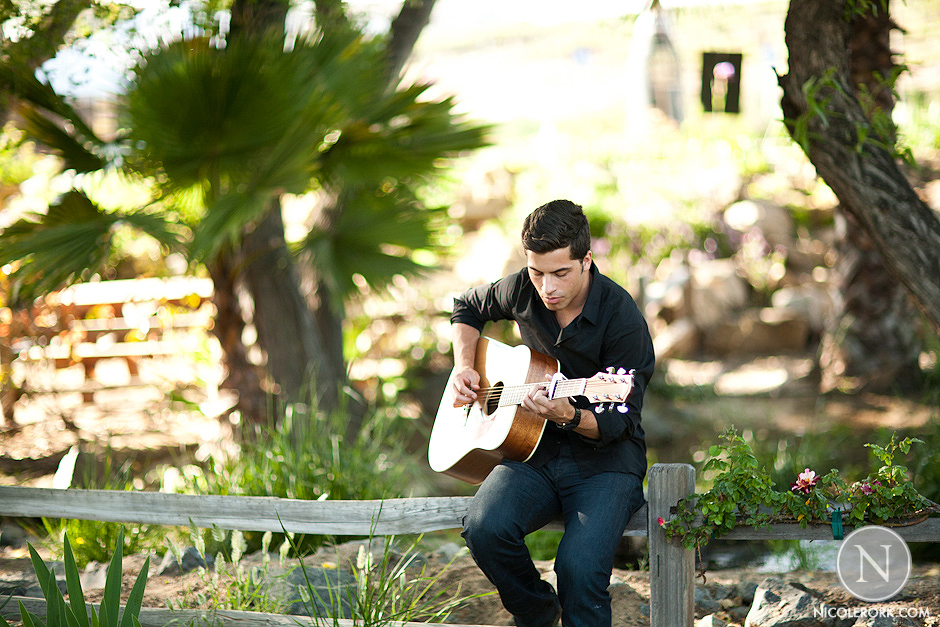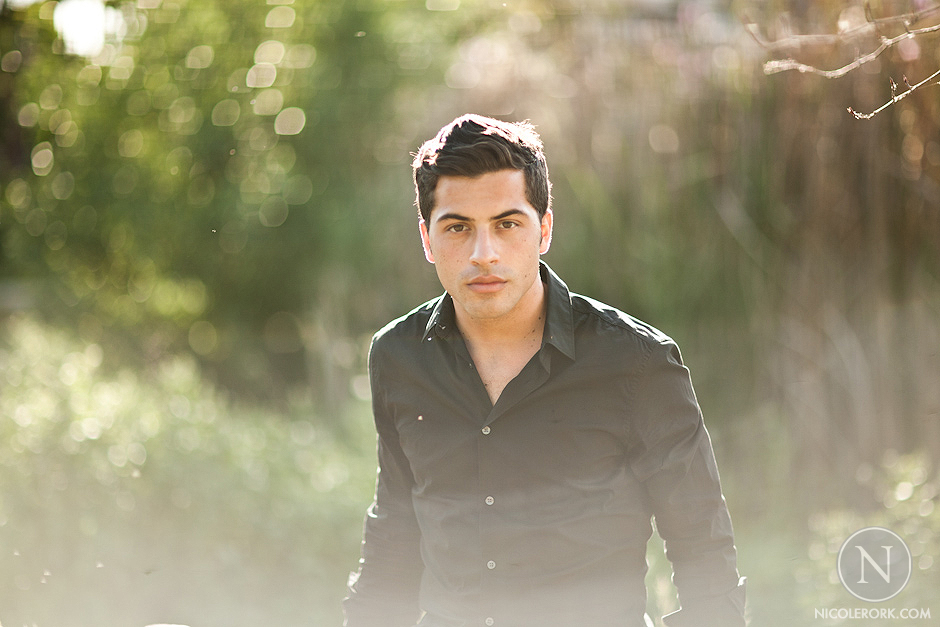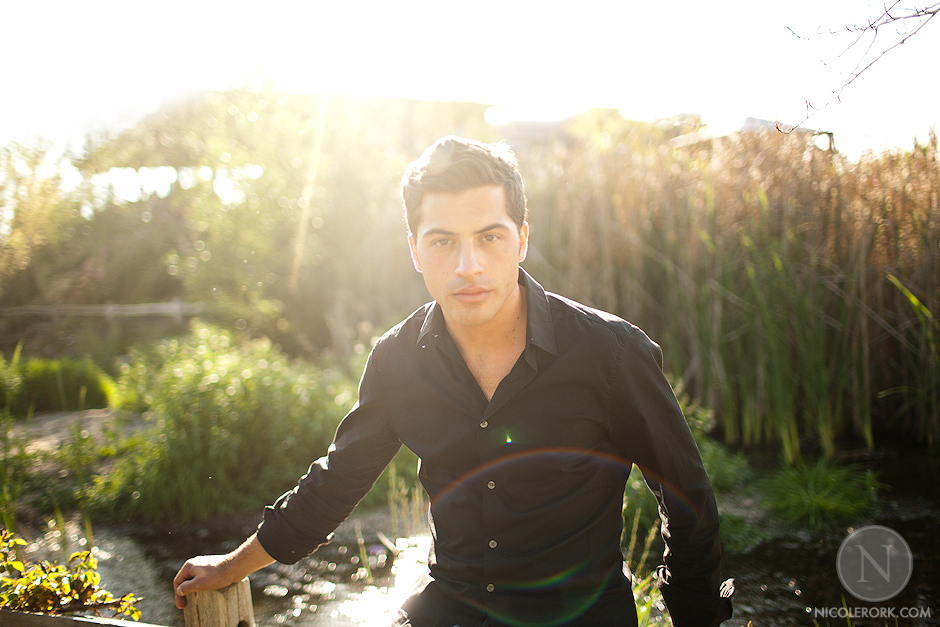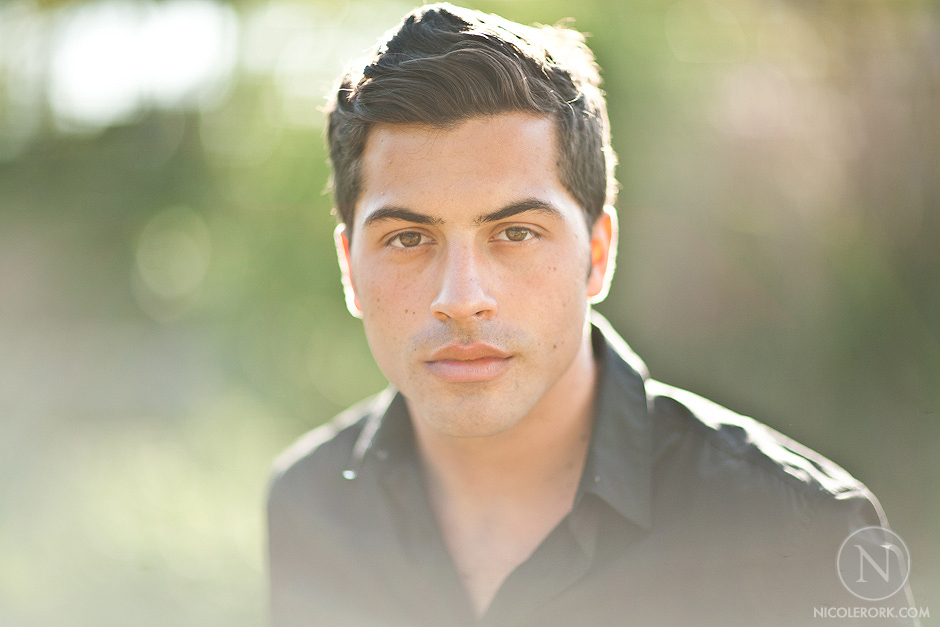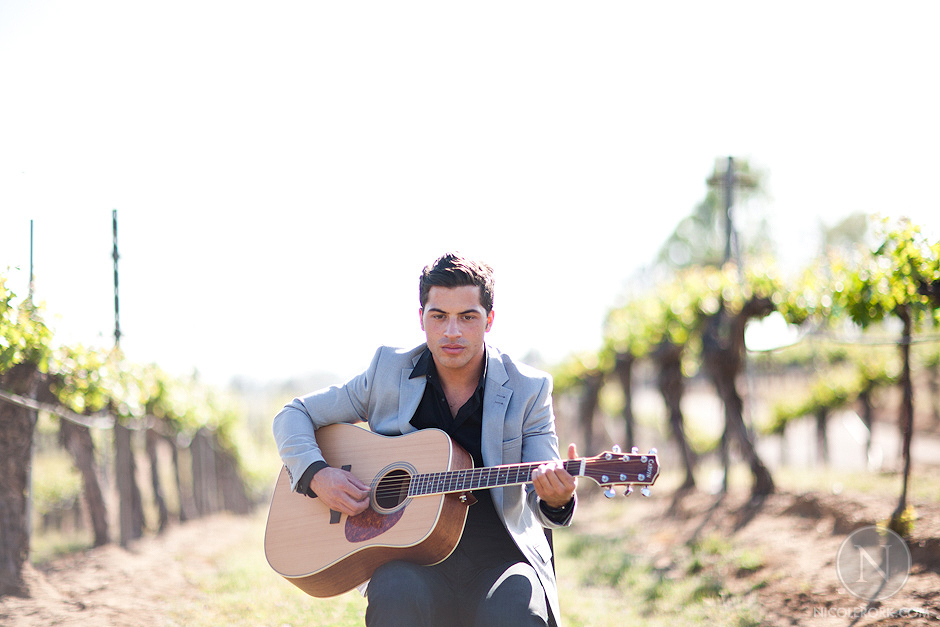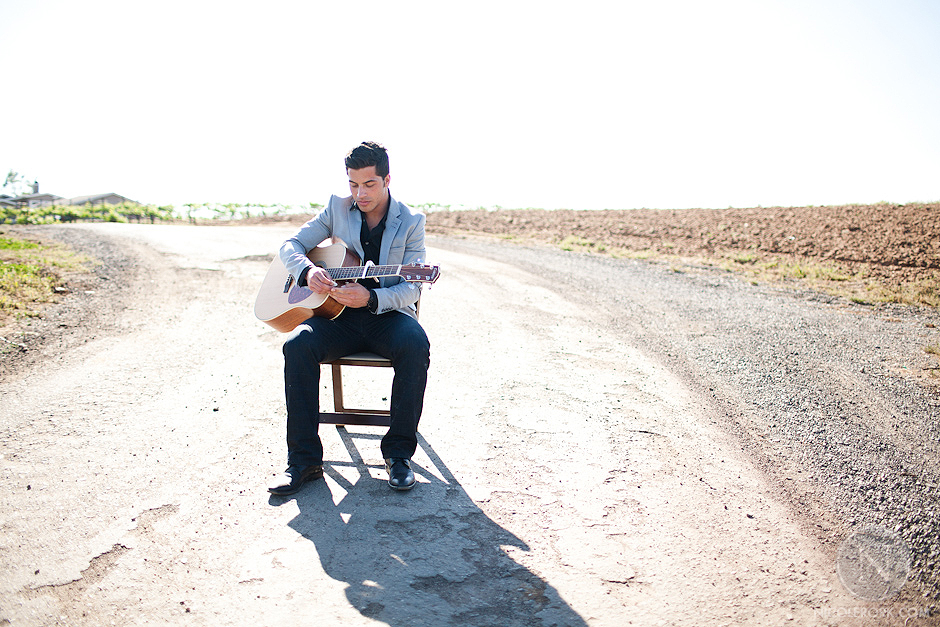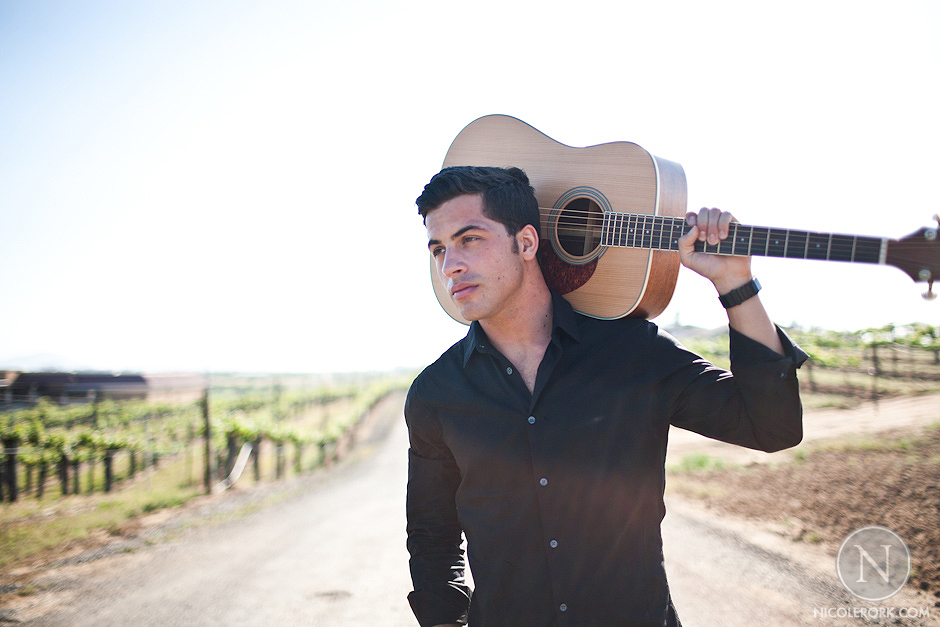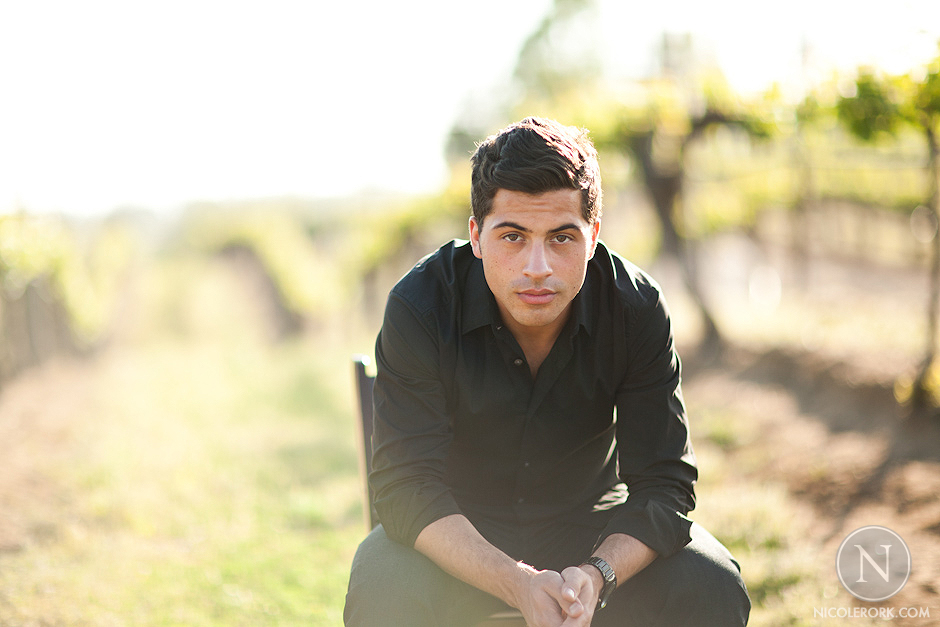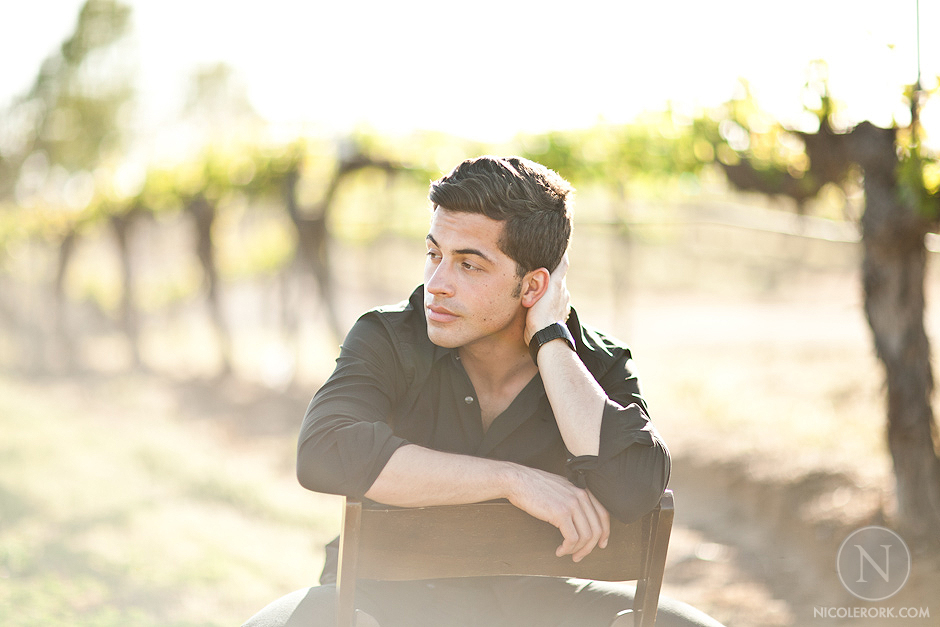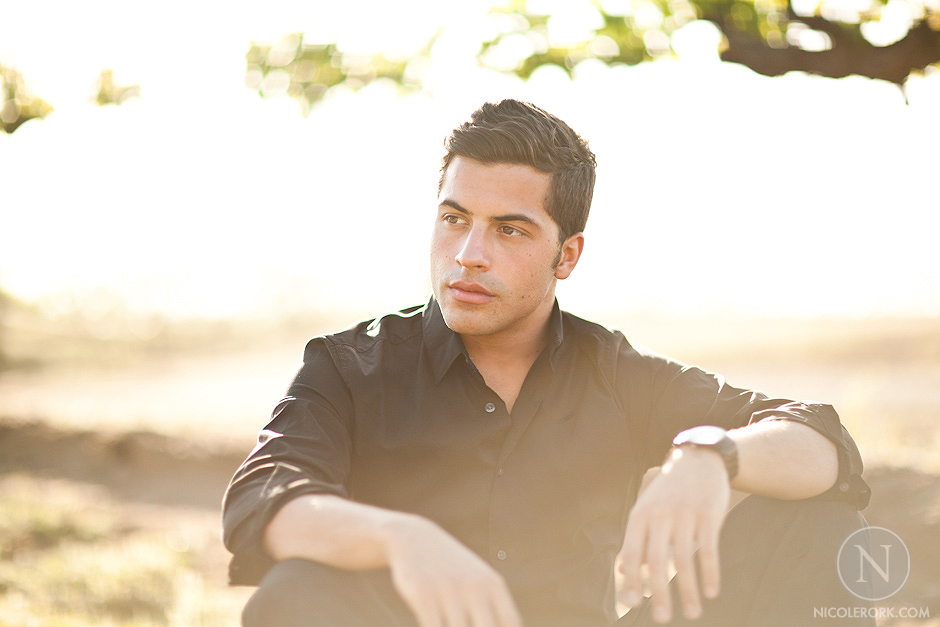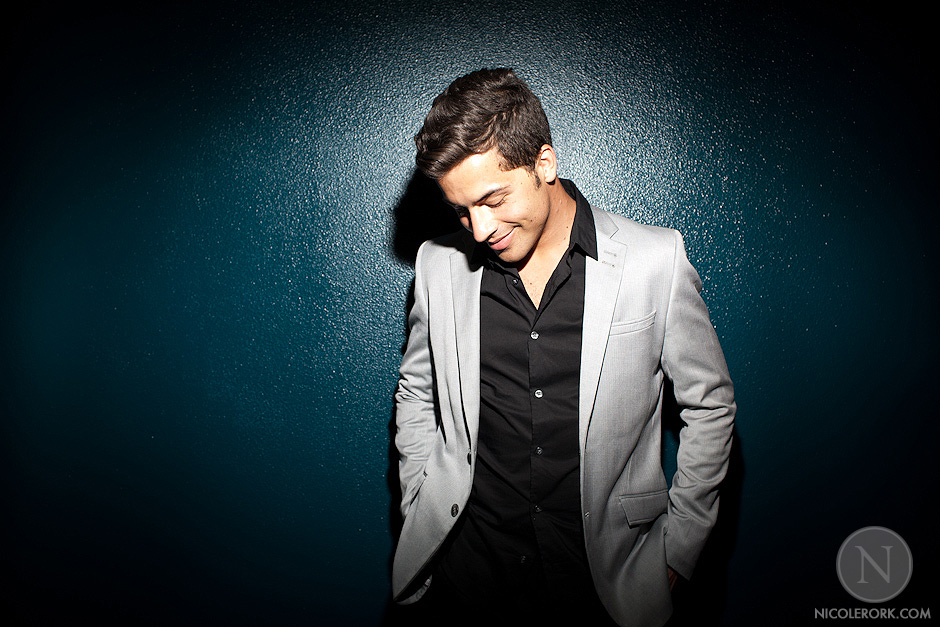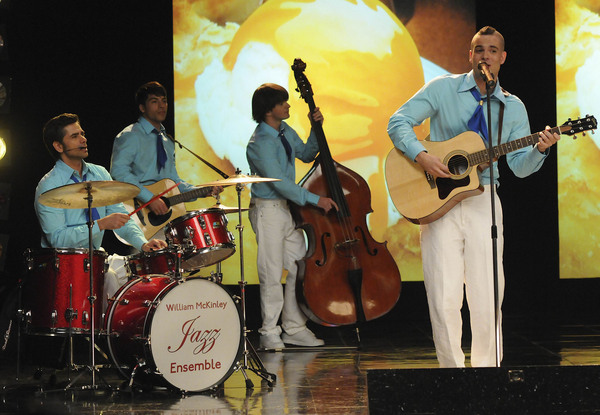 Rocking out with John Stamos on the set of "Glee". He's playing guitar behind the drums.
April 18th, 2011 at 6:46 pm | Posted in Personal, Portraits | No Comments »
If you didn't already know, I am a huge Anberlin fan.  When I heard that they'd be releasing "Cities" on vinyl for Record Store Day, I knew I had to get my hands on one.  The most exciting and frustrating part of this day is that there are ton of limited edition vinyl records released specifically for this day, the downside is that you don't know WHERE they will be released and how many each store will have, if any.
I called every single record store in San Diego – none of them had Anberlin.  I called about ten different stores in Michigan (where my family is from) to see if they had any that my mother could possibly pick up.  Nothing.  I was finally able to find a couple of stores in Los Angeles that had a few in stock.
I made a quick decision to drive up to Hollywood – a long three hour trek filled with road rage.  I finally made it to Amoeba Music around 2:30 PM and jumped in line.  The employees were passing out lists for us to fill out with our record requests.  At the time, Anberlin was still in stock, I was in luck.  It took about an hour to actually get inside the store and it would be another hour until I was able to pick up my requests.  I wandered around the store for a bit, found an Elliott Smith album I didn't have as well as the "Into the Wild" soundtrack.  The only thing I couldn't find was the "Into the Wild" 12″ record – it's a hard one to find if you don't want to pay $200 for a copy from online scalpers.
My name was finally called for pick up.  They ran out of Anberlin.  I was pissed!  I called every other store in the area – they were sold out as well.  I guess my quest wasn't a complete bust though because I ended up grabbing a copy of Ray Lamontagne's live album.  I was feeling emo so I visited the infamous Figure 8 wall.  There's more graffiti on it than there was before, bummer.  Finished off the day with a delicious vegan dinner with Megan Thompson and headed back home.
I came home to find several copies of "Cities" already listed on eBay – most Buy It Now prices are $50.  Seriously?  People like that ruin the fun for true music fans who want to buy the music because they love it.  Not so they can scam fans for an extra buck.  Shame on you.  http://tinyurl.com/3how4v3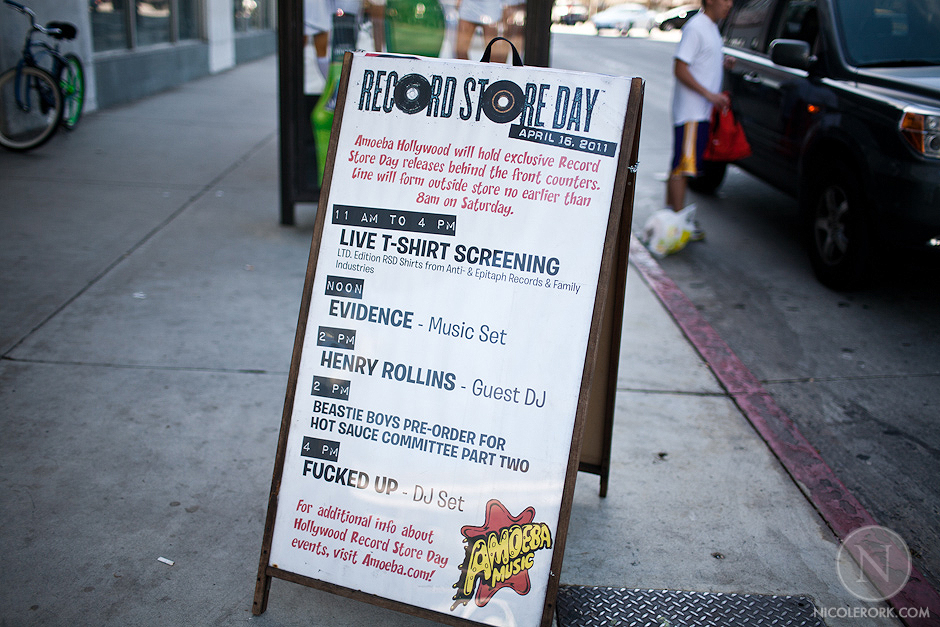 I didn't see Henry Rollins, wish I did though!  I was still waiting outside.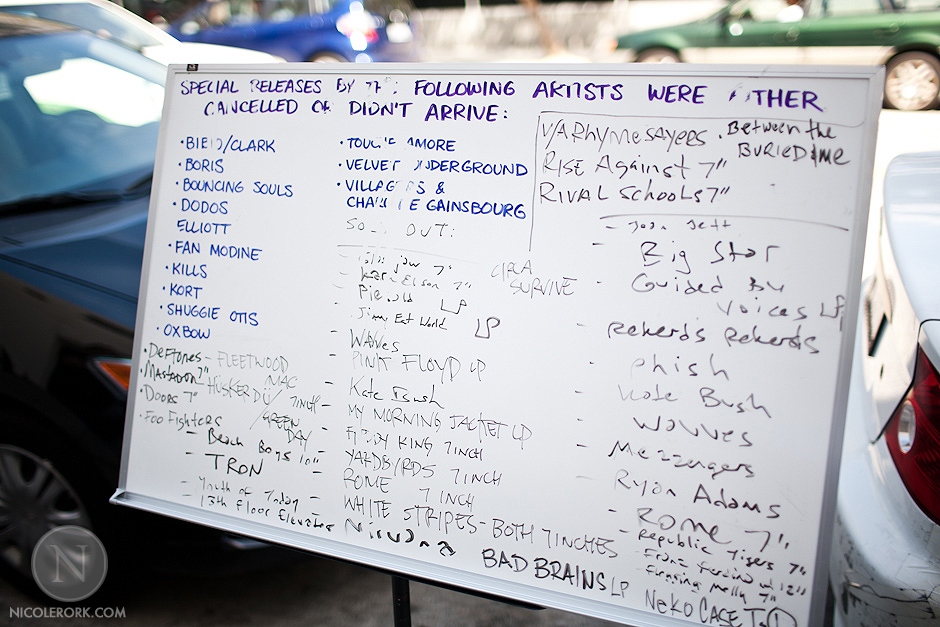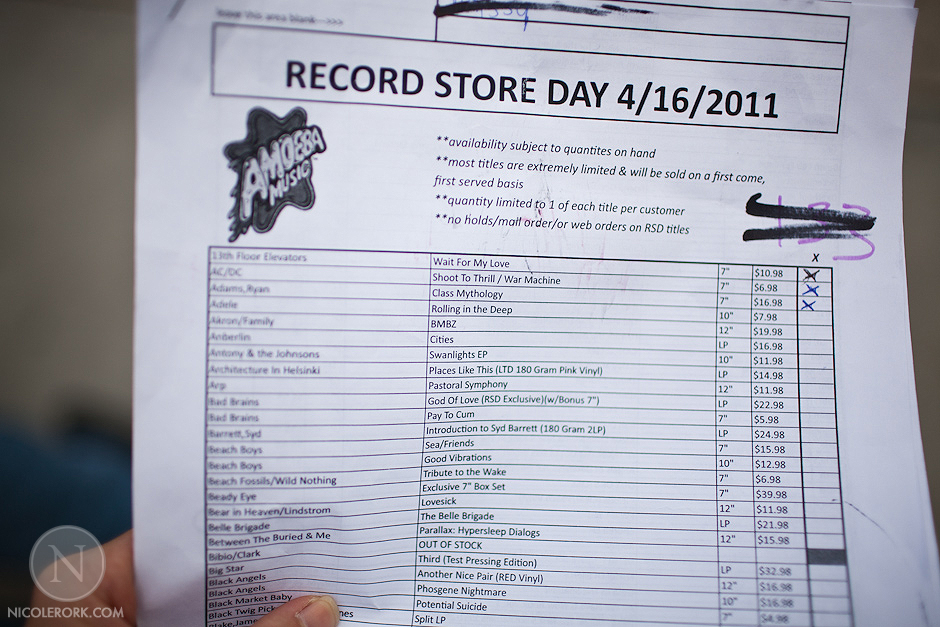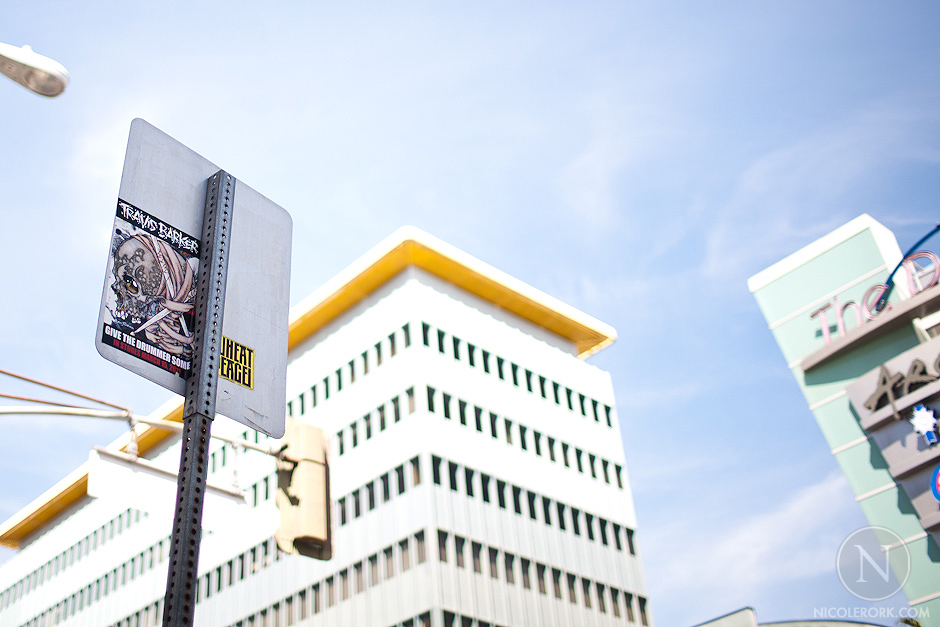 Travis Barker!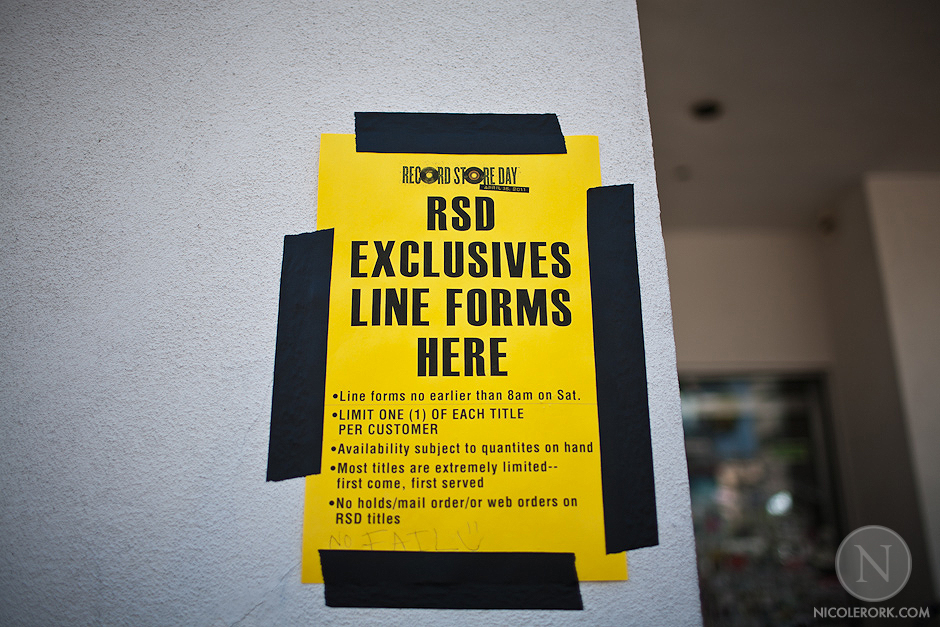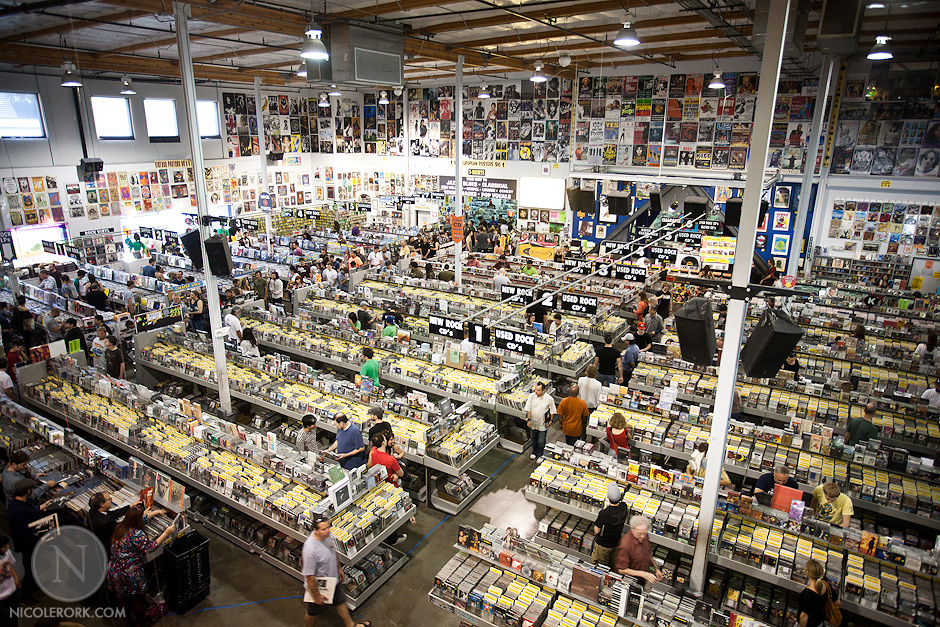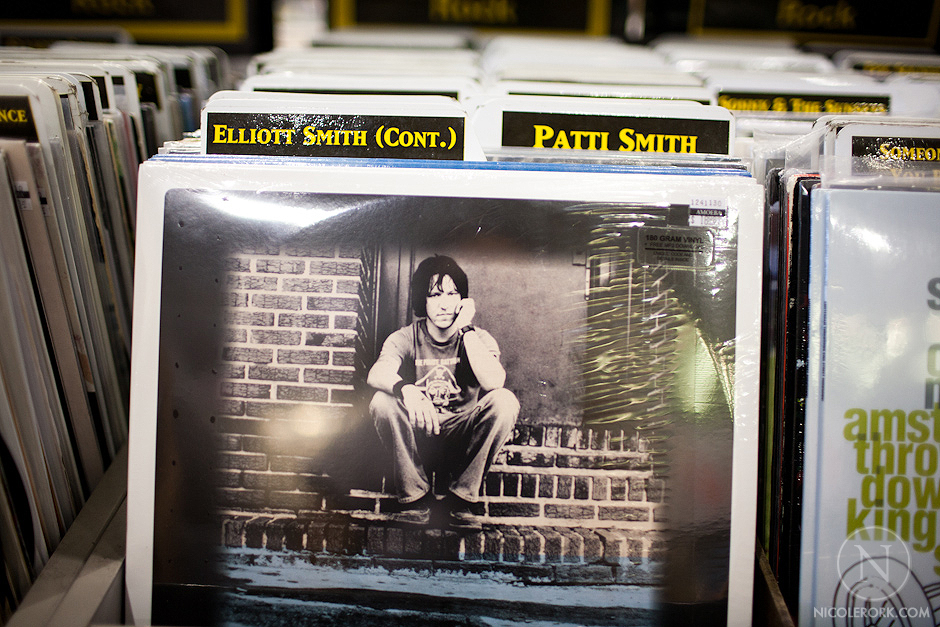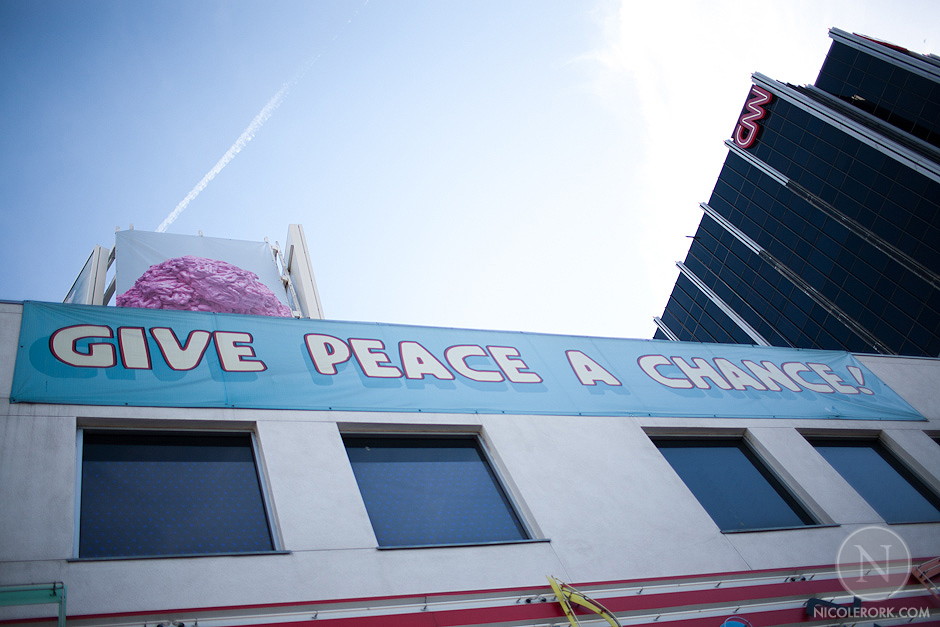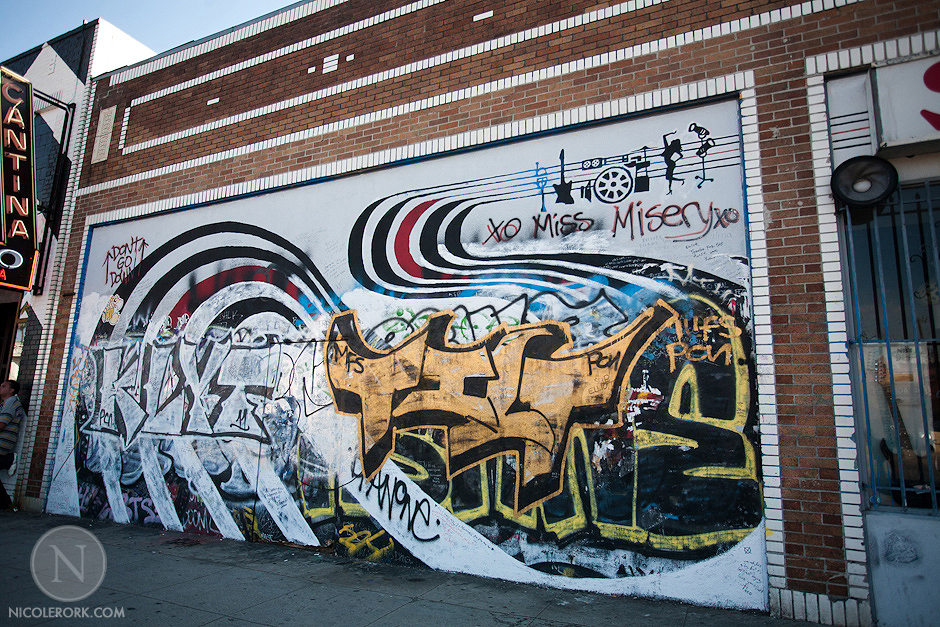 The wall Elliott Smith stood in front of for Figure 8.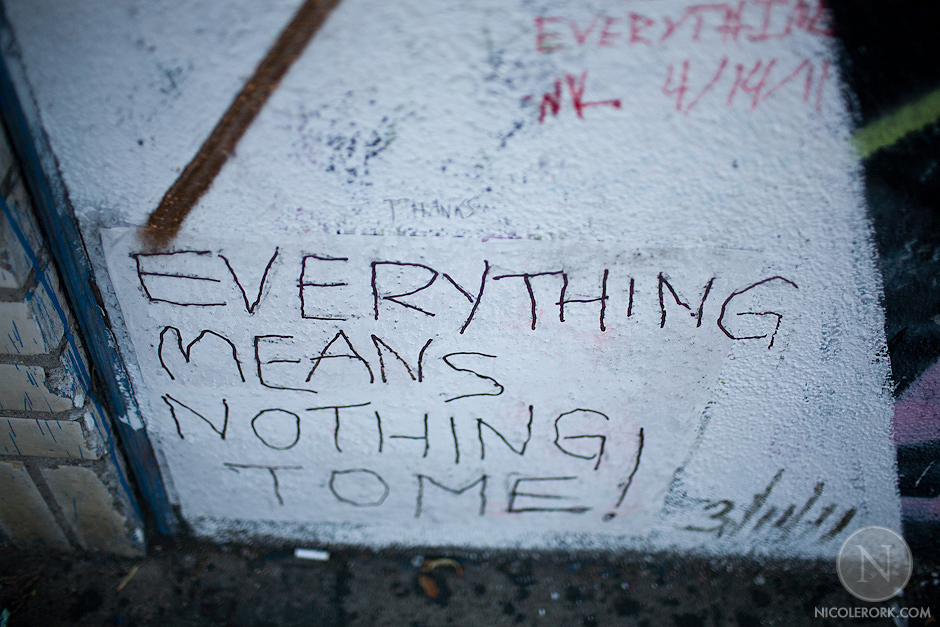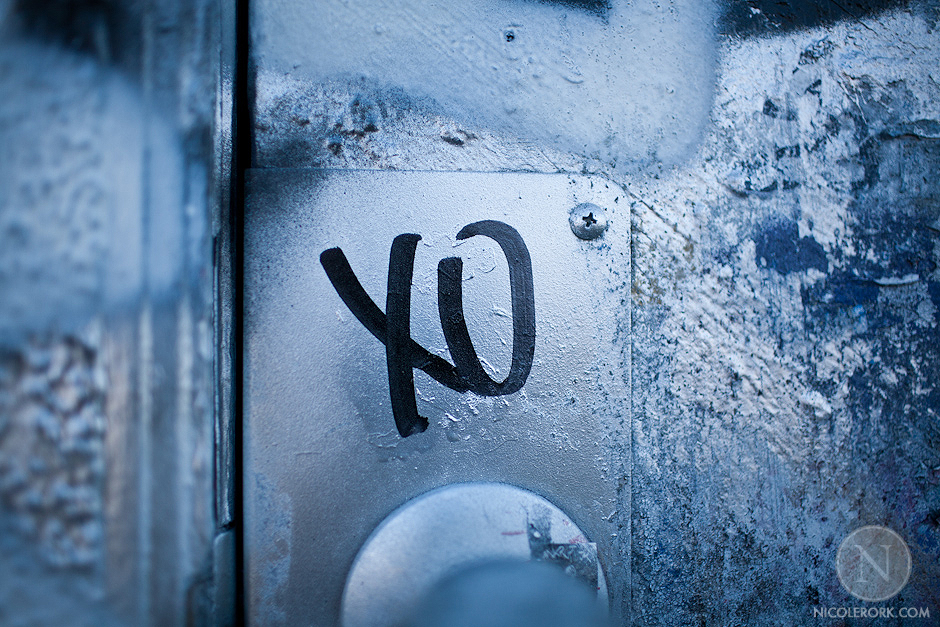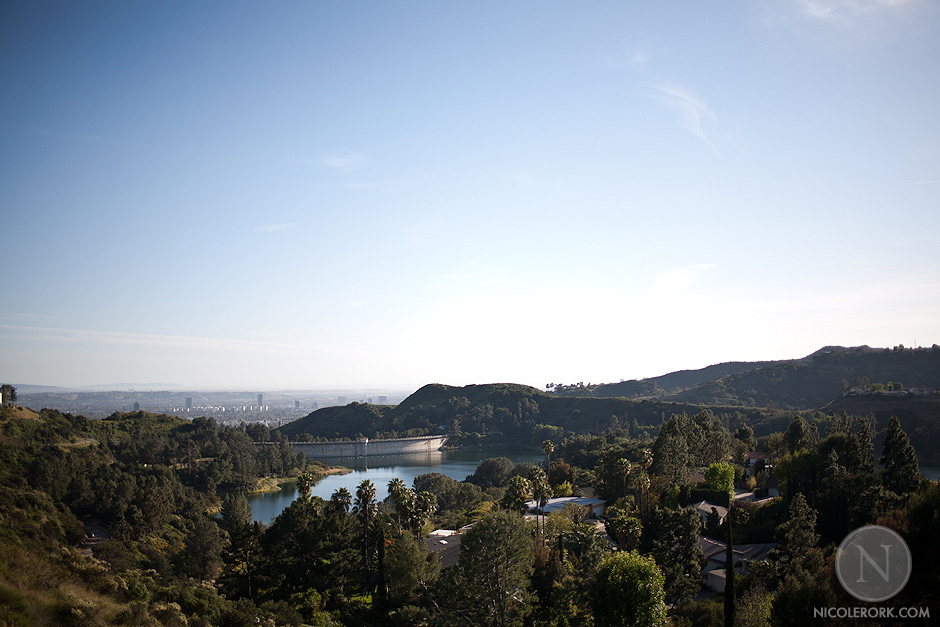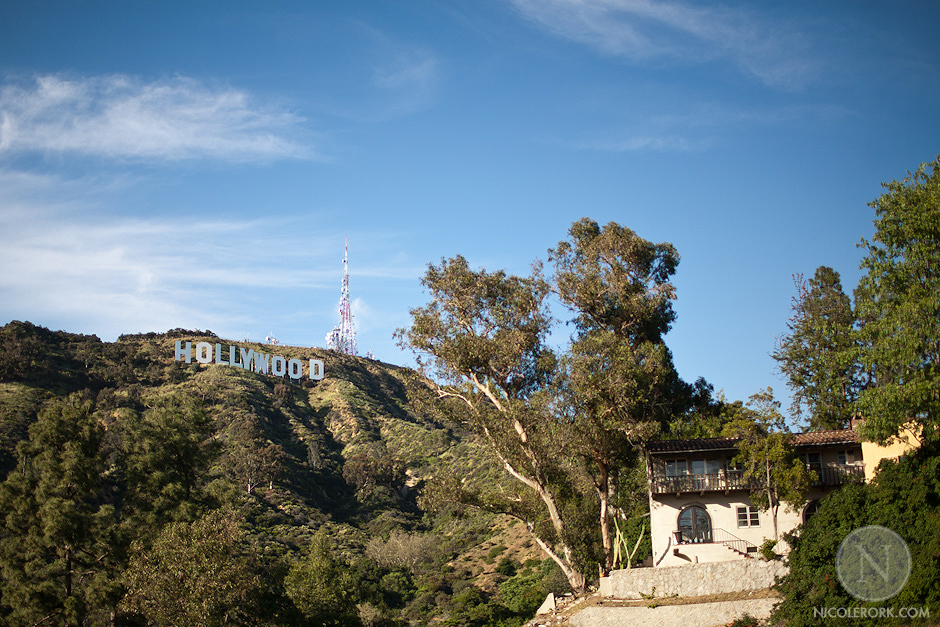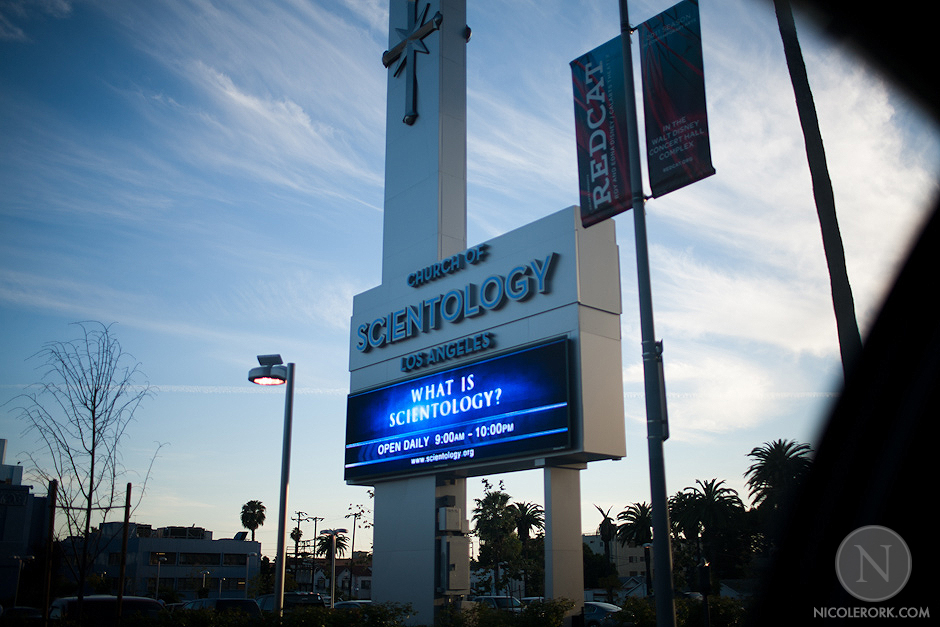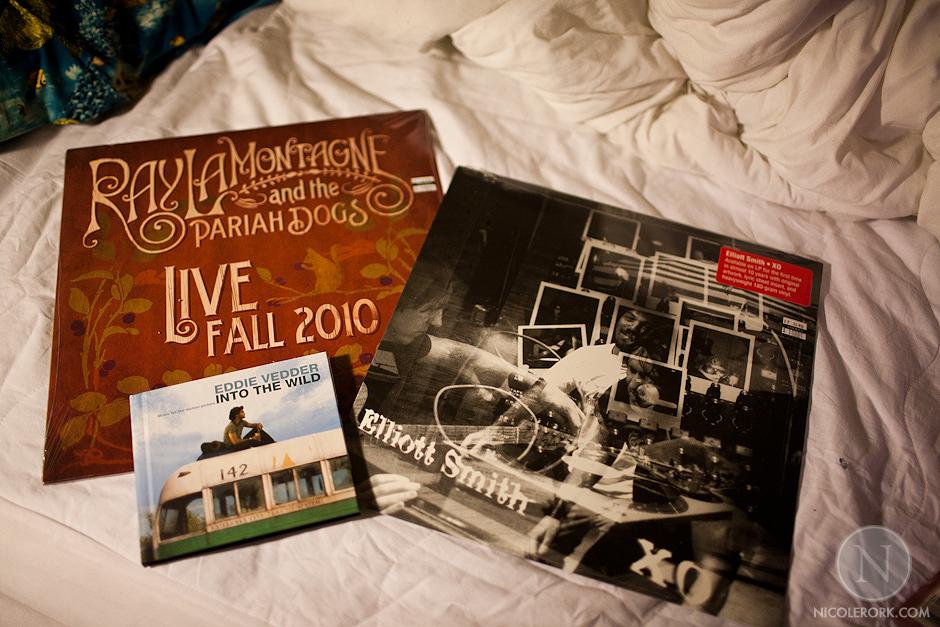 April 17th, 2011 at 10:16 am | Posted in Music, Personal | No Comments »
Just some photos over the past few months that I can finally post, enjoy!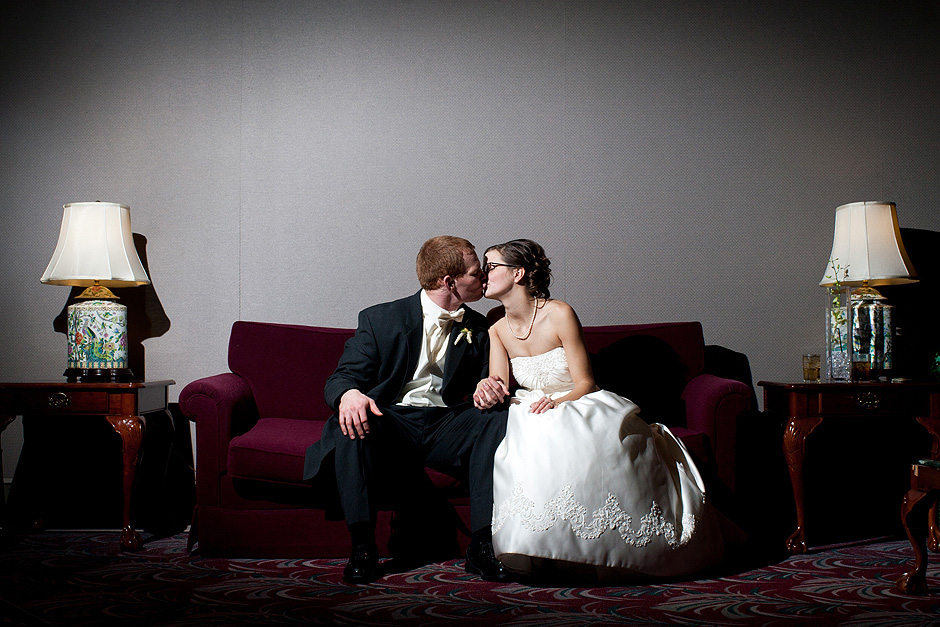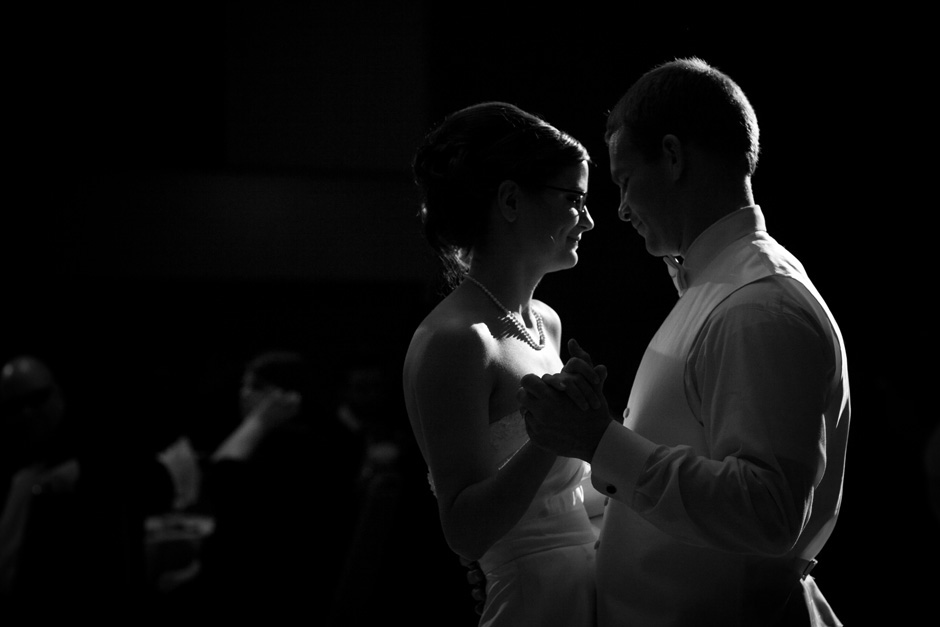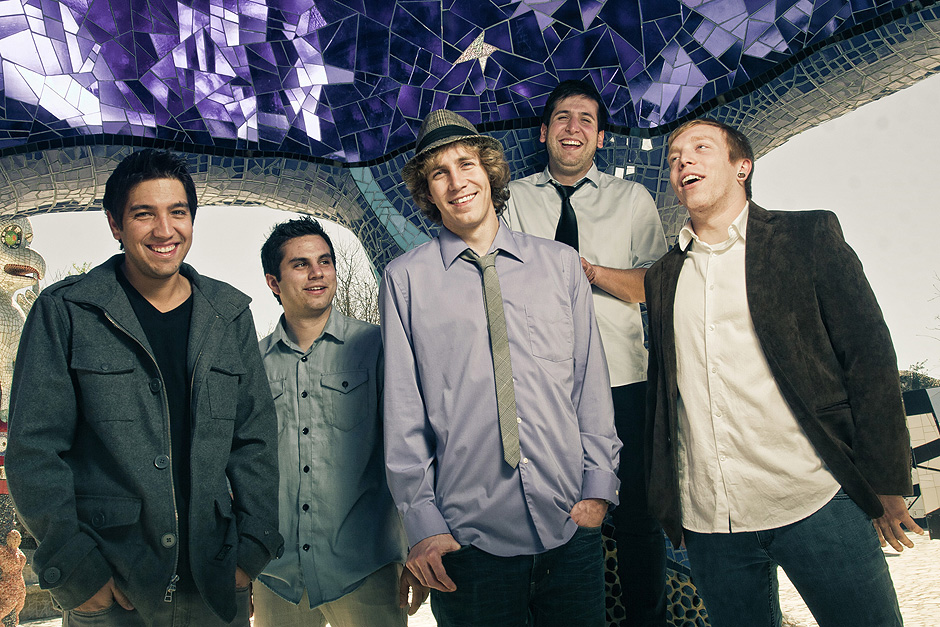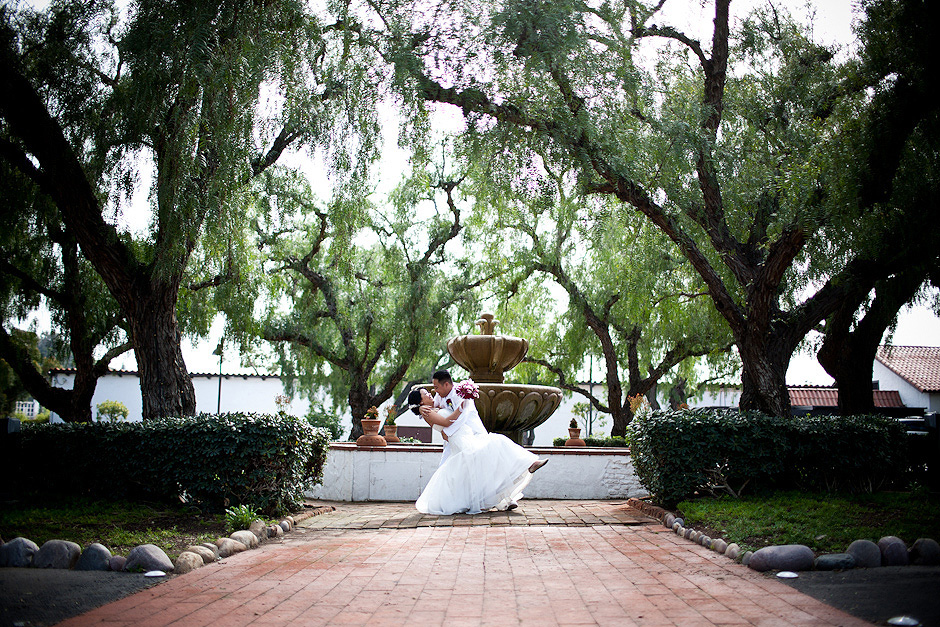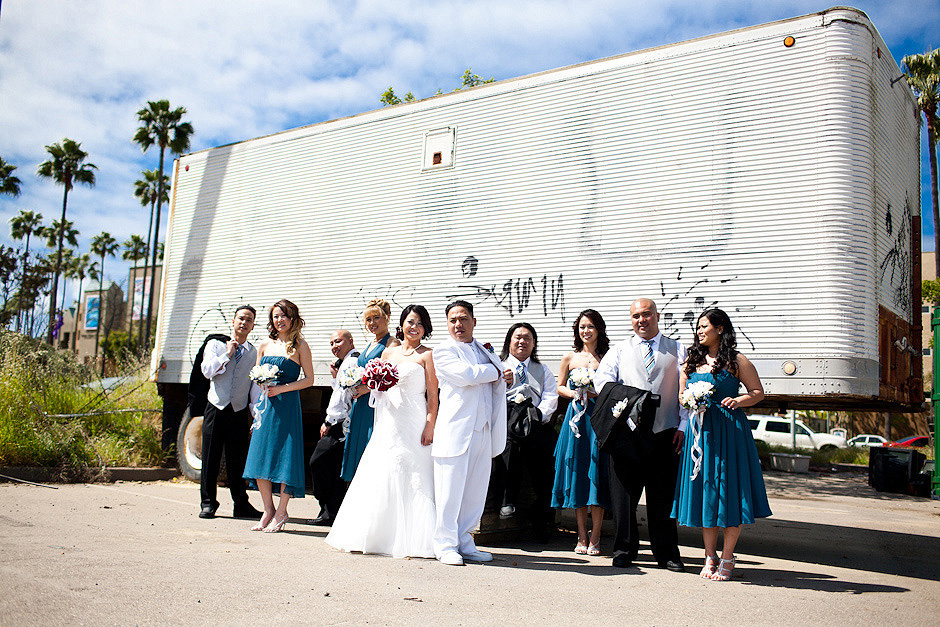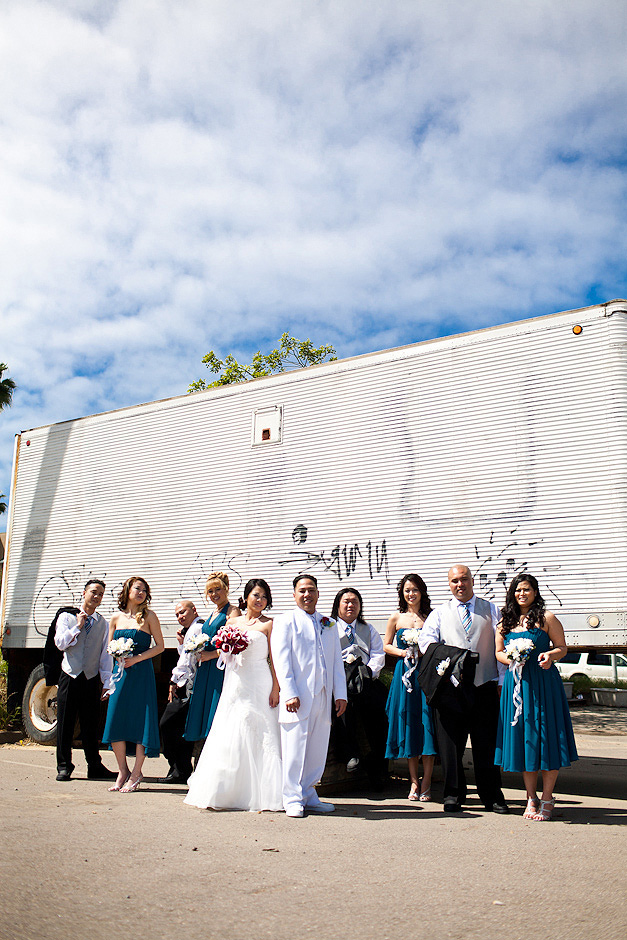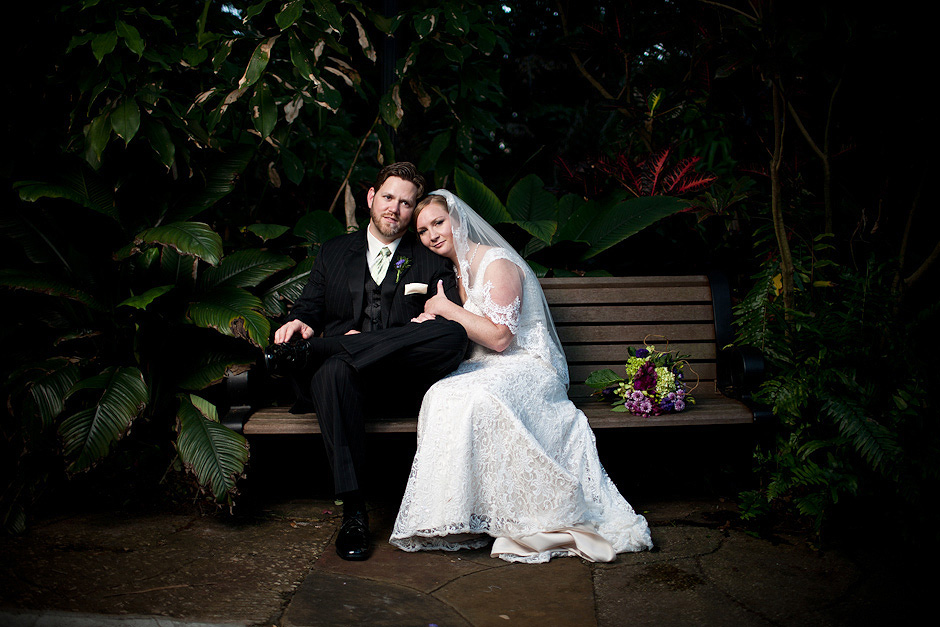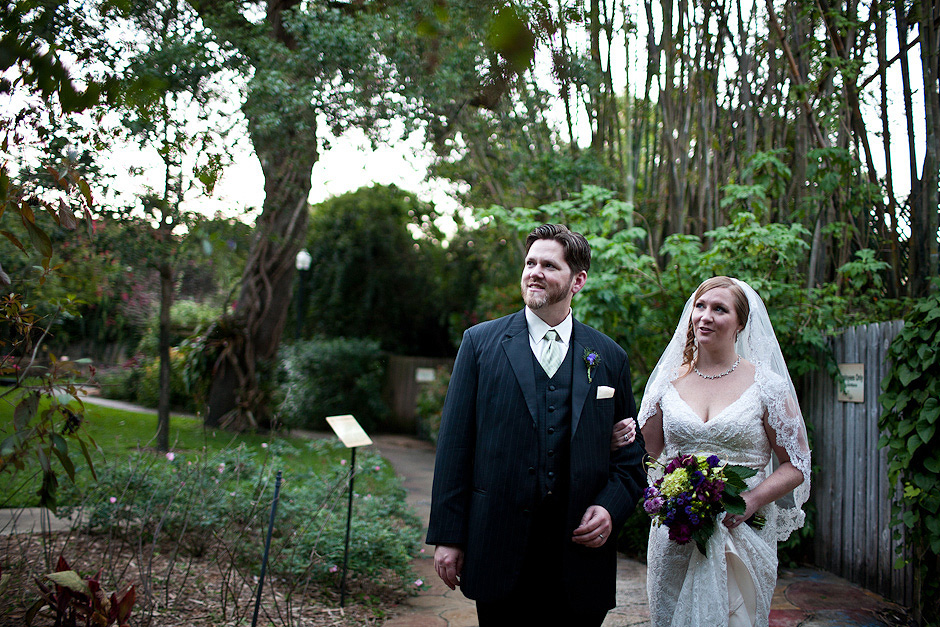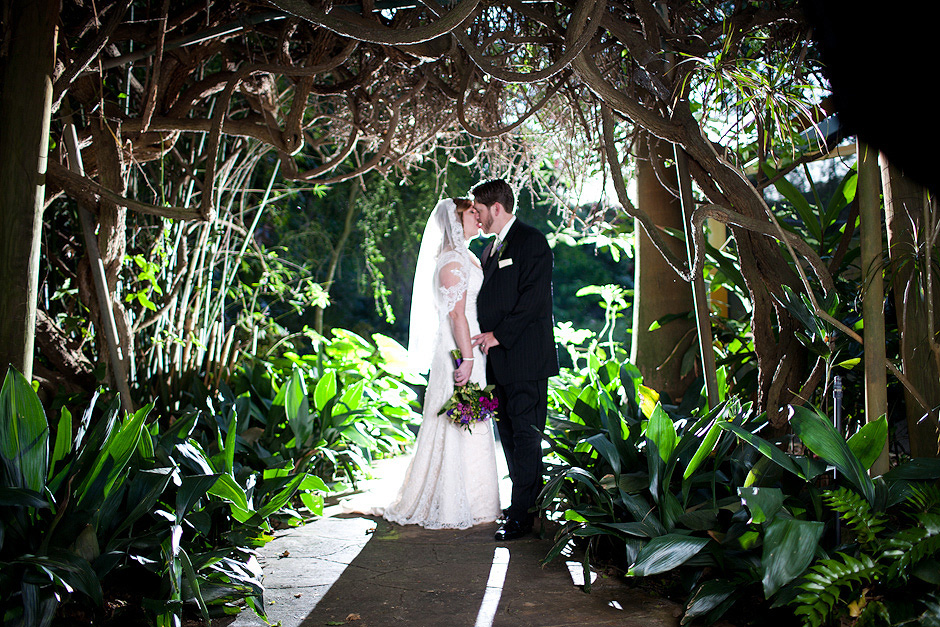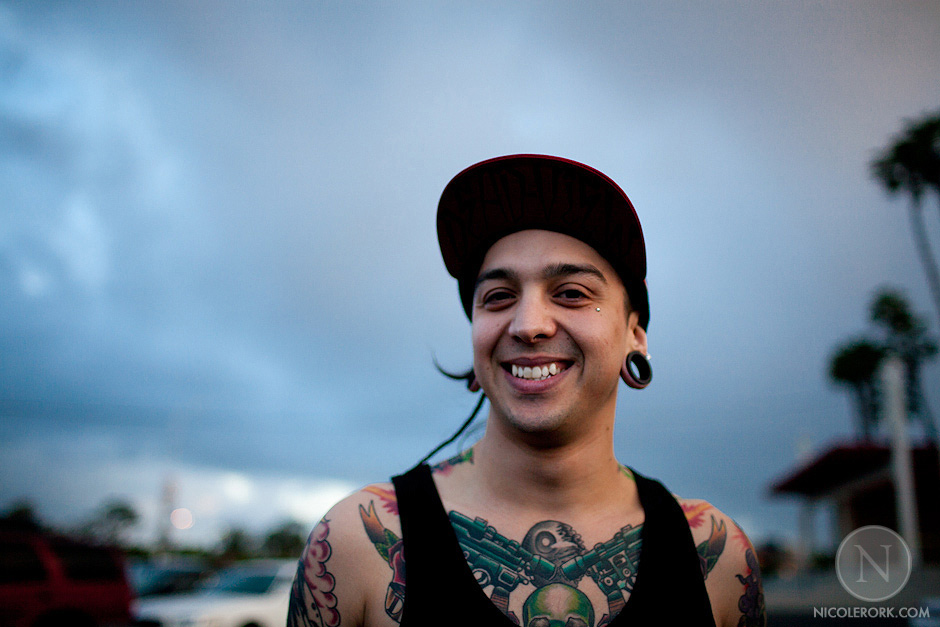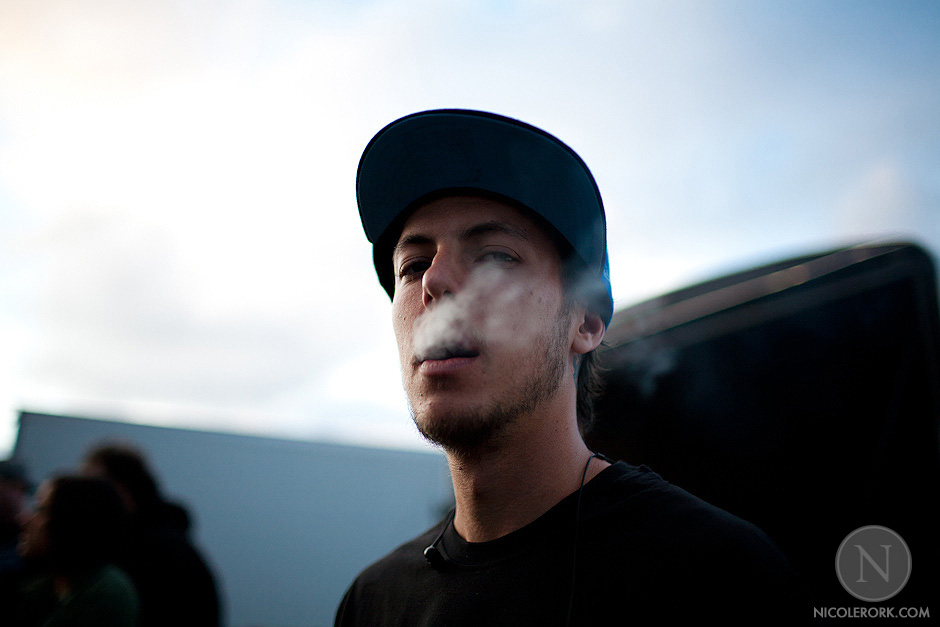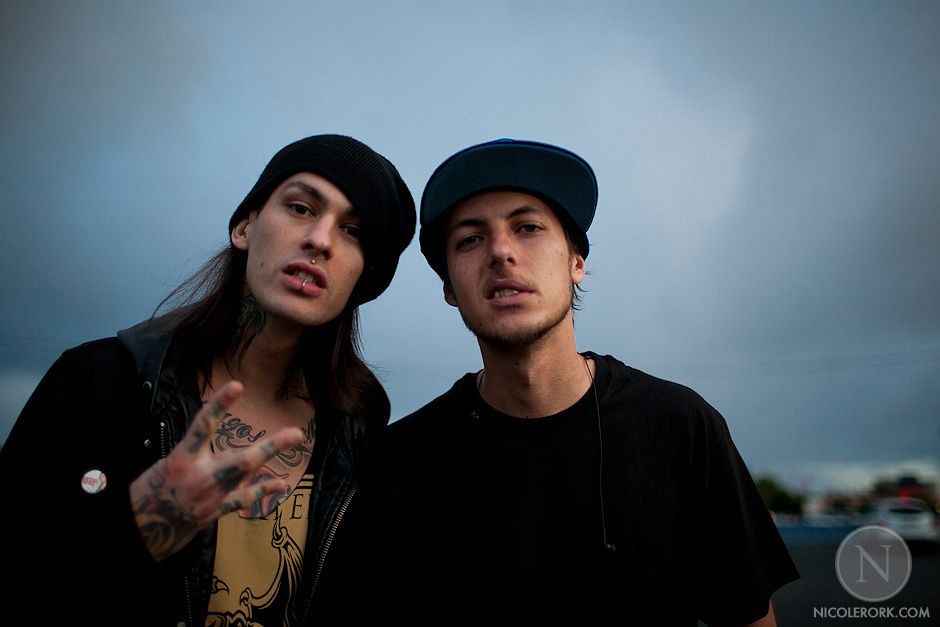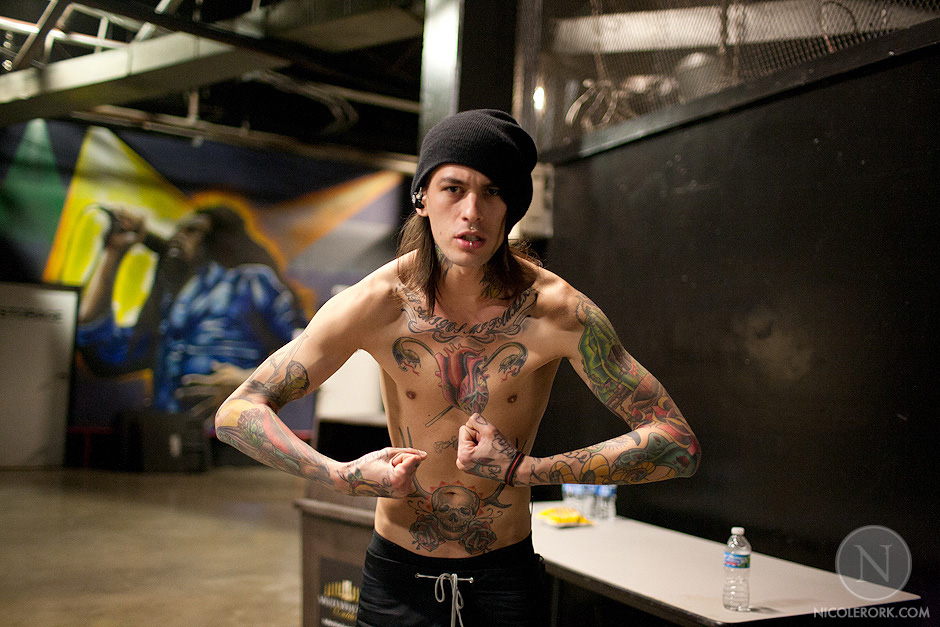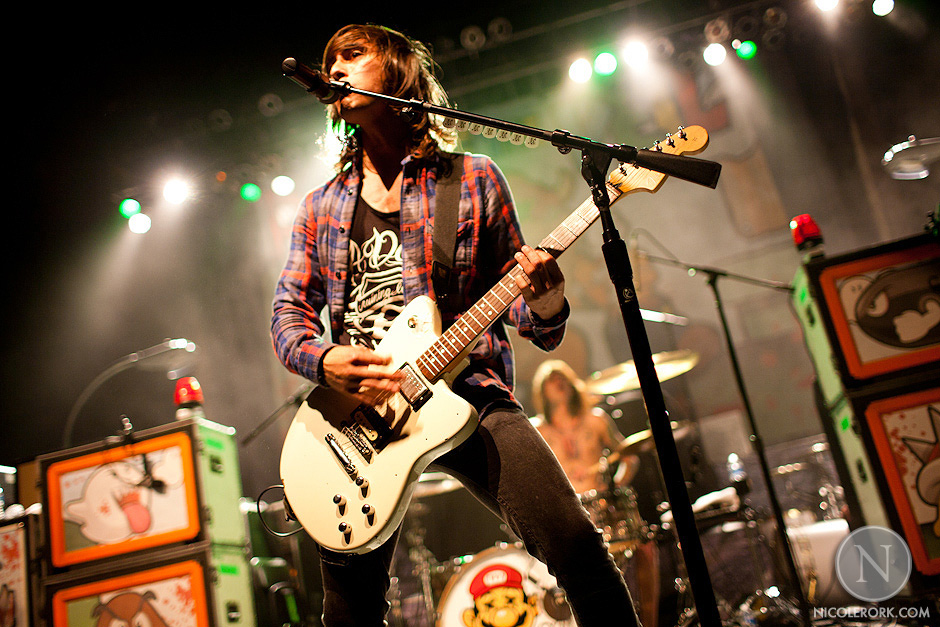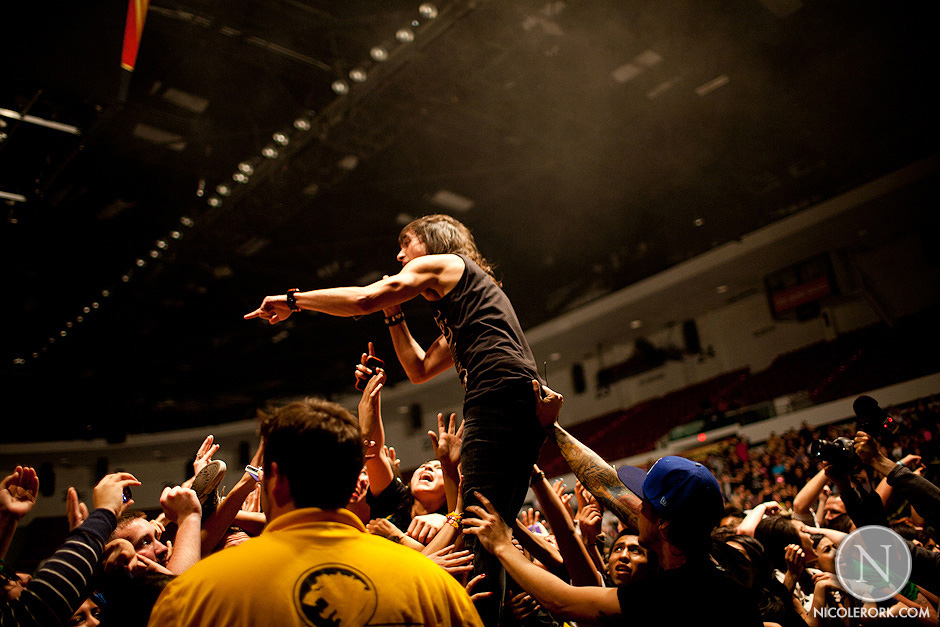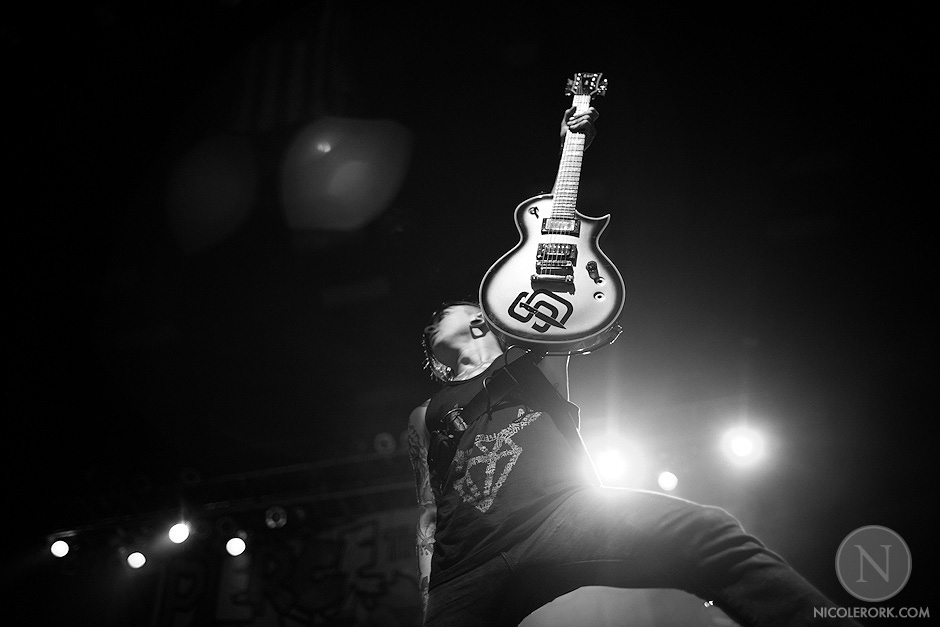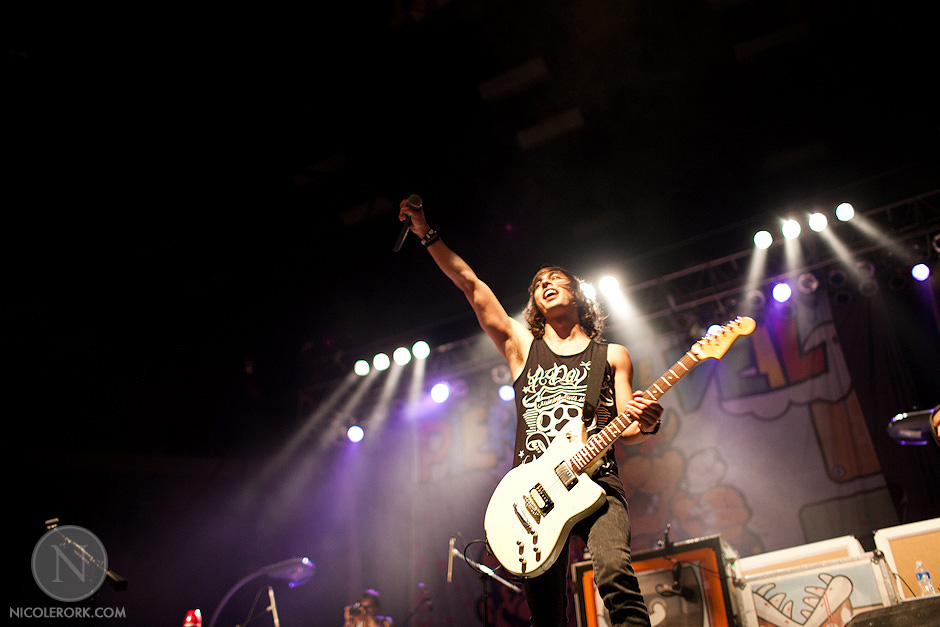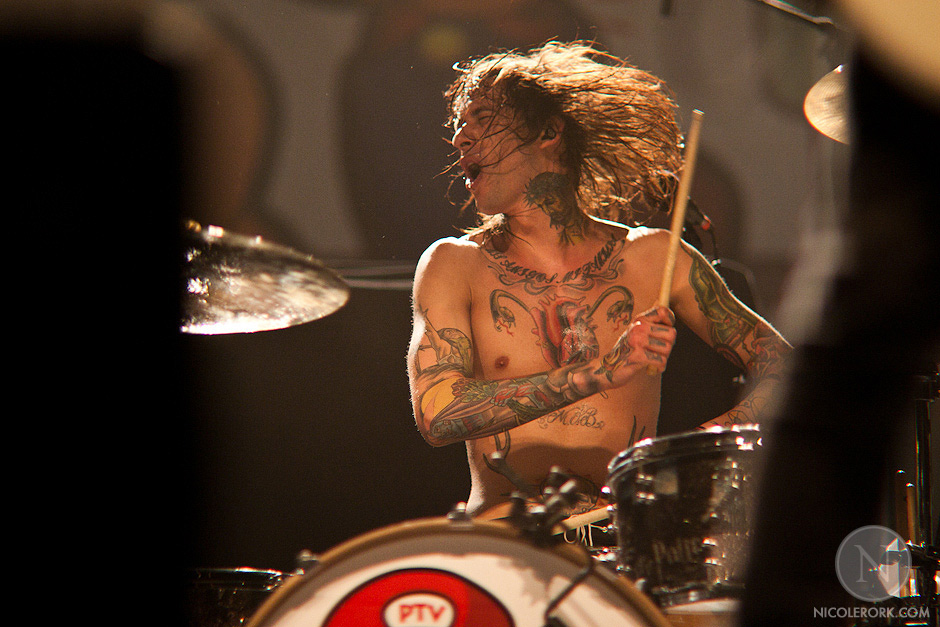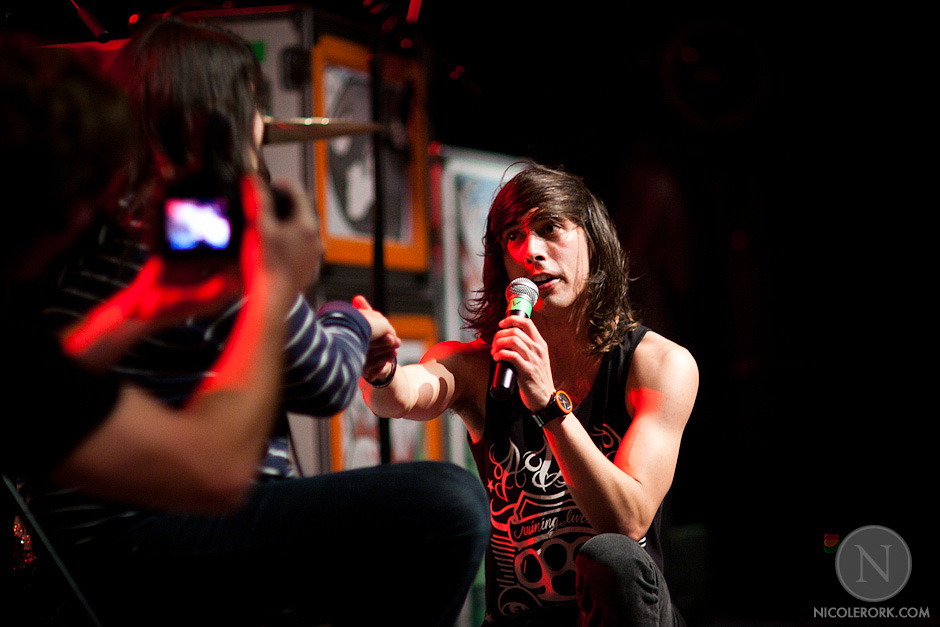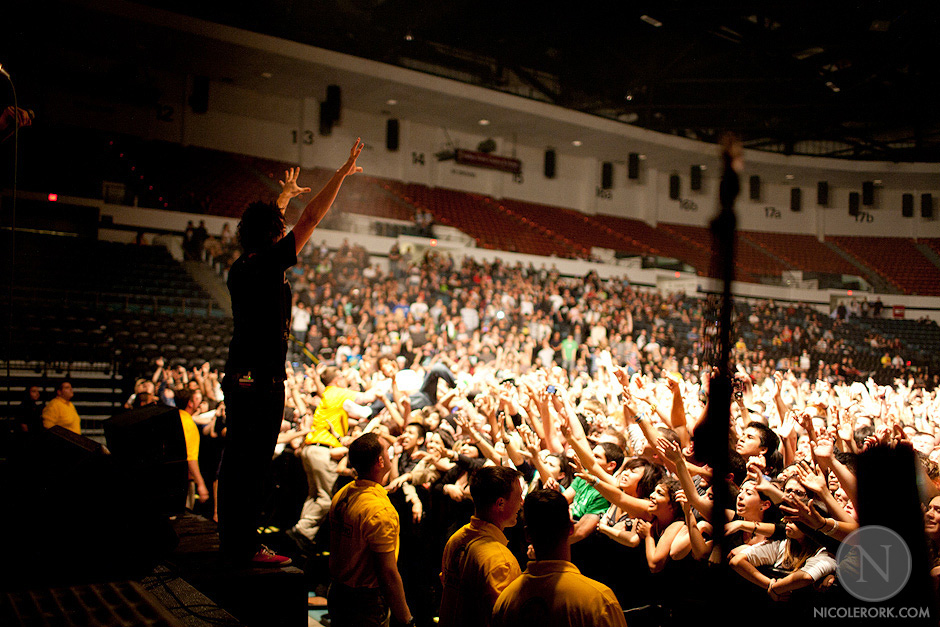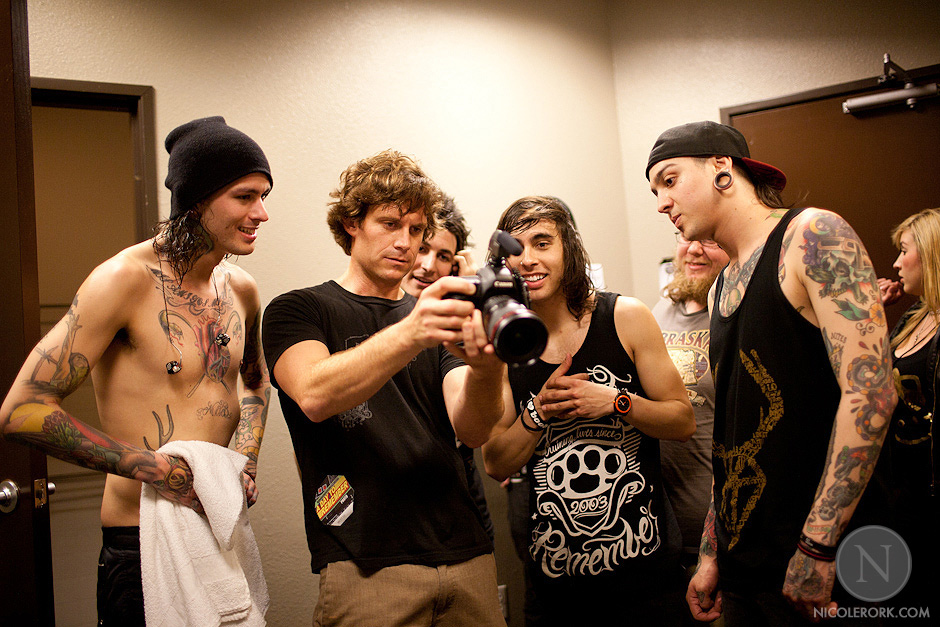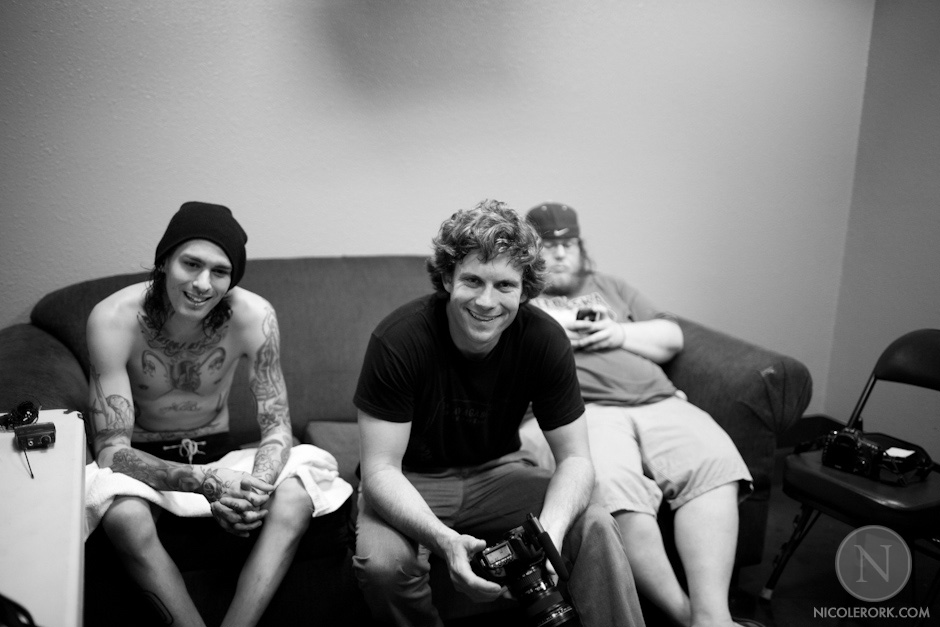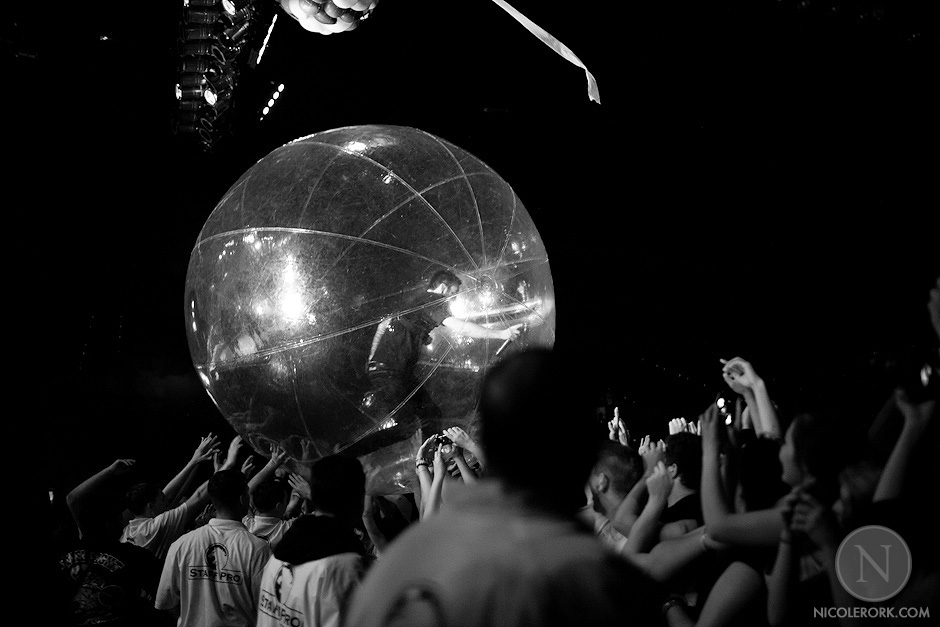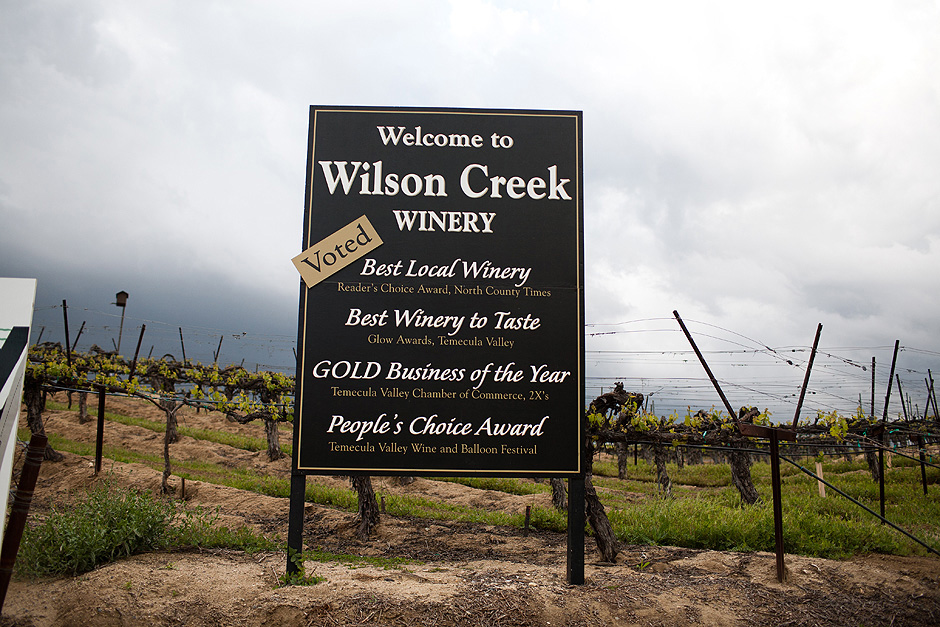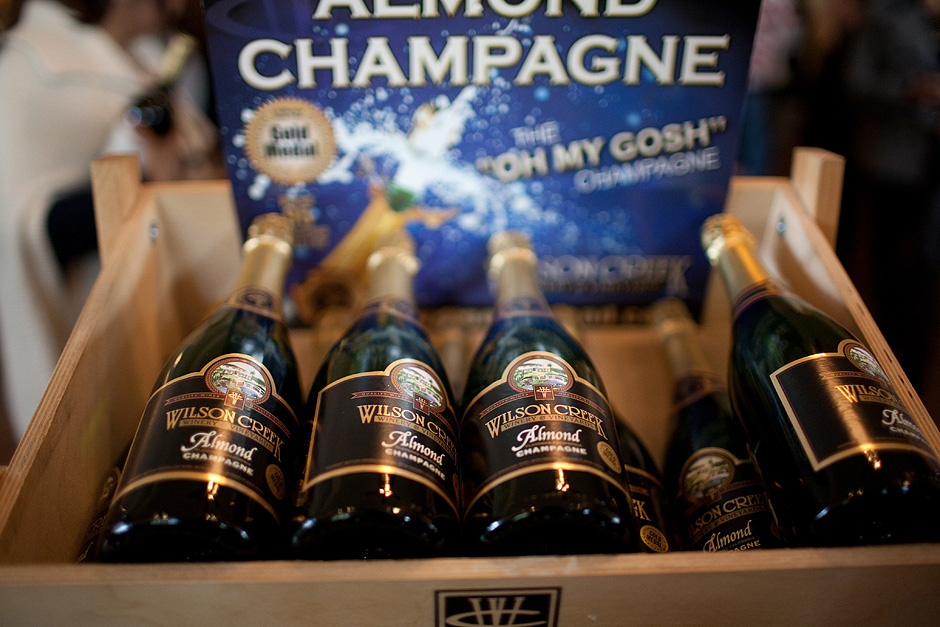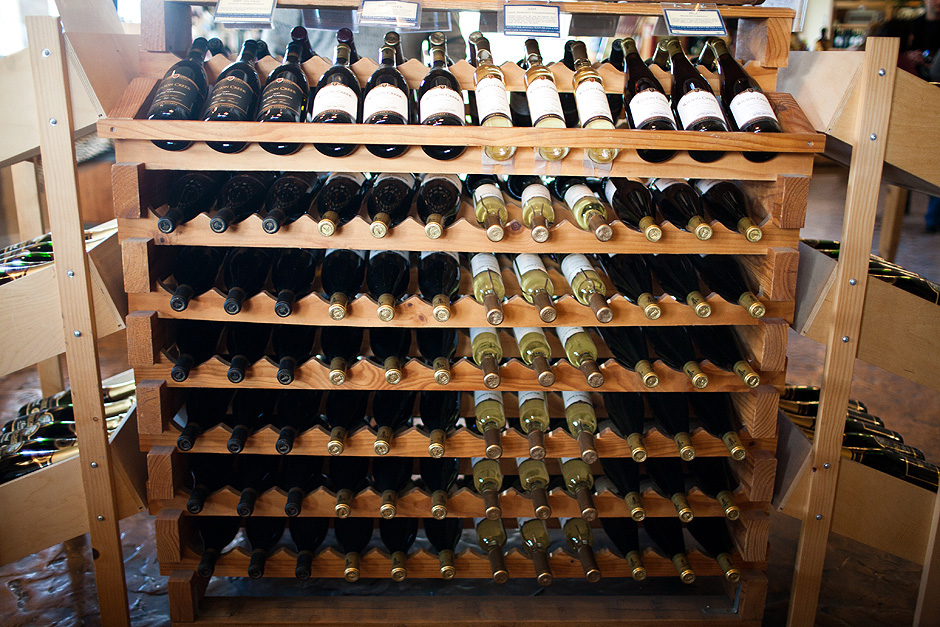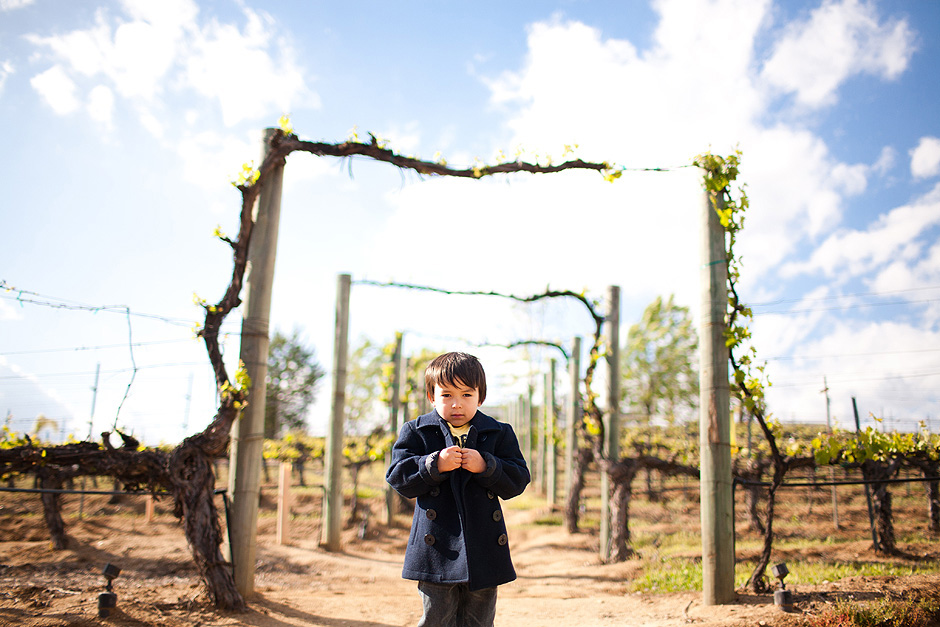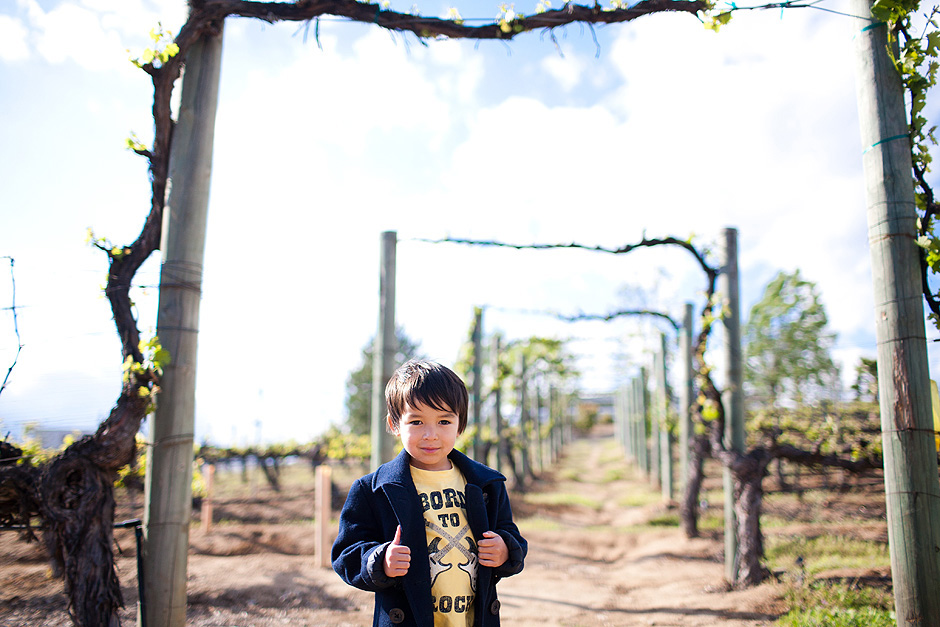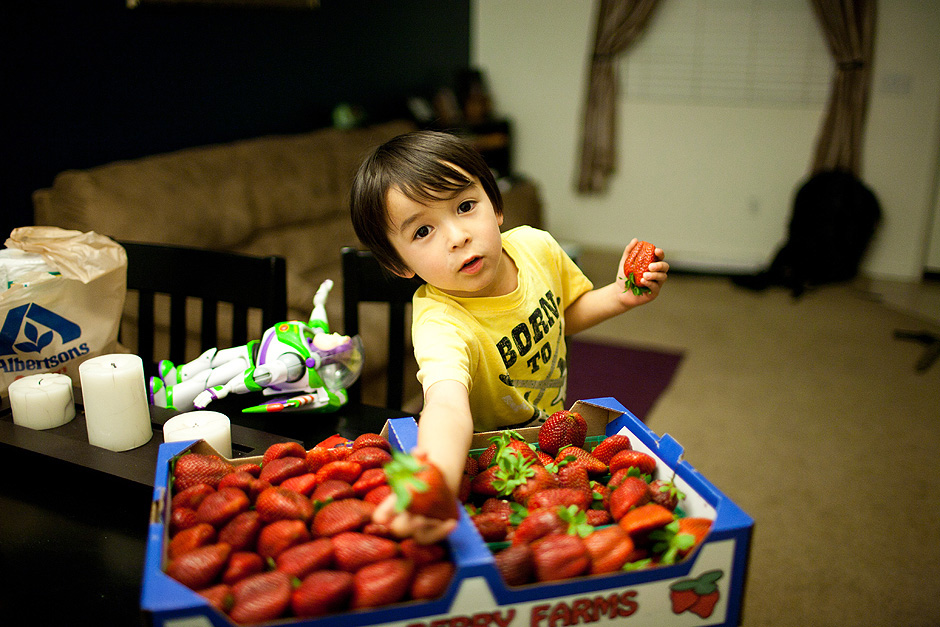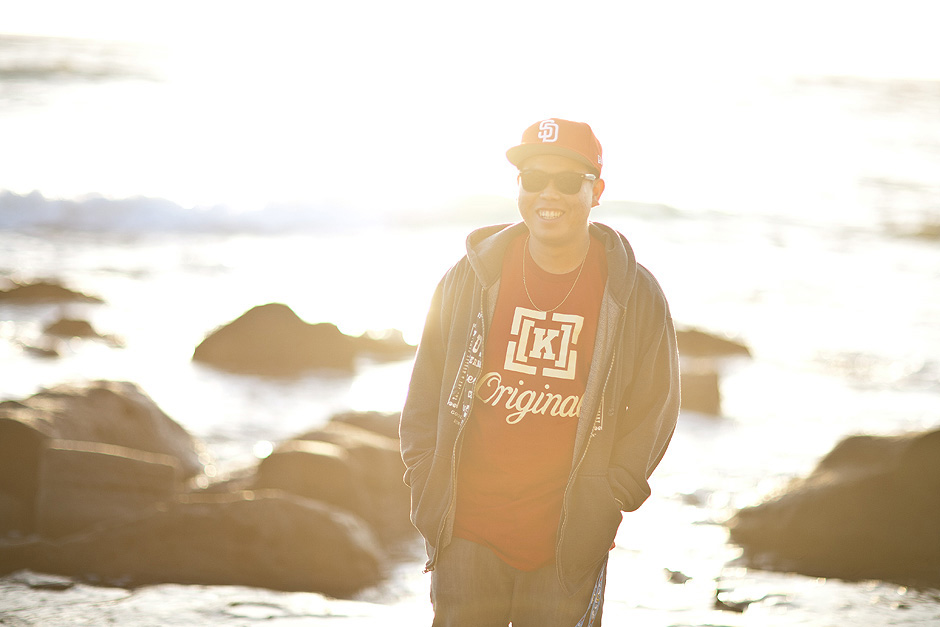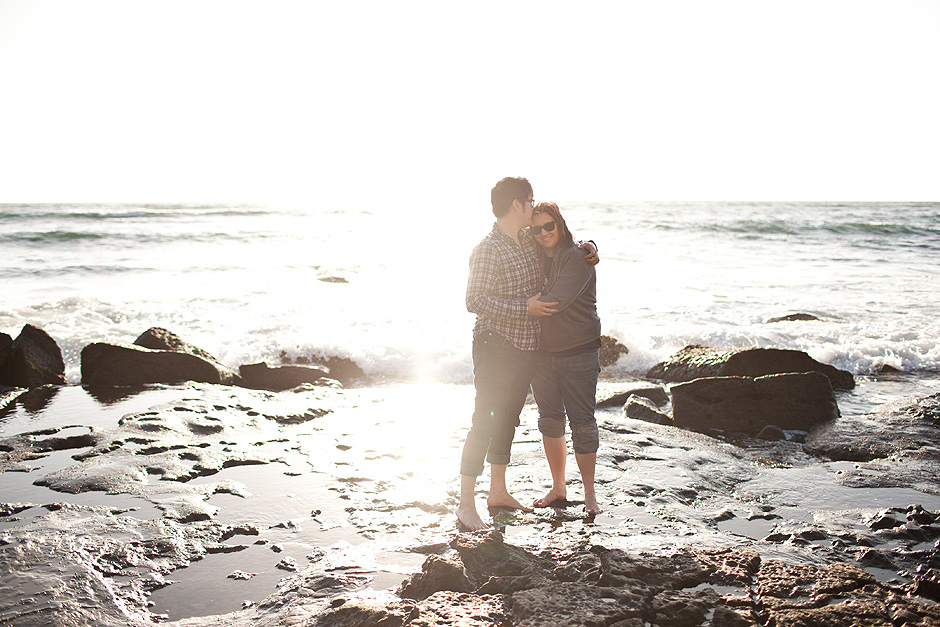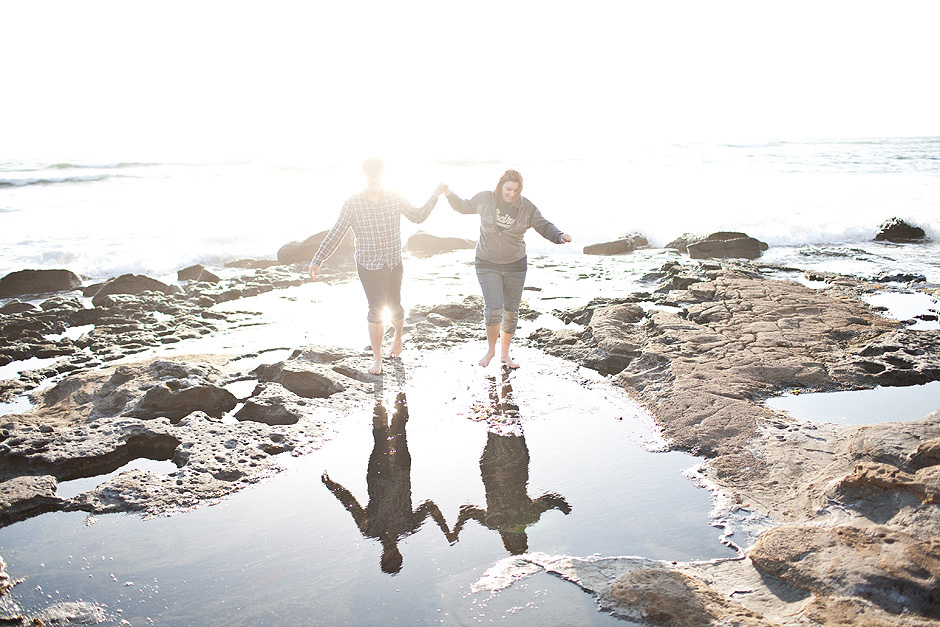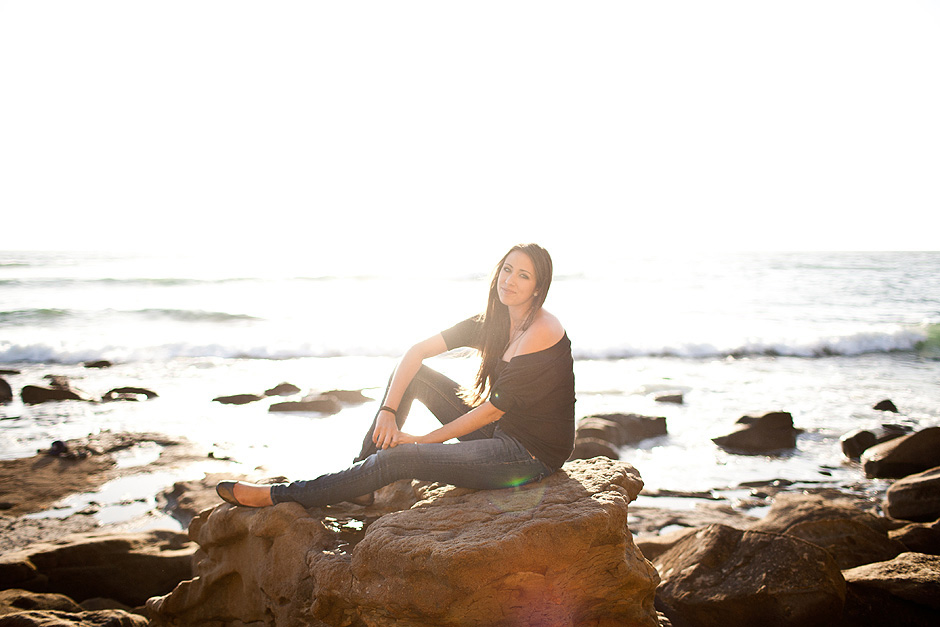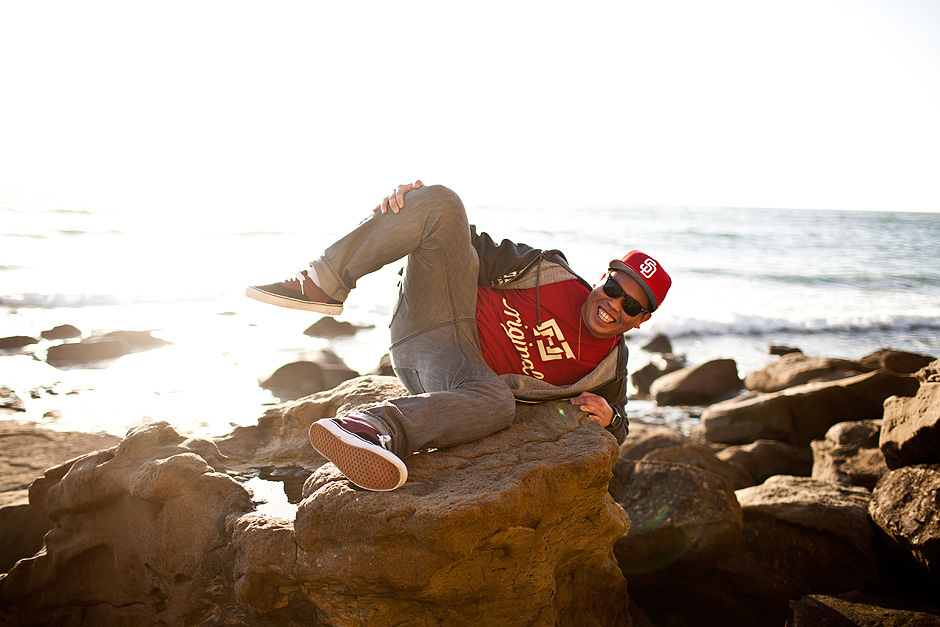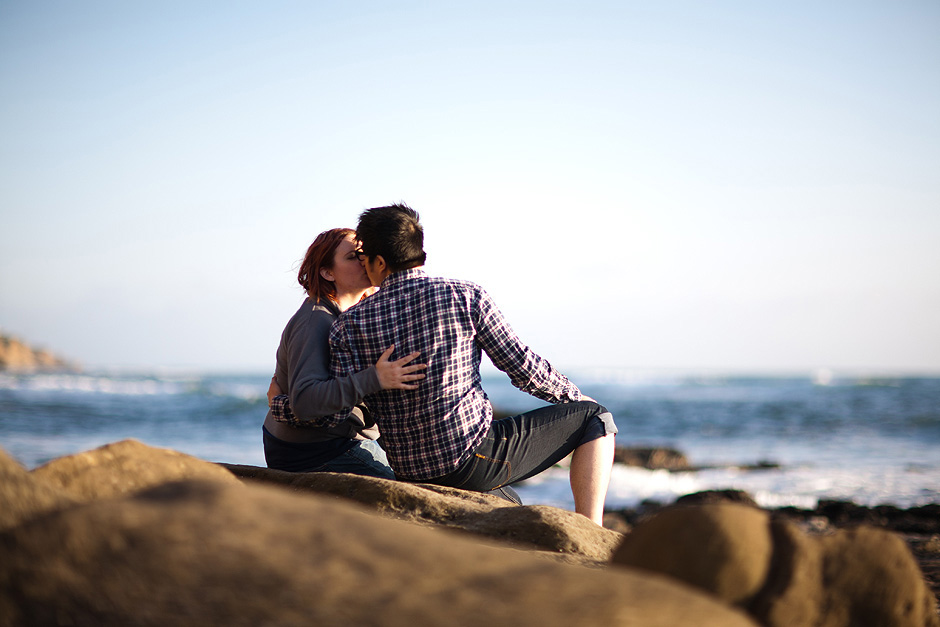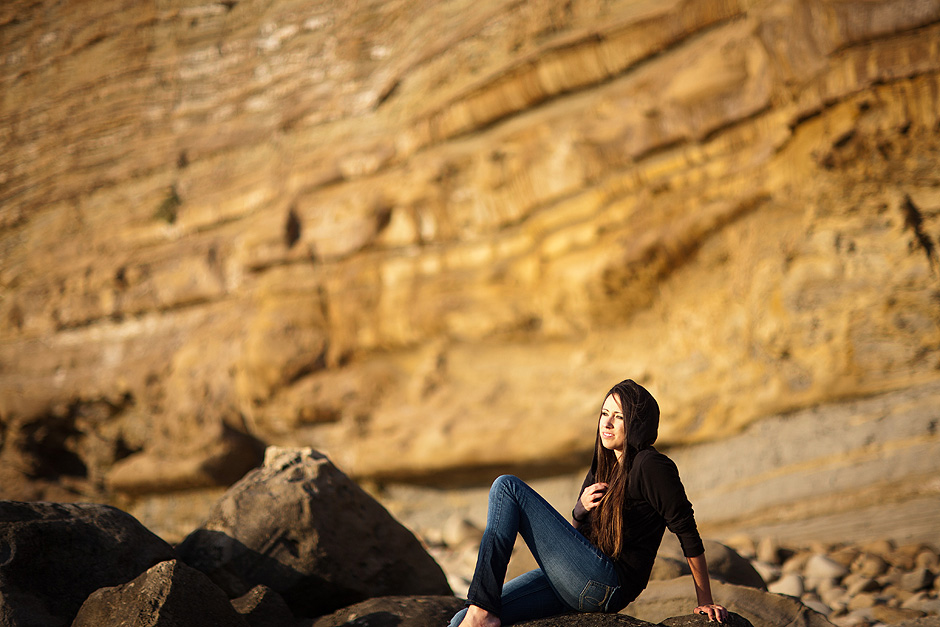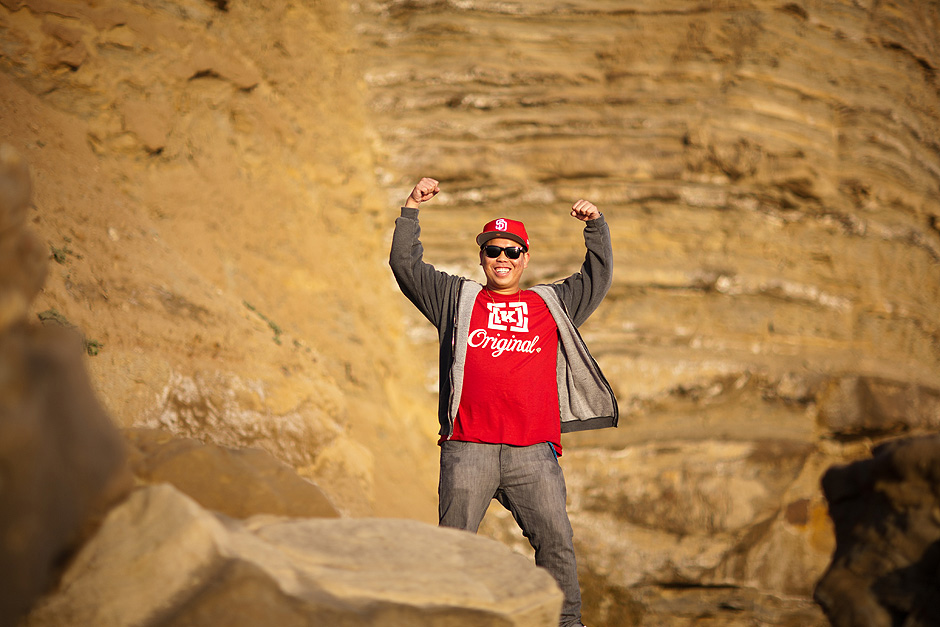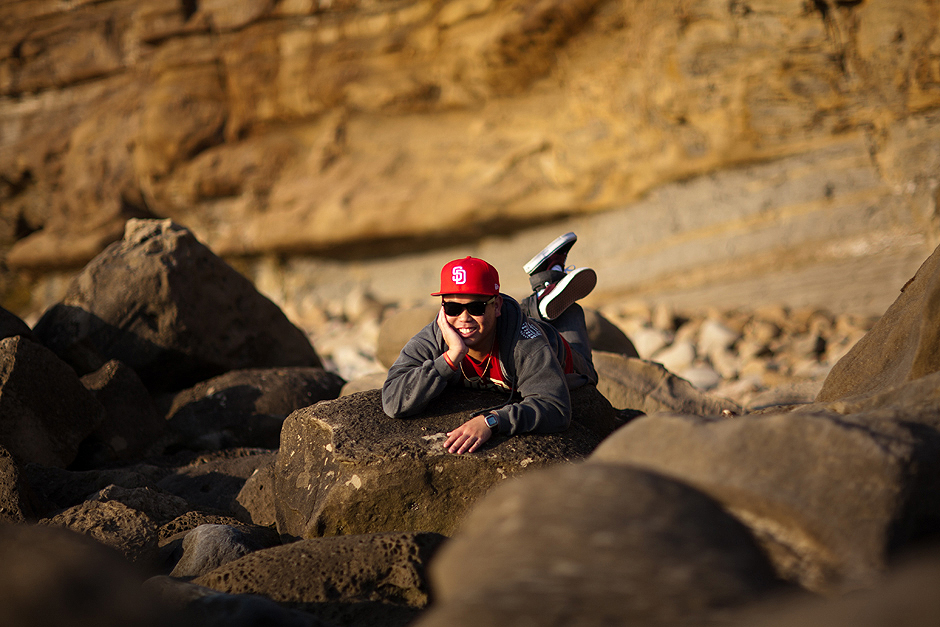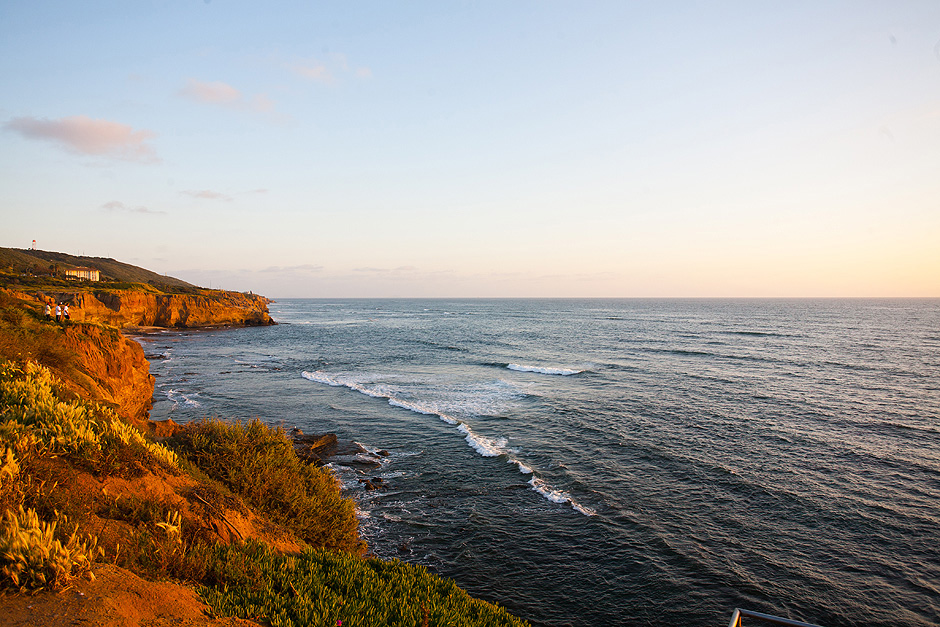 April 11th, 2011 at 7:01 am | Posted in Music, Personal, Portraits, Weddings | 2 Comments »
I was able to spend a couple of days on the Alternative Press Tour with my friends in Destroy Rebuild Until God Shows. Be sure to check them out on the Alternative Press Tour – if you happen to miss them this time around, catch them on all of this year's Warped Tour!
For you tech junkies: Canon 5D, Canon 35 1.4L, Canon 85 1.2L, natural light. No extensive post-processing other than resizing, watermarking and converting from raw to jpg.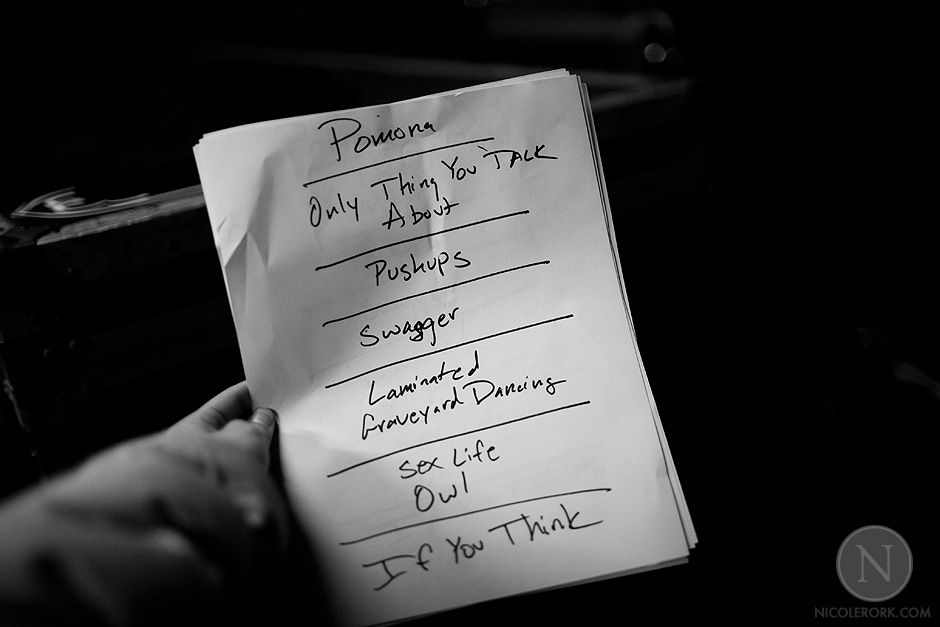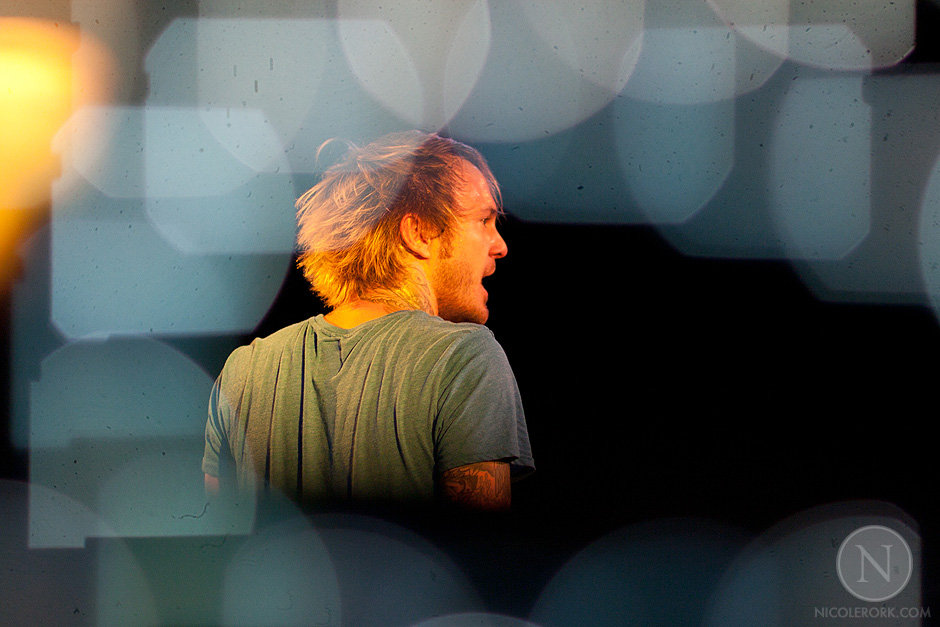 * photographed through the guitar boat / christmas lights. no fancy tricks.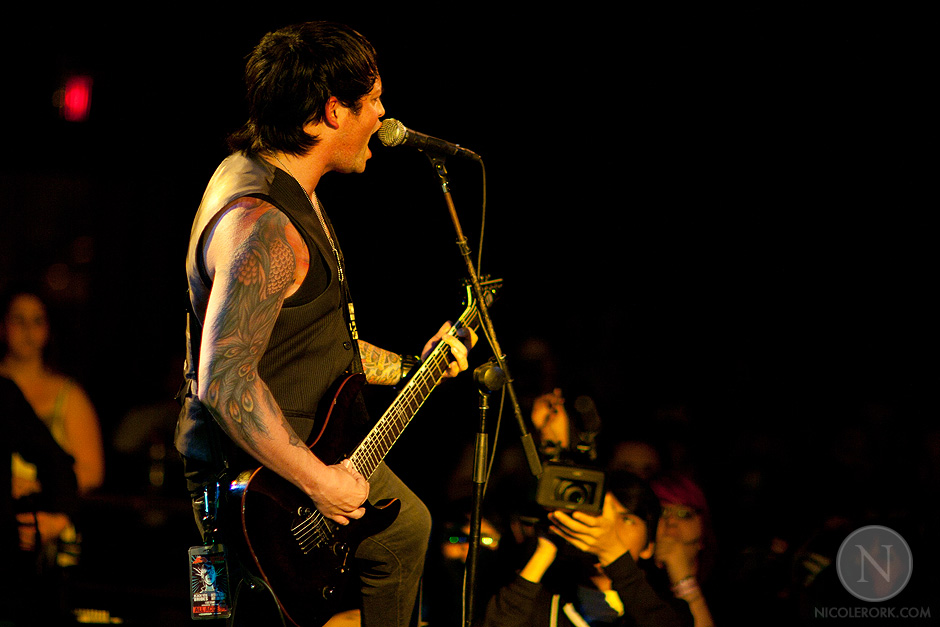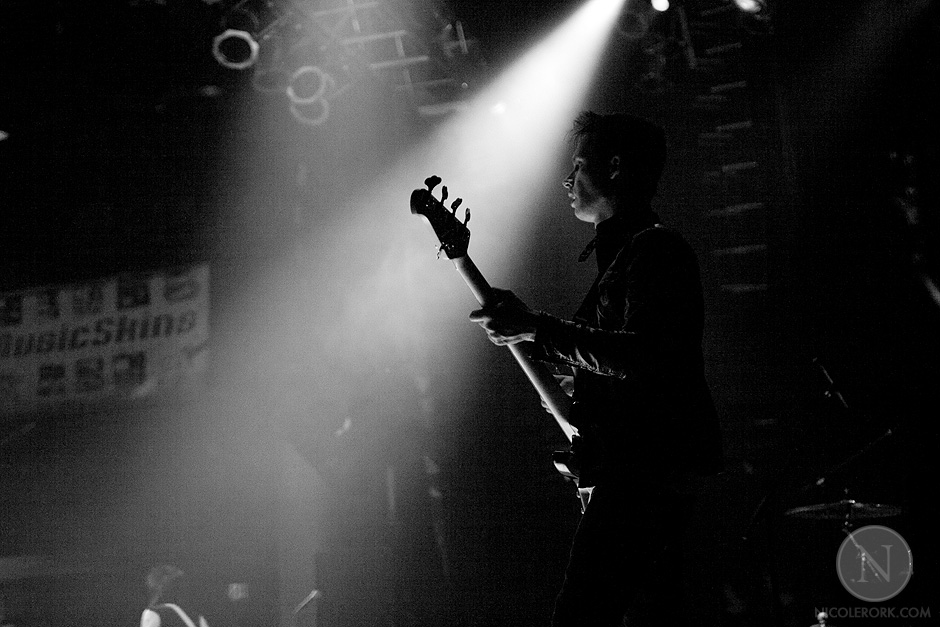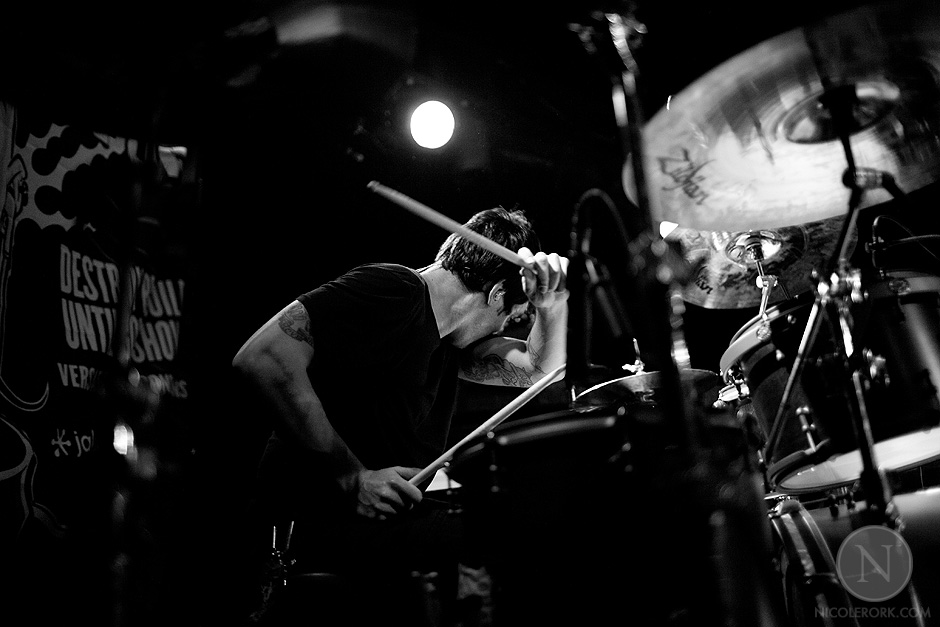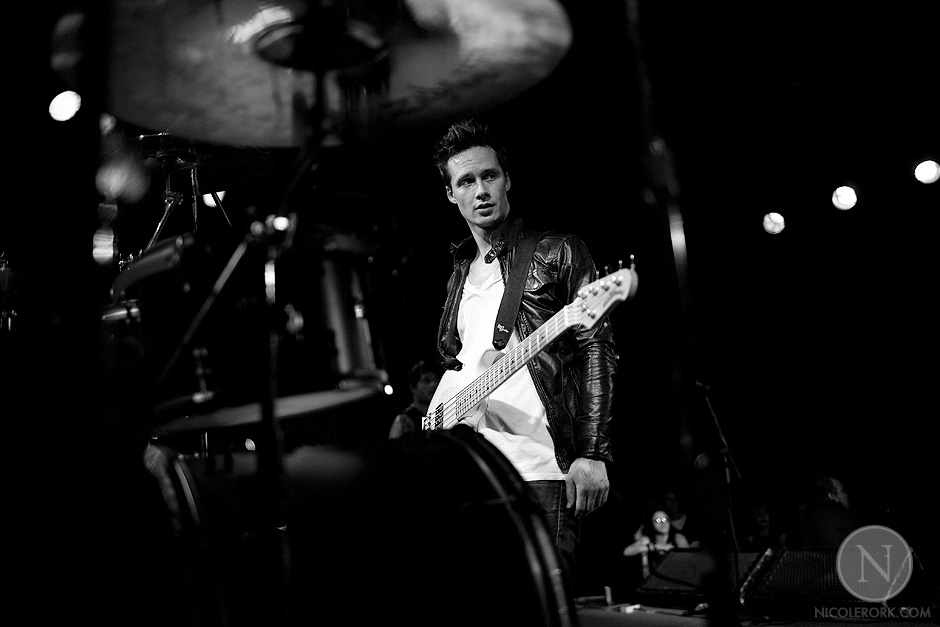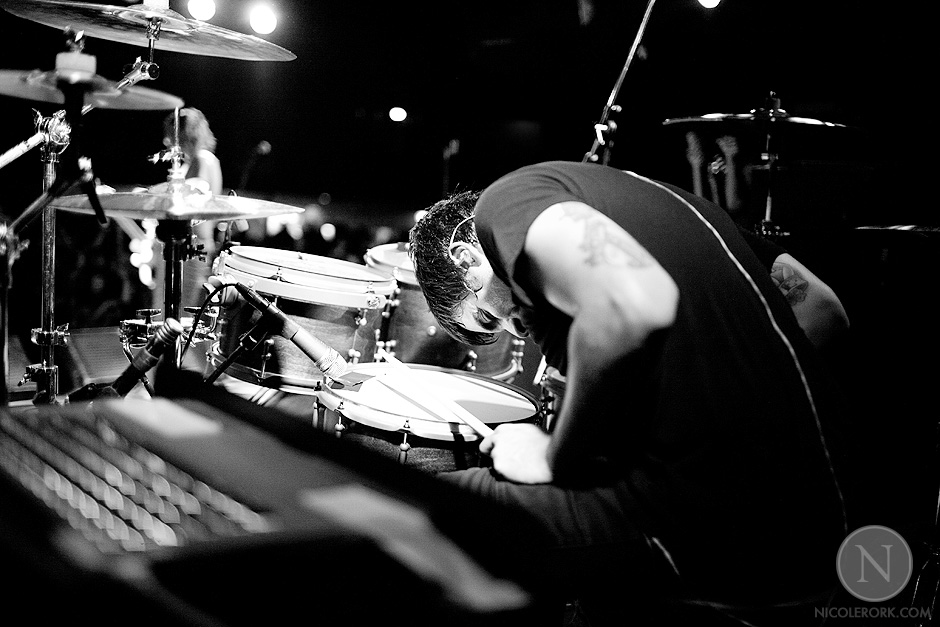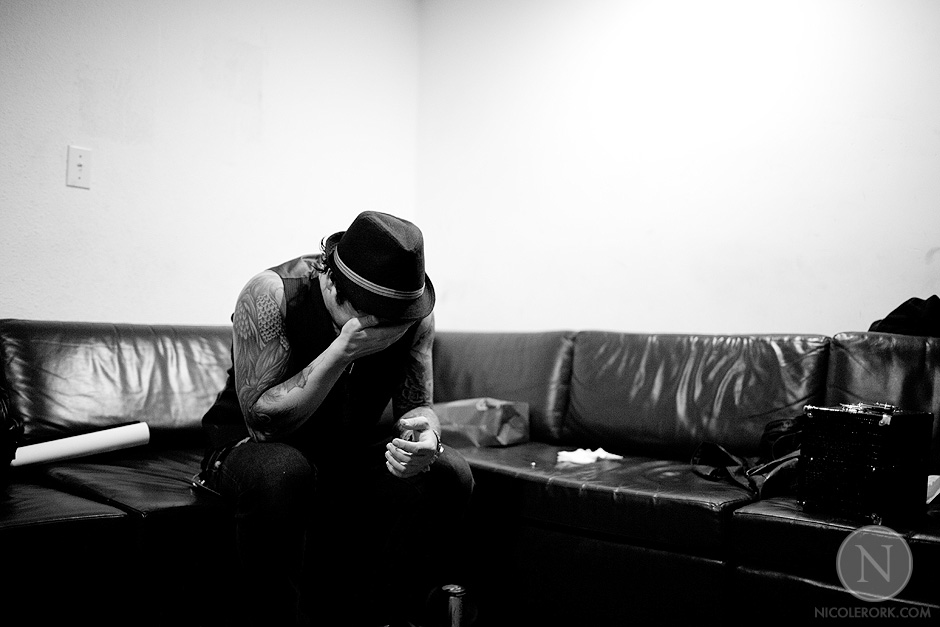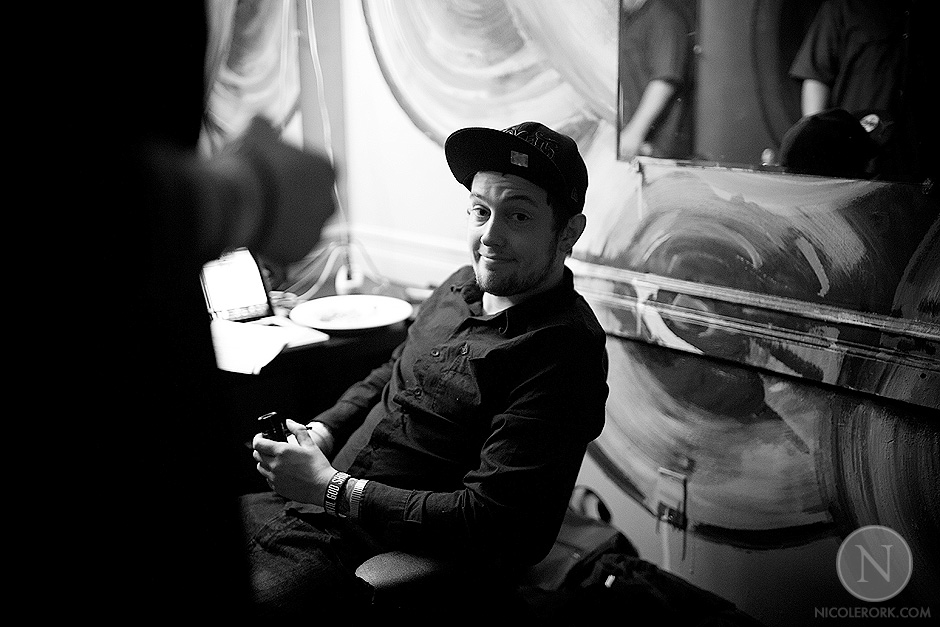 * This is Dakotah, one of the most hard working tour managers / guitar techs I've ever met. Say hi to him if you see him.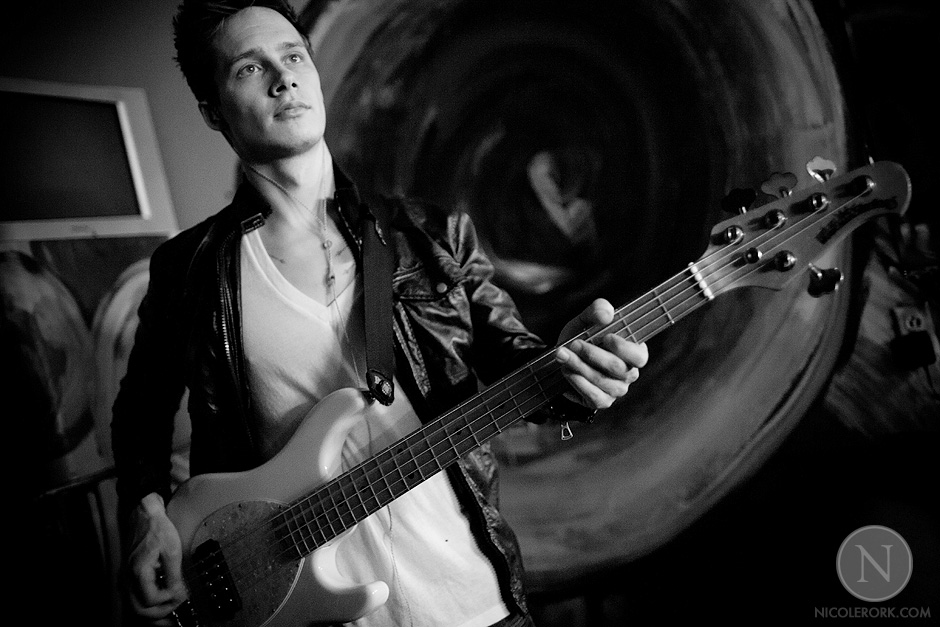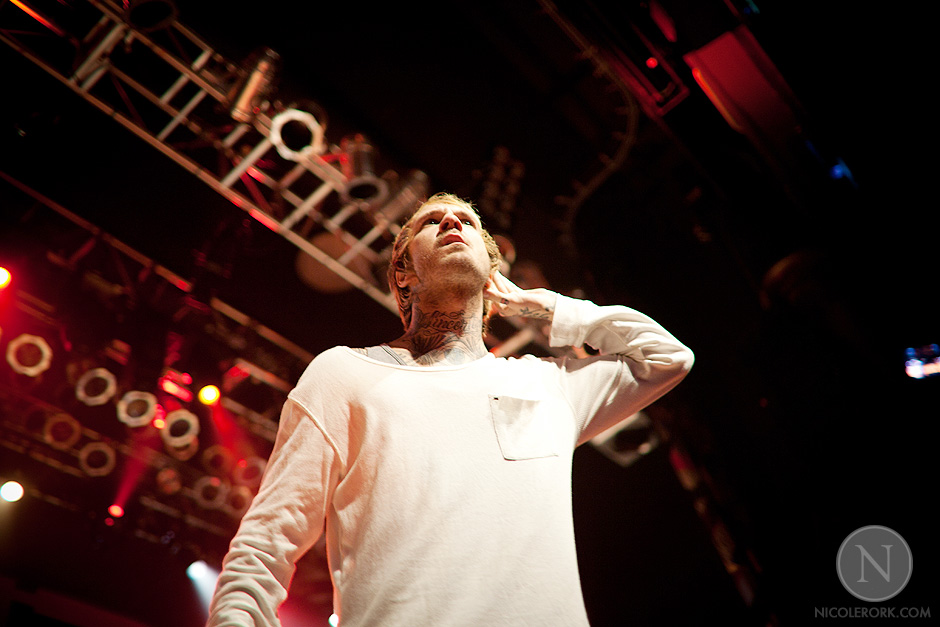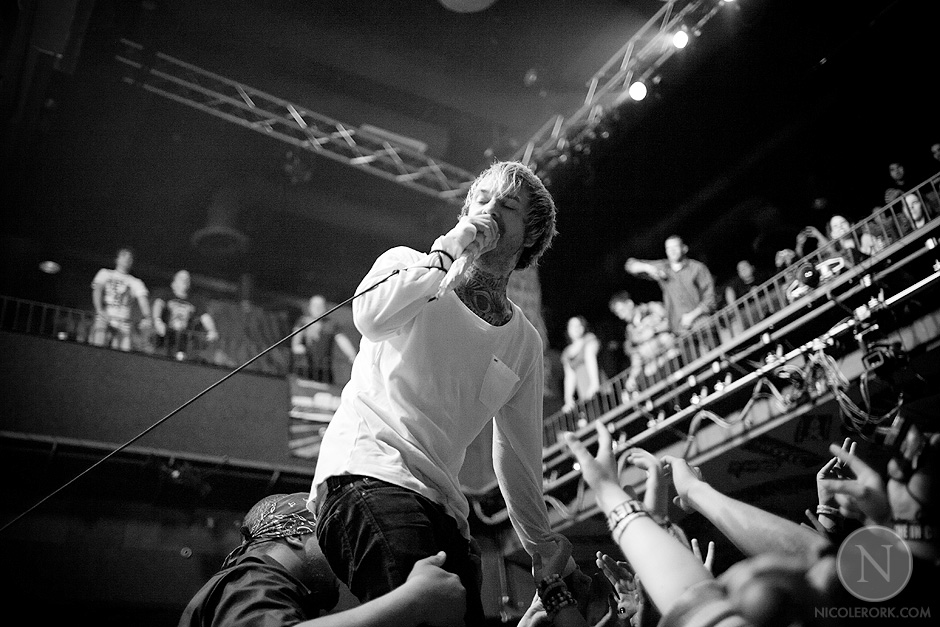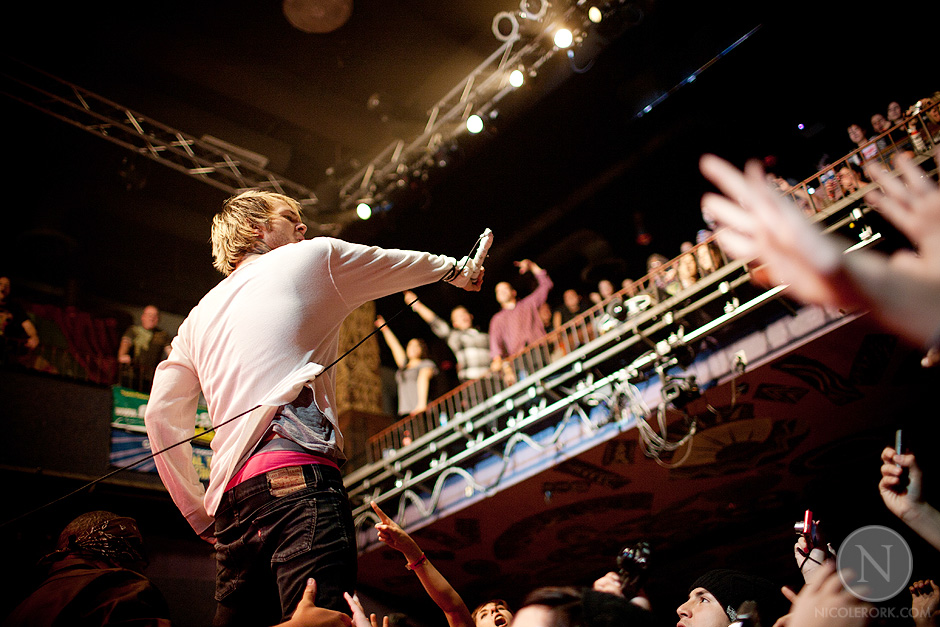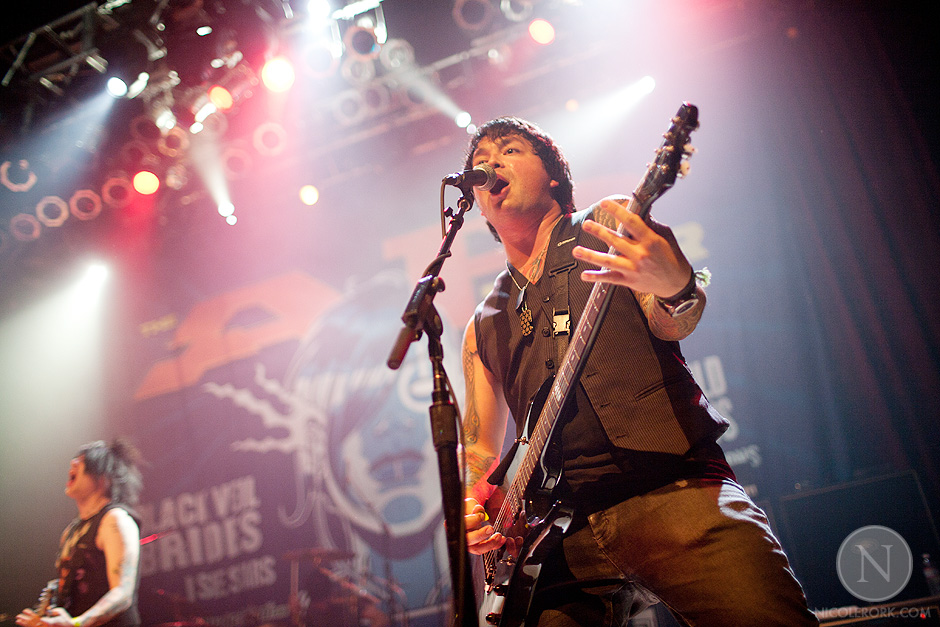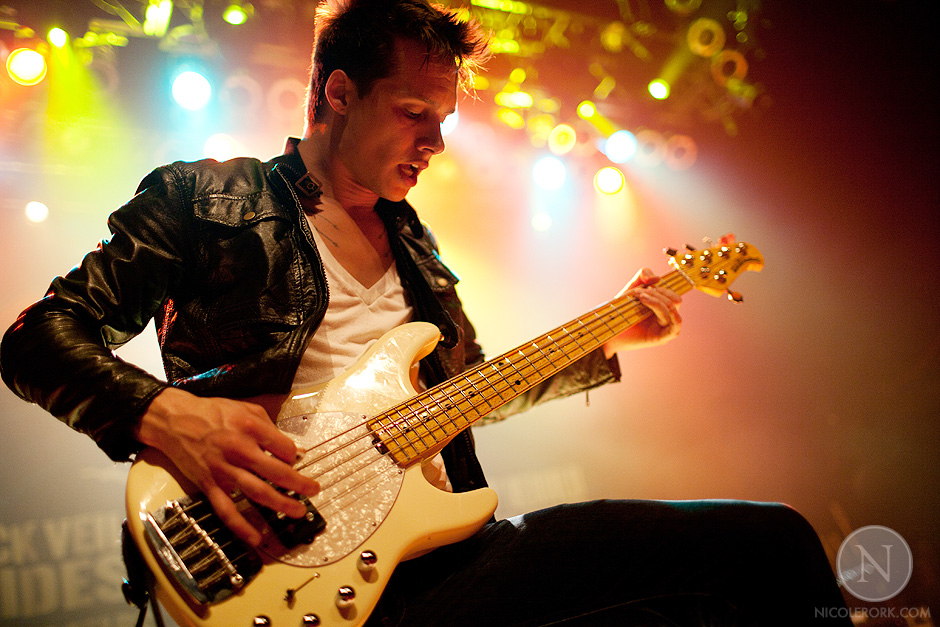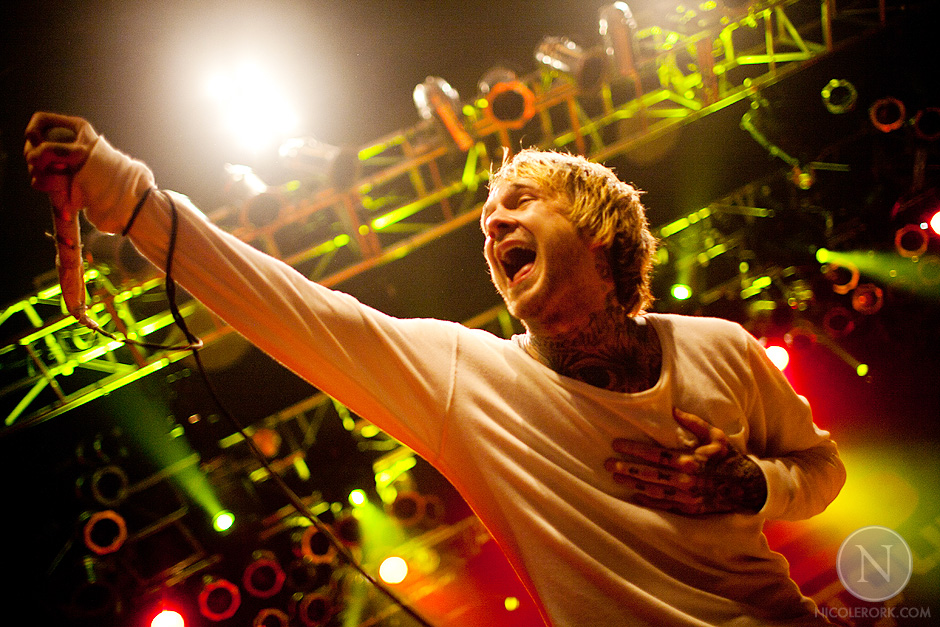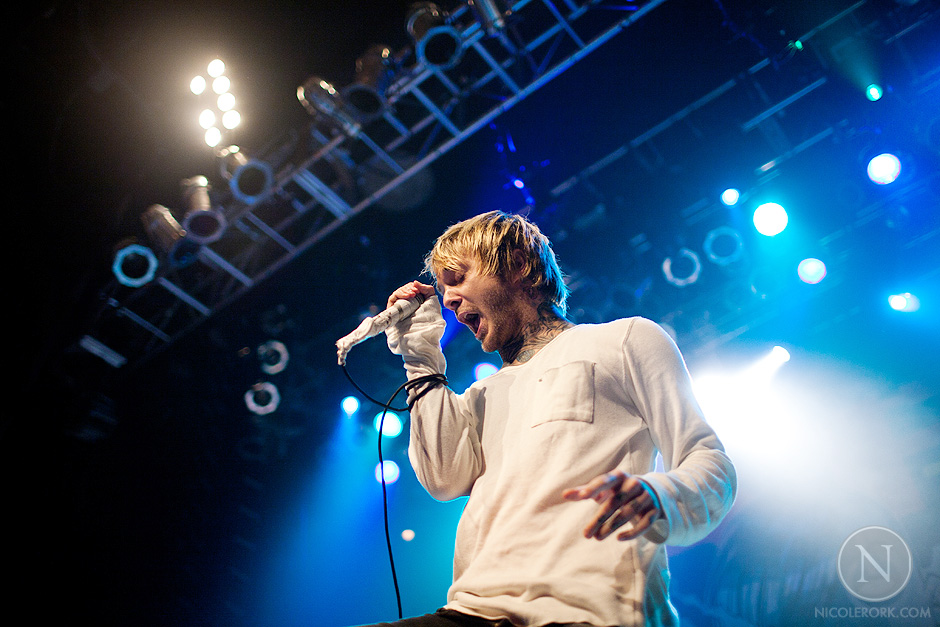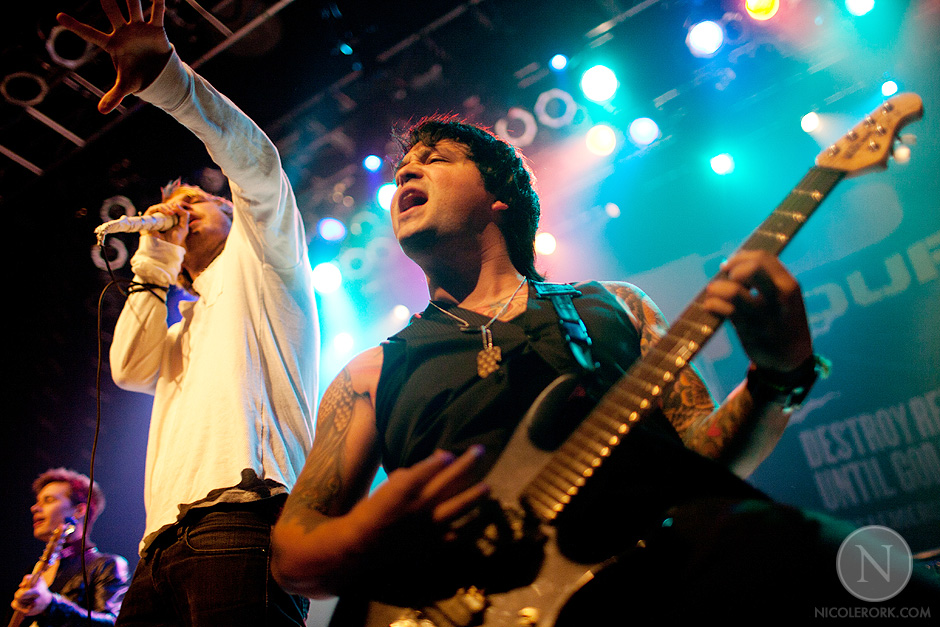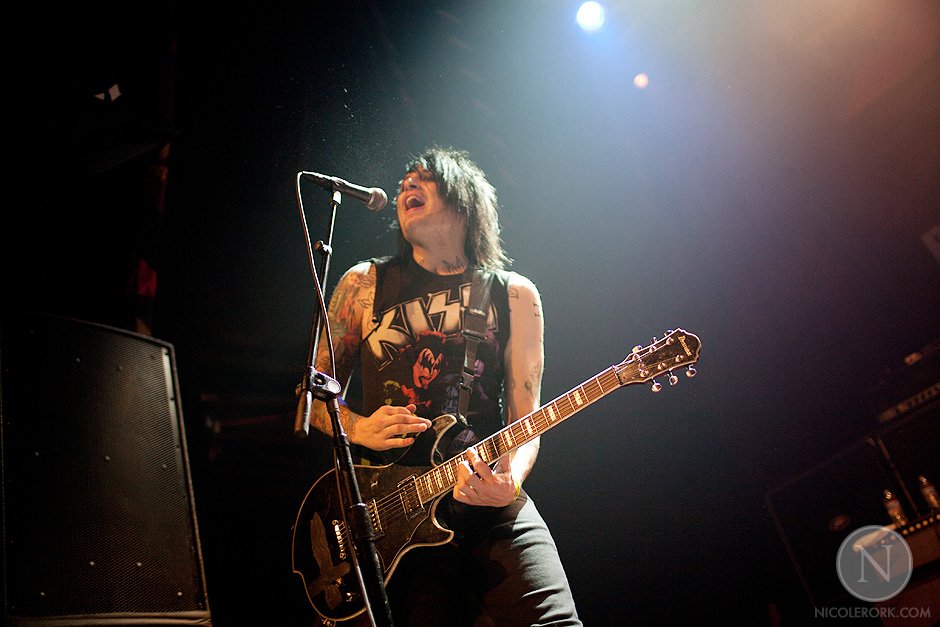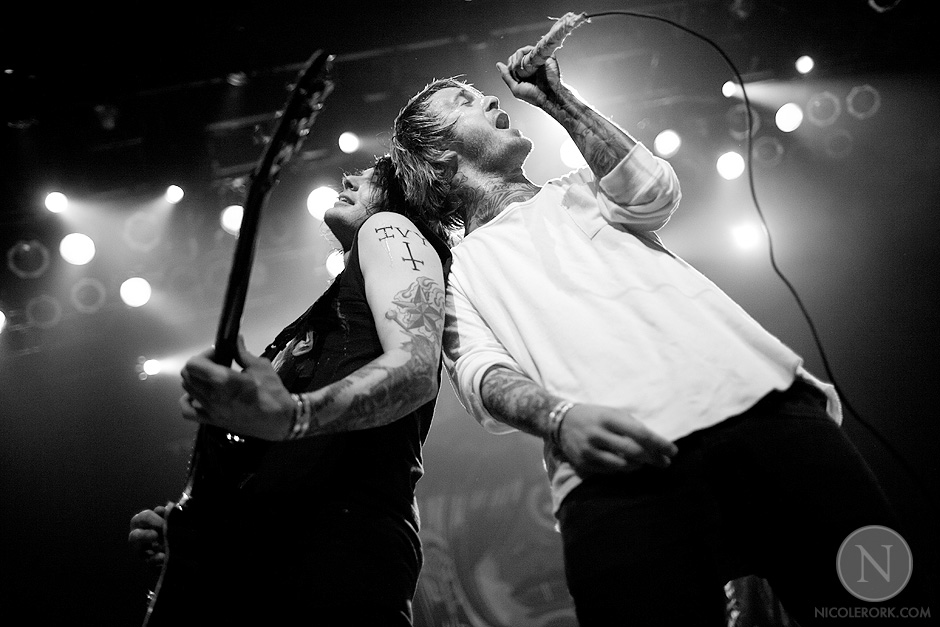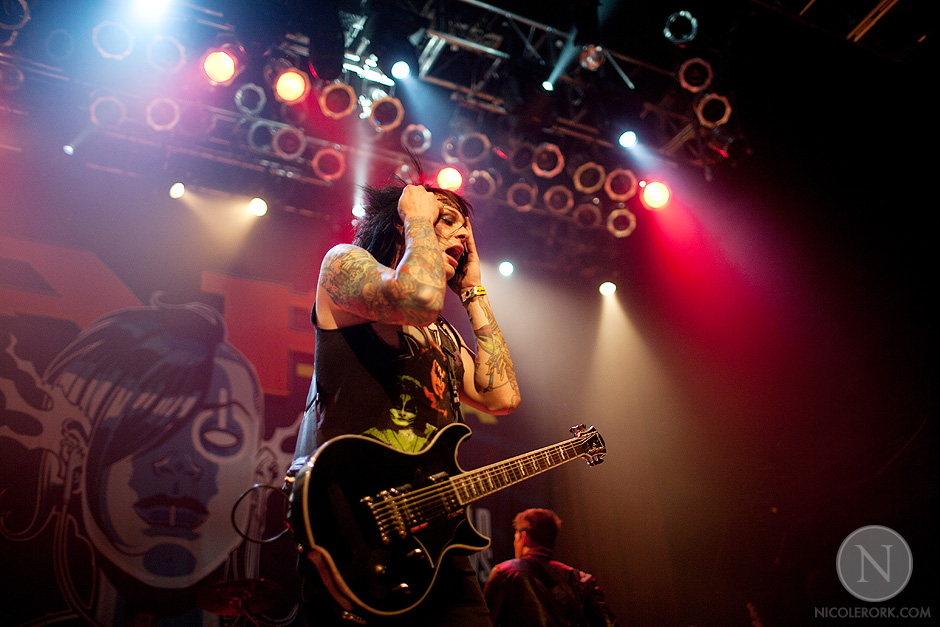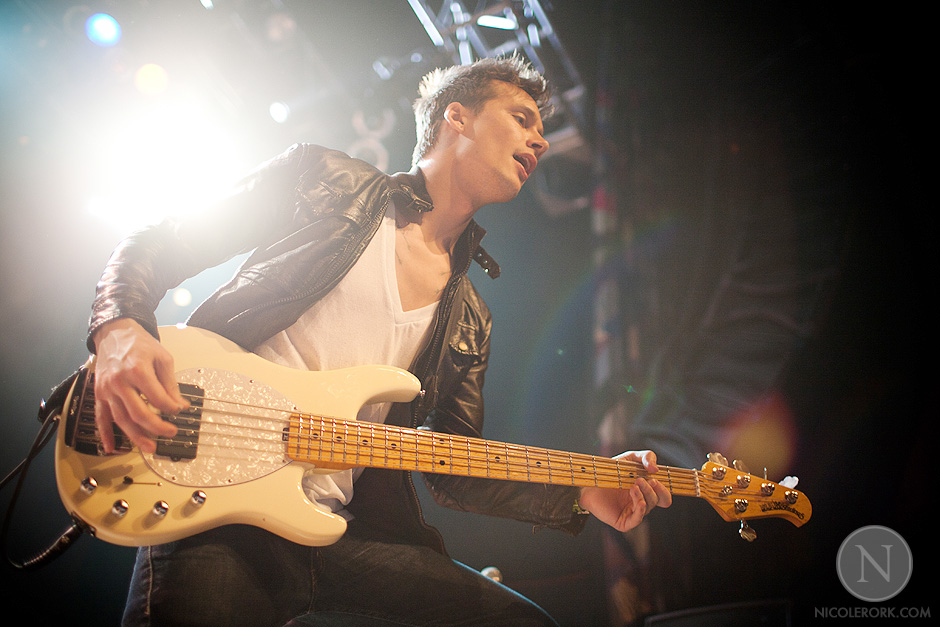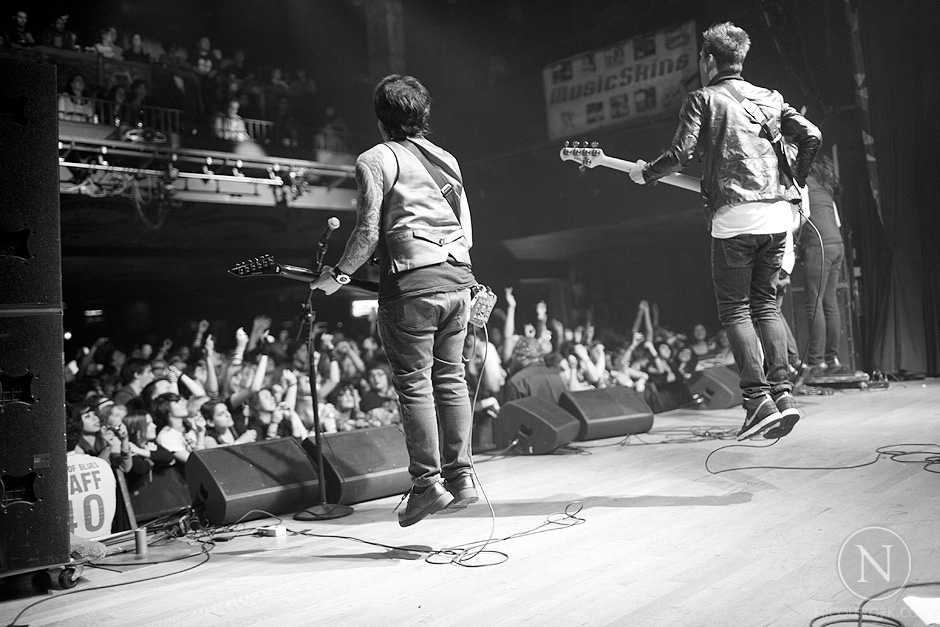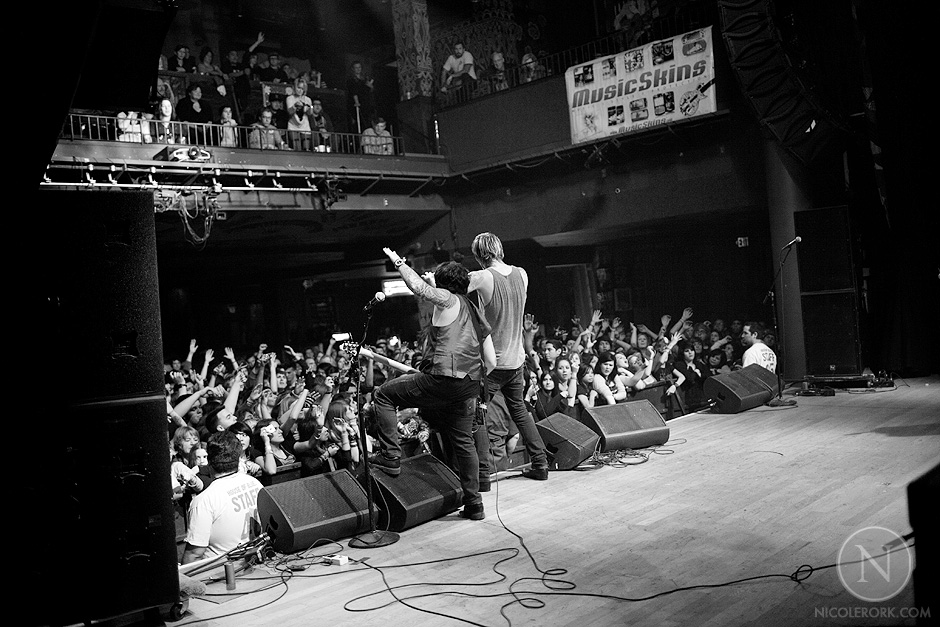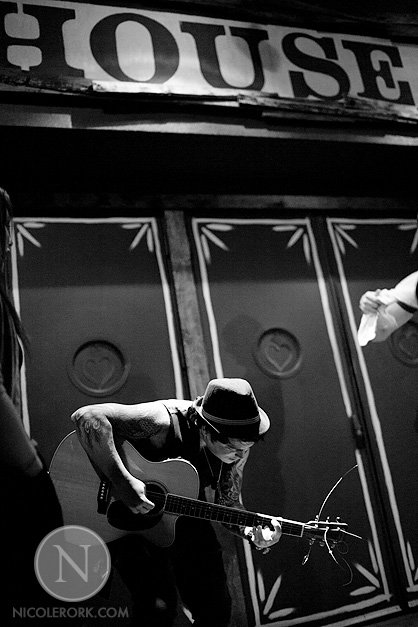 March 28th, 2011 at 3:45 pm | Posted in Music, Personal, Portraits | 2 Comments »
As a photographer I feel that in order to really capture true emotions, you need to have a good relationship with your client. Not only will they feel more comfortable around you and the camera, but they're willing to work with you on a creative level. I enjoy shooting friends because they trust me 100% with my ideas and I'm able to work with theirs as well. When my friend Craig asked me to take some promos for his new band, Destroy Rebuild Until God Shows (D.R.U.G.S.), I immediately jumped on the opportunity.
They were on a tight shooting schedule as they had a video shoot later in the morning. I had a two hour time slot to nail out these photos. Being on such a tight schedule meant I needed to scout a location that was relatively easy for the band to find and also be able to use a couple spots within the same area. While driving through the Hollywood Hills last year, I ended up getting lost somewhere on the winding road and ended up in one of the most breathtaking spots I've ever seen. Ever since I discovered the spot, I've wanted to save it for an amazing shoot, this was the perfect opportunity to use it.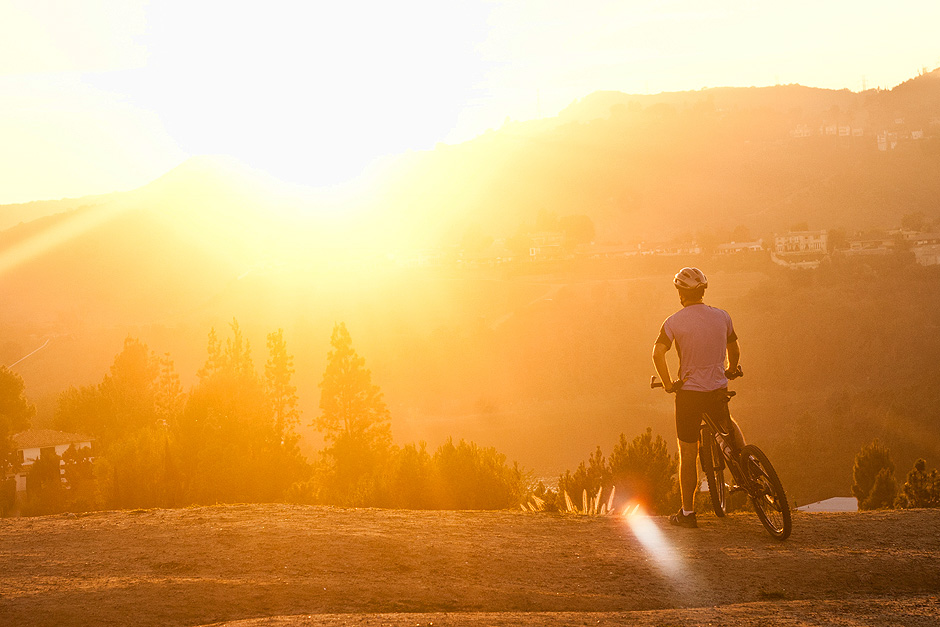 I left San Diego early that morning and arrived at my destination in the Hollywood Hills to begin setting up. My good friend, Megan Thompson met up to help assist the shoot. Be sure to check out her work! I had two locations in mind: a dirt hill in front of the Hollywood sign and a cliff overlooking the city. Unfortunately, it literally rained on my parade. I wasn't about to let the rain ruin my agenda though. Since it was overcast, I had a nice soft light to work with as well as a foggy background. For the dirt hill photos, I used a large softbox 1/4 power about 6 feet from the ground – enough to light the band but keep the background intact. I also learned that the Vagabond II battery doesn't hold up too well in the rain. The strobe would go off every 15-20 seconds, putting a damper (no pun intended) on things. However, we made it work and were able to get a few keepers from this spot.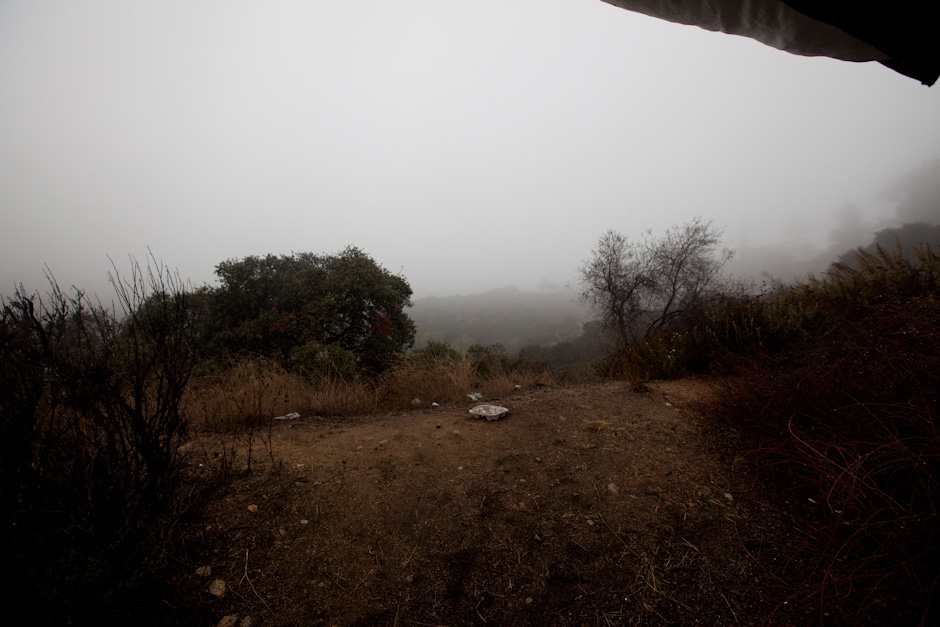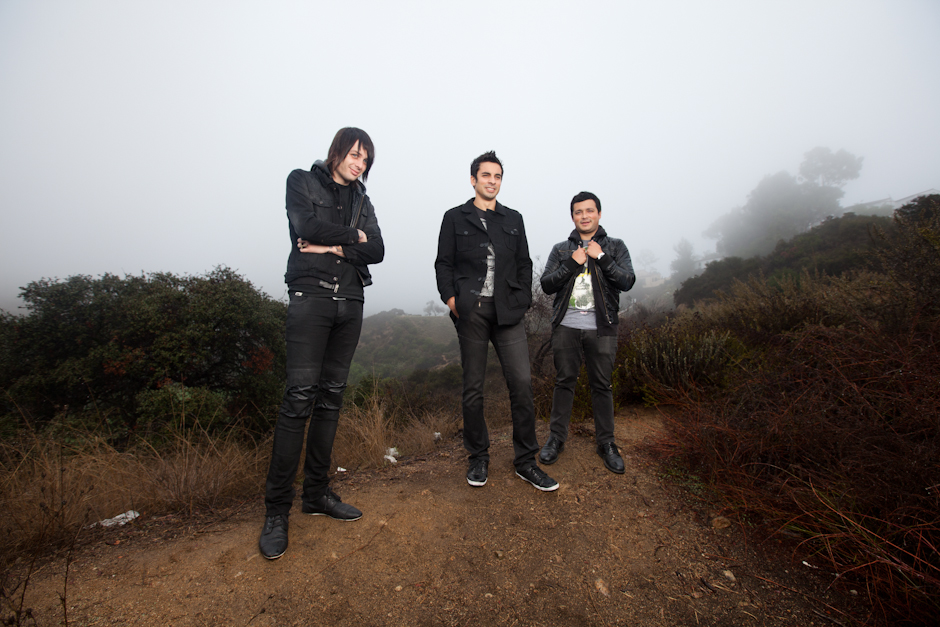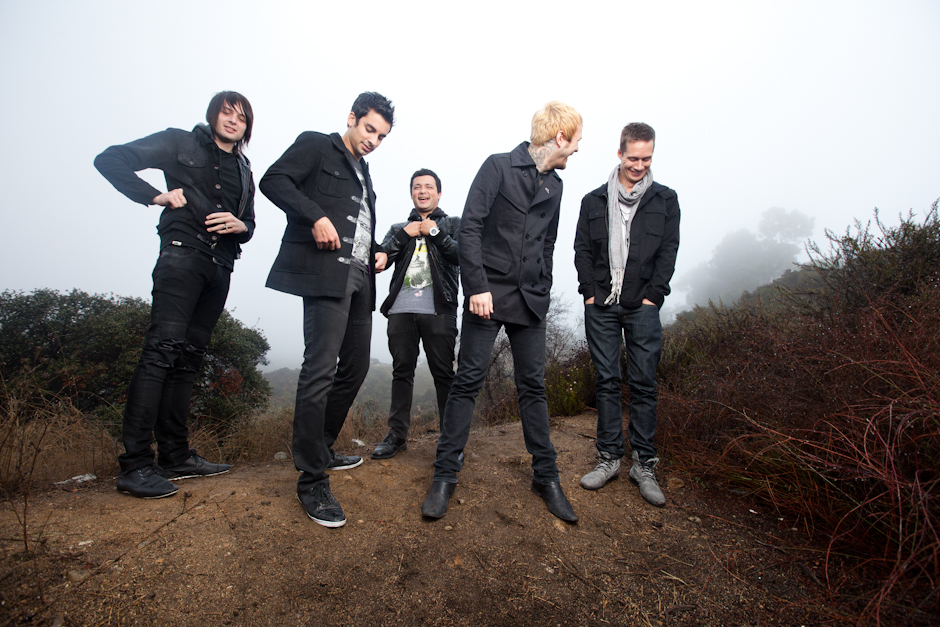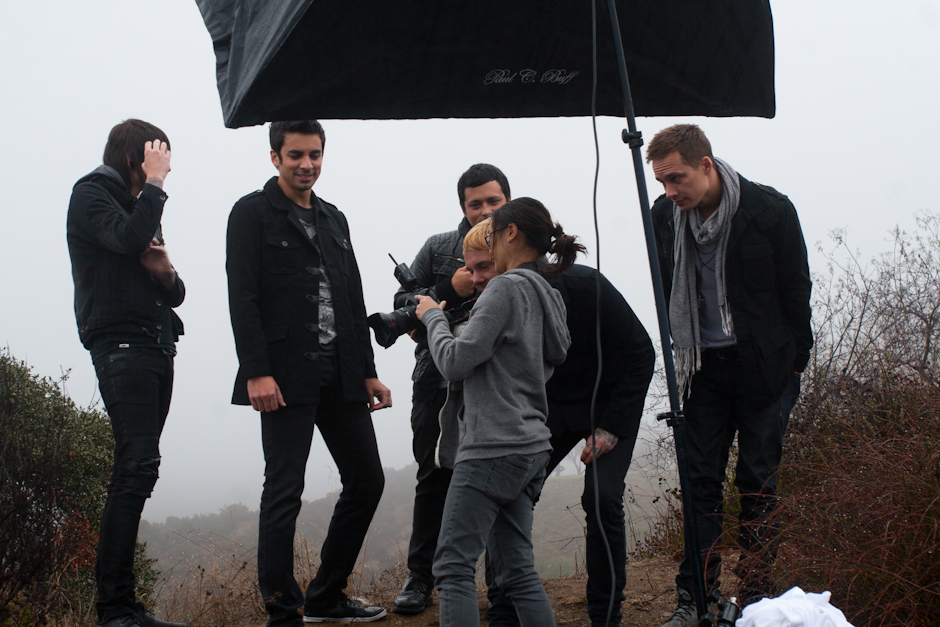 Photo by Megan Thompson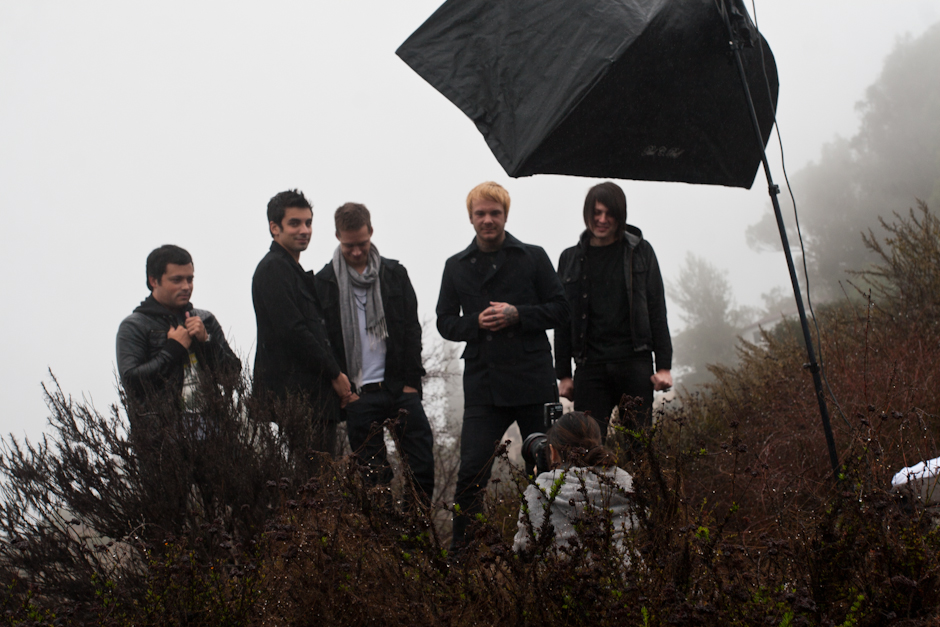 Photo by Megan Thompson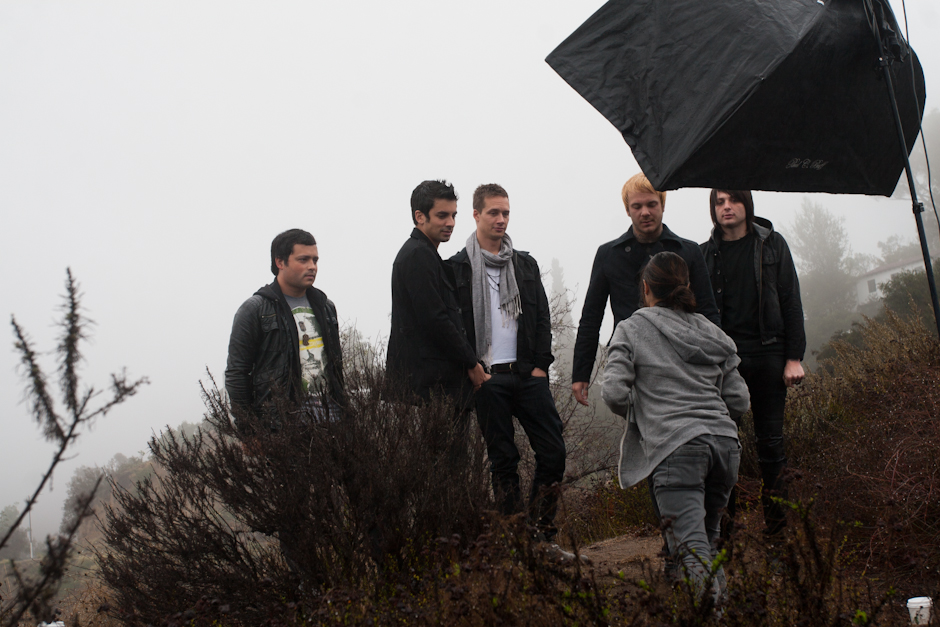 Photo by Megan Thompson
We were able to nail out the photos from the hill within 30 minutes and headed across the street to the cliff / canyon. Changed up the modifier to a large octabox for a softer light. The rain had finally stopped but since we were up so high, the fog stuck around and made for an excellent background. Knocked out these photos within 25 minutes and called it a day!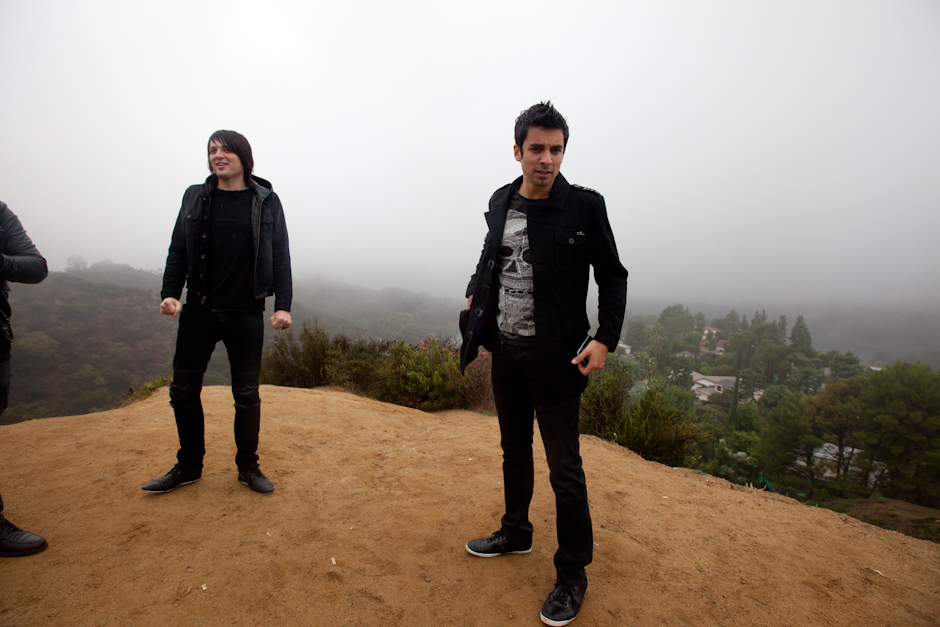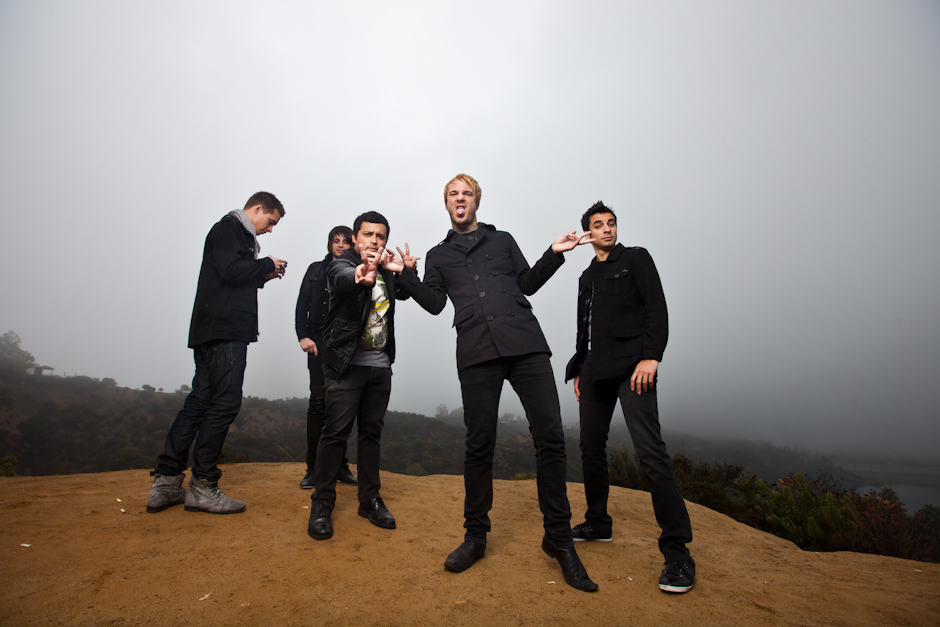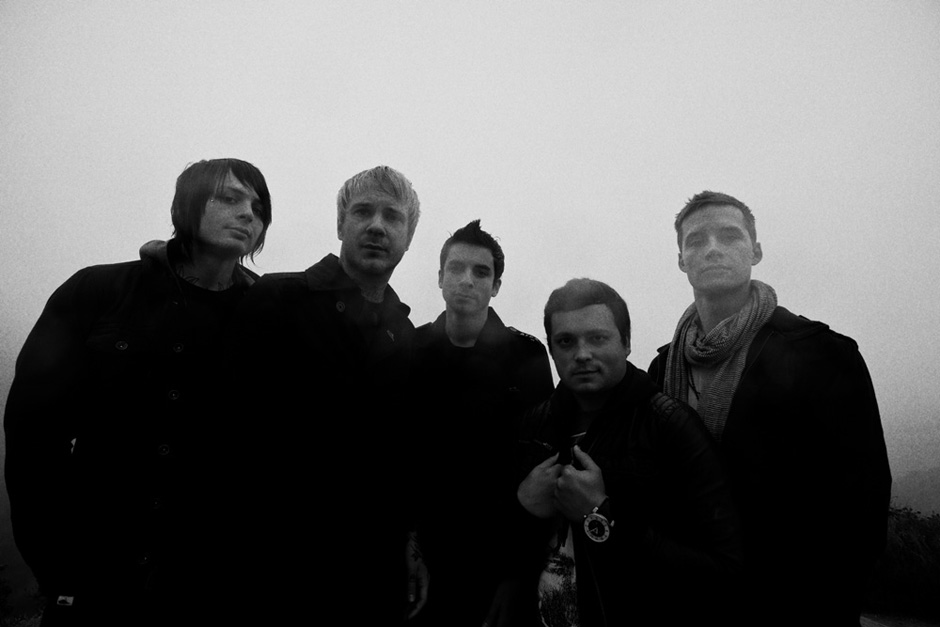 The final image.

Special thanks to Megan Thompson, Rob Hitt @ Crush and Amy N for helping make this shoot happen.
December 30th, 2010 at 2:29 pm | Posted in Music, Portraits | 1 Comment »
I haven't updated this blog in over eight months. I took a break to reinvent myself and find that fire that previously fueled my passion. Needless to say, I'm back… and it feels good.
My buddy Chris asked me to take some new photos of his band, Adestria. He said they wanted to stray away from the typical band photo / brick wall / etc, etc. We originally planned on shooting in downtown San Diego, but I made a last minute decision to shoot in an abandoned naval center that's now used for fire fighter training. Since this was an active location (the fire fighting school was across the street and airport security has random drive-bys), we had to be extra careful to be as discreet as possible.
I've always wanted to do a conceptual shoot in this location since it's literally the location of a post zombie apocalypse.
Be sure to check out Adestria. They've been named one of the top ten unsigned bands in the country and they'll be featured in the upcoming issue of Alternative Press. More importantly, check out the photo with the article ;)
Tech Specs
I'm a fan of simple lighting and I usually don't use more than one light. This entire shoot was lit by a medium soft box w/Alien Bees B800 and a Vagabond II battery pack.

(photo taken with my phone)

(photo taken with my phone)
A couple of fun photos –

The final image –

December 27th, 2010 at 12:21 am | Posted in Music, Portraits | 1 Comment »